3D Printed Injection Molds Help Whale Reduce Risk and Re-Engineering, Cutting Product Lead Time by 97%
3D Printed Injection Molds Help Whale Reduce Risk and Re-Engineering, Cutting Product Lead Time by 97%
"This is hugely revolutionary for our business. We have already seen the technology take months off of our product development process and that in turn minimizes risk. In fact, I estimate that we've shortened our R&D process by up to 35% with Stratasys 3D printing. Add that on top of the 20% we're already saving in terms of our design work – well for me, it's fantastic," says Patrick Hurst, Managing Director of Whale.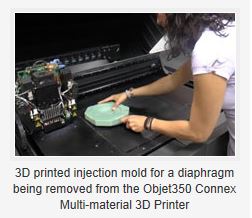 Hurst is referring to the company's incorporation of Stratasys 3D printed injection molds in its design, testing and manufacturing processes. In fact, Whale is now 3D printing injection mold tools in less than 24 hours at a fraction of the cost of producing metal tools. "Traditionally, our lead times for metal tools were somewhere between 4 – 5 weeks and came with very expensive production costs in the tens of thousands of pounds sterling. As a result, our R&D process was very time-consuming and fundamentally slowed down the launch of new products," relates Hurst. "With our Objet Connex 3D Printer, we are now able to design our tools during the day, 3D print them overnight and test them the next morning with a range of end-product materials. The time and cost savings associated with this new tooling method are significant."
How did it all begin? Well, this is one whale of a story!
When you've been around as long as Whale has, you get to know a thing or two about technological innovation. The Belfast-based company can trace it origins back to 1810. Today, Whale exports in-house designed and manufactured goods to more than 48 countries around the world. It is located just a quick car ride from the site of the Harland & Wolff Shipyard, where the Titanic was built. "It was working when it left here," the local residents will be happy to tell you.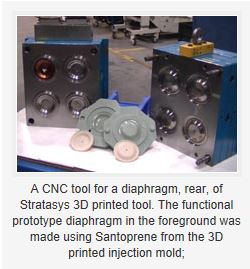 Some of Whale's most important product lines are its pump and drainage systems for marine and other applications. These pumps incorporate a variety of plastic and rubber parts, and the company manages an impressive in-house injection molding operation, including 10 state-of-the-art Demag and Sandretto machines.
For testing functional prototype parts, Whale had traditionally outsourced its prototype components to service bureaus, often ordering the parts from China. But 3D printing began to look like a smart and viable alternative. "We saw 3D printing has a brilliant opportunity to change our business, reducing risk and the need for re-engineering. So we started looking at the most advanced 3D printing technology," explains Hurst.
Jim Sargent, 3D Technical Services at Whale, discovered the PolyJet-based Objet Connex 3D Printers from Stratasys, and the rest of Whale's management agreed that Objet Connex technology was the way to go. "You can blend materials together, you can have plastic, you can have rubber, you can specify shore hardness, you can have multiple colors, you can run clear materials. And the details you can get with 16 micron accuracy is phenomenal. So we took the plunge two years ago and got the Objet350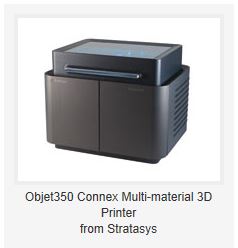 Connex Multi-material 3D Printer. Literally a week after we received the machine, it was fully being utilized. So four months ago, due to the overwhelming demand, we got our 2nd Rolls Royce – the Objet500 Connex Multi-material 3D Printer."
3D Printed Injection Molds? Turning Skepticism Into Delight
Whale soon began investigating the possibility of using 3D printing for injection molds. At the beginning they were skeptical – how could a mold 3D printed with a photopolymer plastic, injected with a hot liquid plastic, not melt in the process? To their sheer delight, the 3D printed injection molds delivered and proved a major breakthrough for producing prototype parts in final materials for functional testing.
"Working with Stratasys, we were able to come up with a material blend that supported higher temperatures and pressures, and we were able to adapt the 3D printers and how we run them to cope with different molding environments," says Sargent.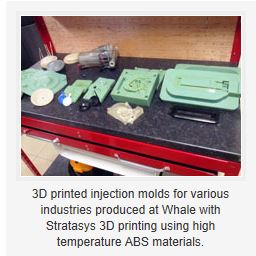 The injection mold tools are 3D printed using Stratasys' Digital ABS material, which features distinct material properties ideal for low volume part production – high temperature resistance and toughness. Whale also offers its Rapid Prototyping Service to external customers, including the automotive and aerospace industries, producing 3D printed multi-material parts and tools using plastics such as polypropylene and polypropylene glass-filled.