3Dconnexion Releases SpaceMouse Pro Wireless 3D Mouse
3Dconnexion is proud to announce the release of the 3Dconnexion SpaceMouse Pro Wireless, the first wireless 3D mouse with a comprehensive selection of professional features.SpaceMouse Pro Wireless' patented 6-degrees-of-freedom (6DoF) controller cap creates a natural connection between you and your 3D content, while 3Dconnexion's advanced 2.4 GHz wireless technology means an end to unsightly cables on your desktop.With SpaceMouse Pro Wireless, users can smoothly pan, zoom and rotate models and camera views while 15 conveniently positioned buttons provide access to application commands, standard views and more.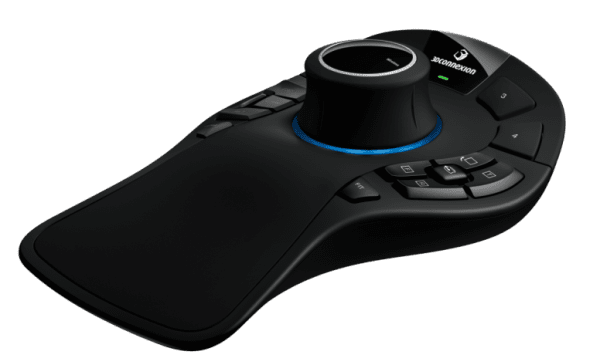 SpaceMouse-Pro-Wireless
SpaceMouse Pro Wireless offers the following benefits:
Complete Wireless Freedom — 3Dconnexion 2.4 GHz wireless technology for a real-time connection to your digital content and a two-month battery life. When it does need recharging, simply connect one of the supplied USB cables and continue working.
Professional Performance — SpaceMouse Pro Wireless automatically recognizes your application and assigns commands to its four Intelligent Function Keys. Go one step further by assigning a four-section on-screen radial menu to any of the device's 15 buttons—providing easy access to even more of your favorite commands.
Keep Your Eyes On What Matters — SpaceMouse Pro Wireless's On-Screen Display provides a convenient on-screen reminder of the commands assigned to its Intelligent Function Keys, allowing you to focus on your designs—not a keystroke cheat sheet.
View Your Work From Every Angle — Detect errors, explore alternatives, and present your work more effectively for review with SpaceMouse Pro Wireless's 6DoF navigation and QuickView Keys.
Minimize Hand Movements —Conveniently positioned keyboard modifiers provide quick and easy access to Control, Shift, Alt and Esc functions, reducing the time you spend moving your hand to the keyboard.
World-Class Ergonomics And Build Quality — The SpaceMouse Pro Wireless has a full size, soft-coated hand rest for maximum comfort. Each of its 15 tactile, fully programmable buttons is perfectly positioned for maximum efficiency. Furthermore, it's packaged into an expert design built with the highest quality components.
Flexible Connectivity — Either plug the USB receiver directly into your workstation or use the Twin-port USB Hub (included as standard). With a choice of two USB cables, it's easy to connect and charge SpaceMouse Pro Wireless whatever your desktop setup.
The 3Dconnexion Experience – 3DxWare® 10 allows you to customize and optimize your SpaceMouse Pro Wireless for peak performance. Easily tailor settings and buttons to your application and needs. Take advantage of exciting new features. Design, create and navigate in brave new ways.
Click here to visit our E-Store for more information and to purchase your new SpaceMouse Pro Wireless.