Al Capone's manufacturing process
After looking at how Capone tracked his training documents you have to wonder if even the mob was afraid of ISO?!
Come on Geraldo, it is getting cold in here in Al Capone's server room. (Kept at a cool 50 degrees Fahrenheit for maximum chip performance.) Go to the SOLIDWORKS models that Capone used to retrofit his famous bullet proof Cadillac. Can you find any?
"Can I find any? With Enterprise's search features, is that a joke Engineering Data Specialist man? Yes, it appears all of Capone's parts marked for manufacturer have an item card that looks like this: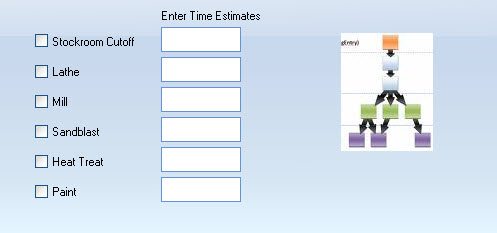 It appears he set up the card to track not only where the parts were in his shop, but how long there were at each station. Since items can go through workflows just as any other document, Capone was able to streamline his manufacturing process with SOLIDWORKS Enterprise PDM workflows! This show is going to win me another Emmy!"
It might Geraldo, I think this series may win a Bloggie too…anything else in Al Capone's vault?