SOLIDWORKS & Stratasys put the POW Back in Power Wheels
If you grew up in the 80's you certainly remember the Power Wheels commercials aired between the Saturday morning cartoons.
Pow Pow Power Wheels were the toys to have, and fortunately we had cool grandparents. We, meaning my 2 sisters and me. The picture below was taken in 1988. The Power Wheels Golden Eagle Jeep is 2 years old. Yes, those are the shorts I wore in 1988.
Over the years our family grew, adding an additional 11 cousins/grandchildren. This is important information as the Power Wheels stayed at Grandma and Grandpa's house for the bulk of it's life and was heavily used by all 14 of us. By 2013 the Jeep was more than worn and on its way to the great junk yard in the sky. Luckily I found out before the Power Wheels was put out to the curb.
At this point my oldest Matthew was 3 and I figured why not introduce him to Jeeps the way I was. With his very own Power Wheels Jeep. I decided that instead of buying him a new Power Wheels, we would resurrect the 1986 Jeep that had served our family so well over the last 24 years.
I picked up the Jeep in a sorry state. The windshield was yellowed and cracked. The plastic tires were worn through with flat spots and holes. The metal roll bar was rusted, and the Jeep was just plain dirty. The good news was that the old school Ni-Cad batteries still held a charge, and the drive motors and gearboxes worked flawlessly. Amazing, I know. There is a reason the saying "they don't make things like that anymore" exists.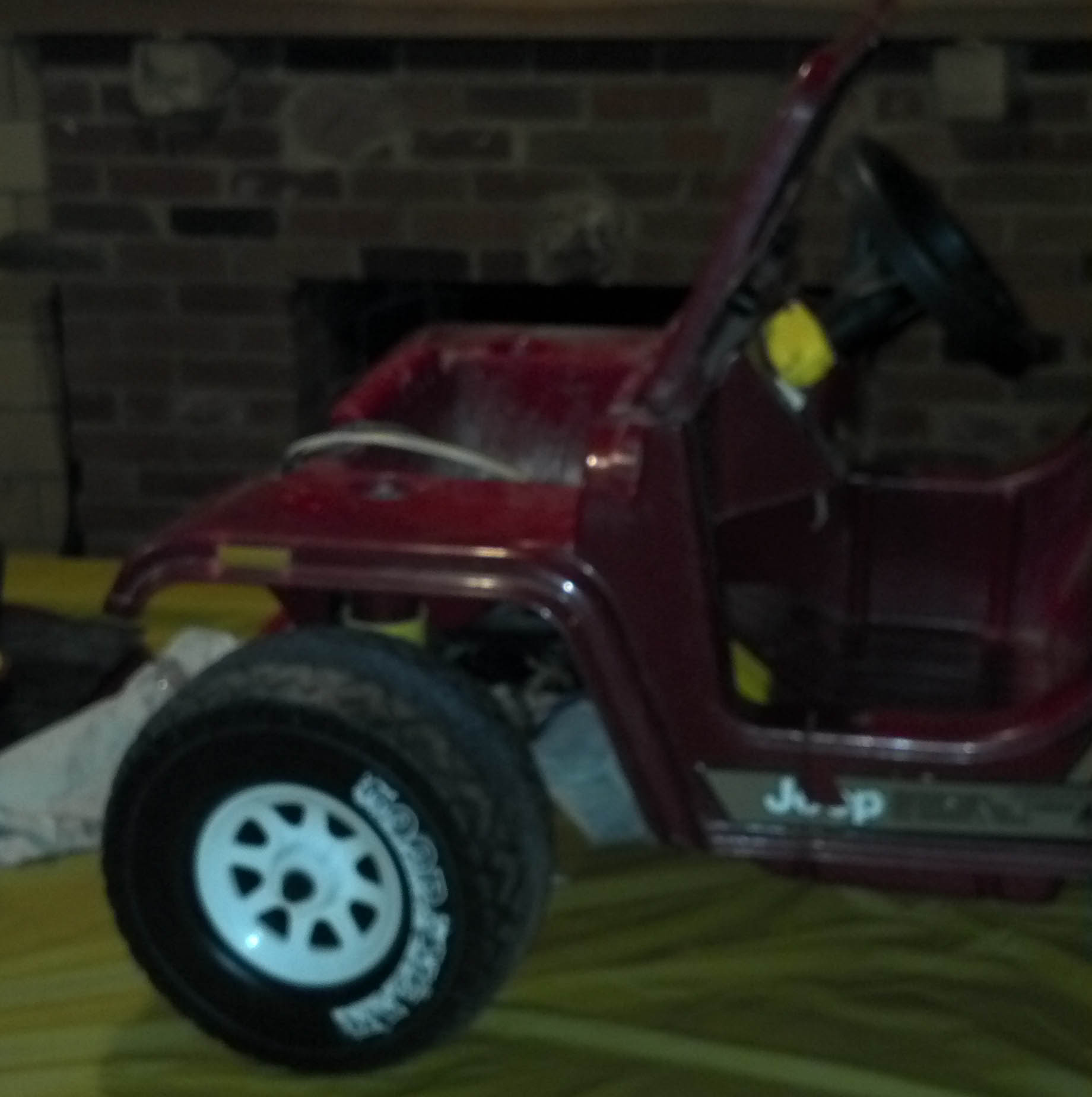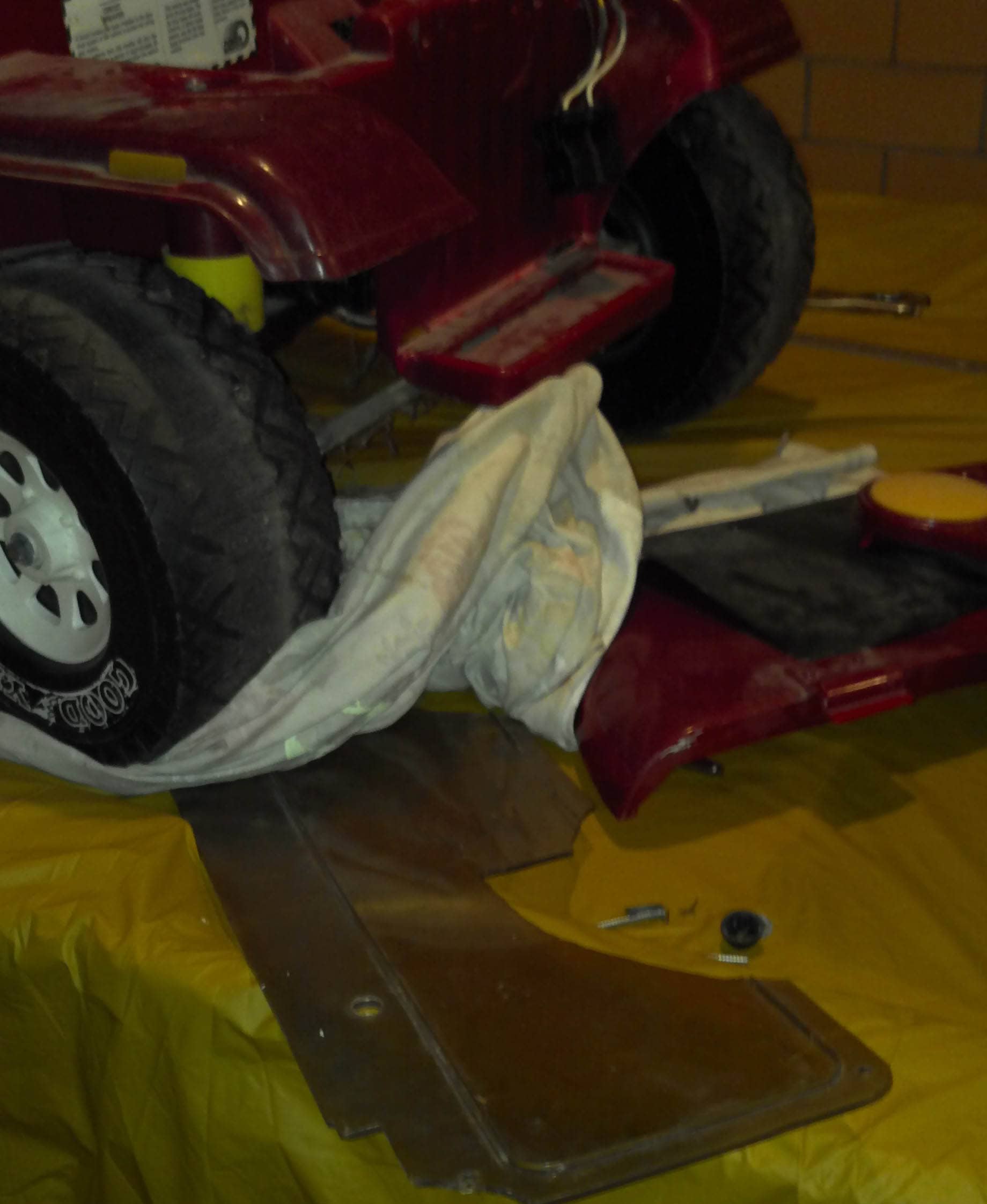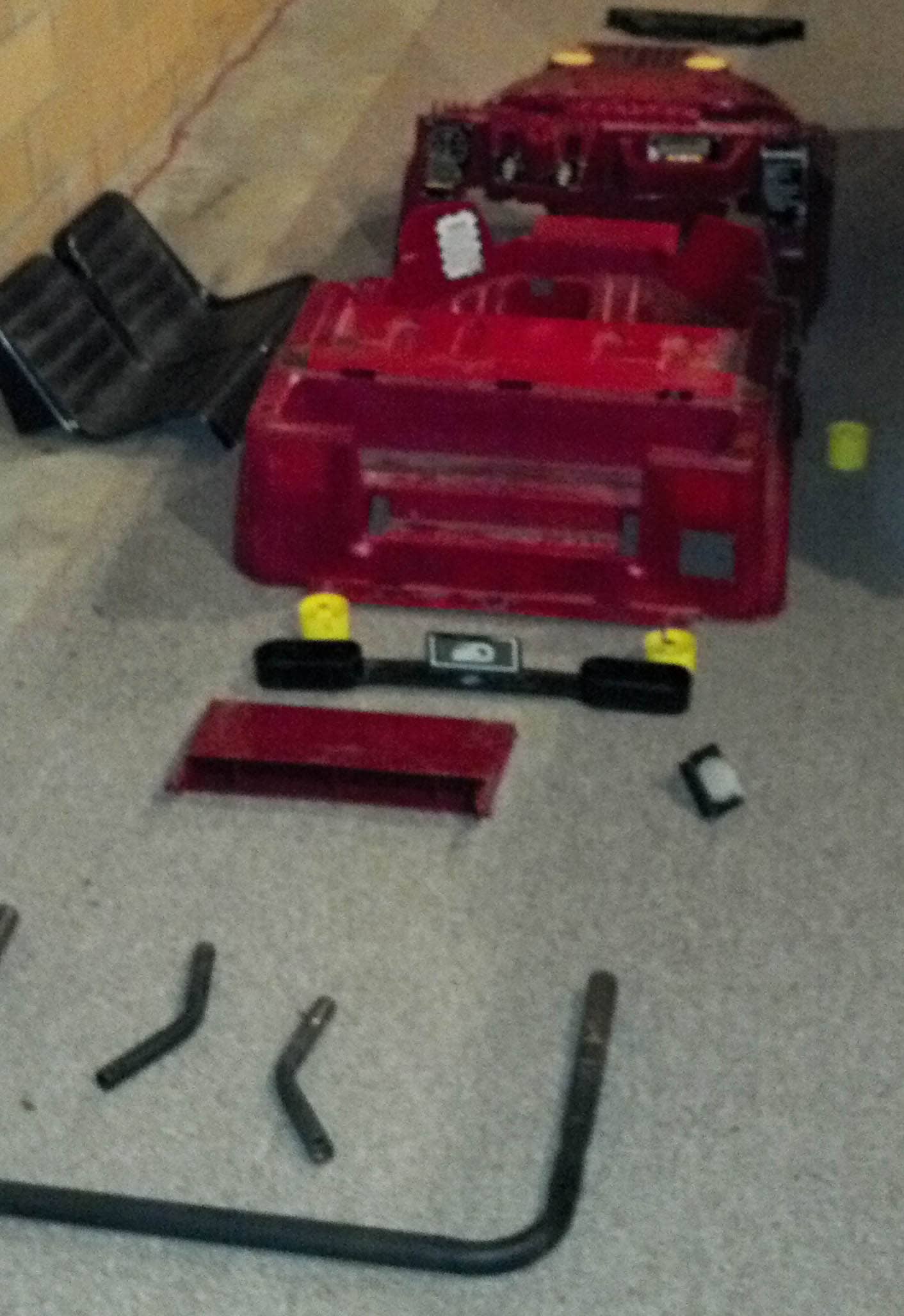 I wanted Matthew to have some ownership in this project so I employed his help in the restoration. There is something magical when your child sees how things work. He had a blast using the screw driver (with help), cleaning parts, and generally learning how the Jeep worked. I feel that this experience helped him appreciate the Power Wheels more than if I had just given it to him.
Yes. That is a steel frame that the body sits on (just like the real thing). The Power Wheels has a stout brushed motor per rear wheel, linked to a gear box.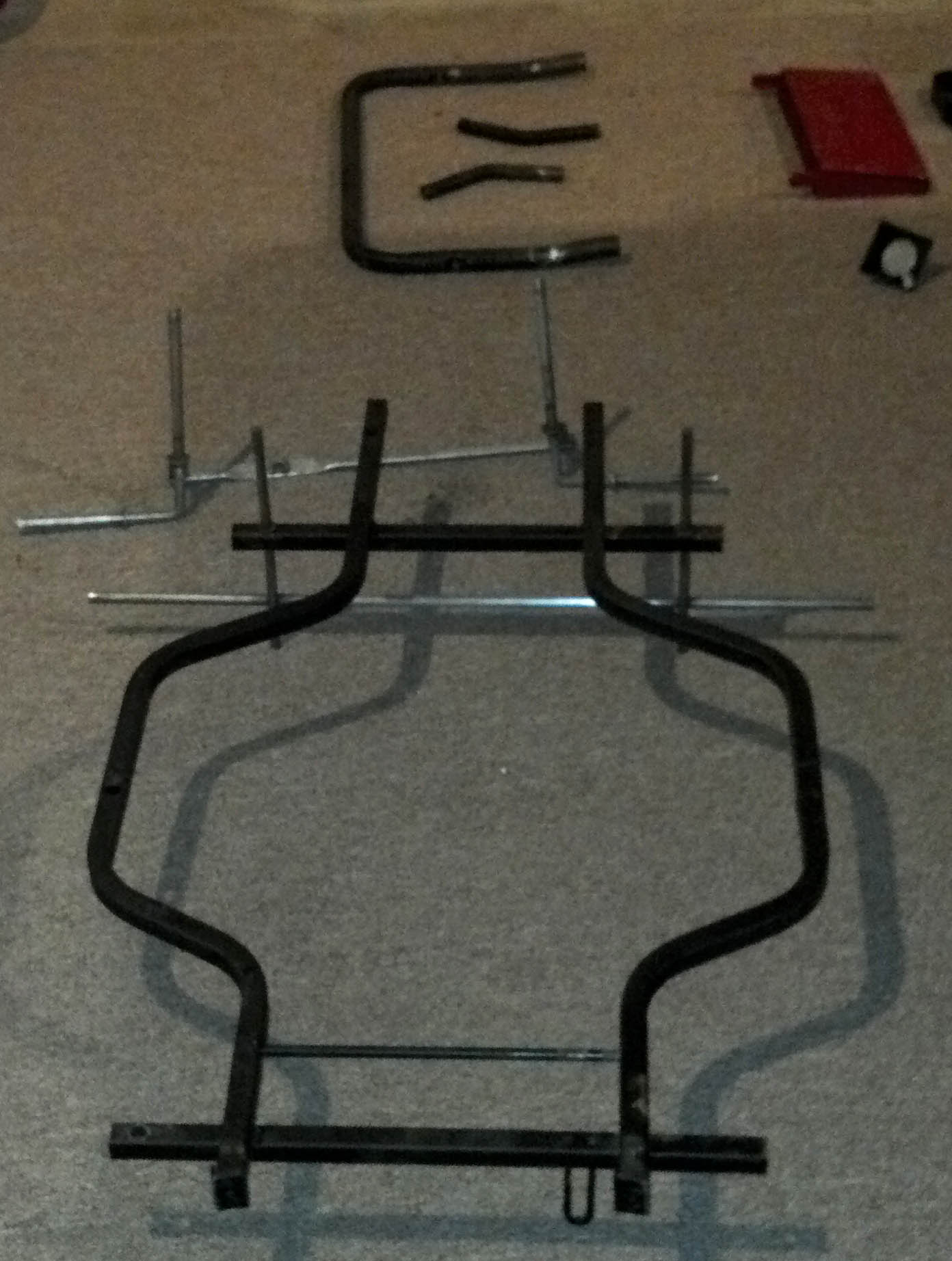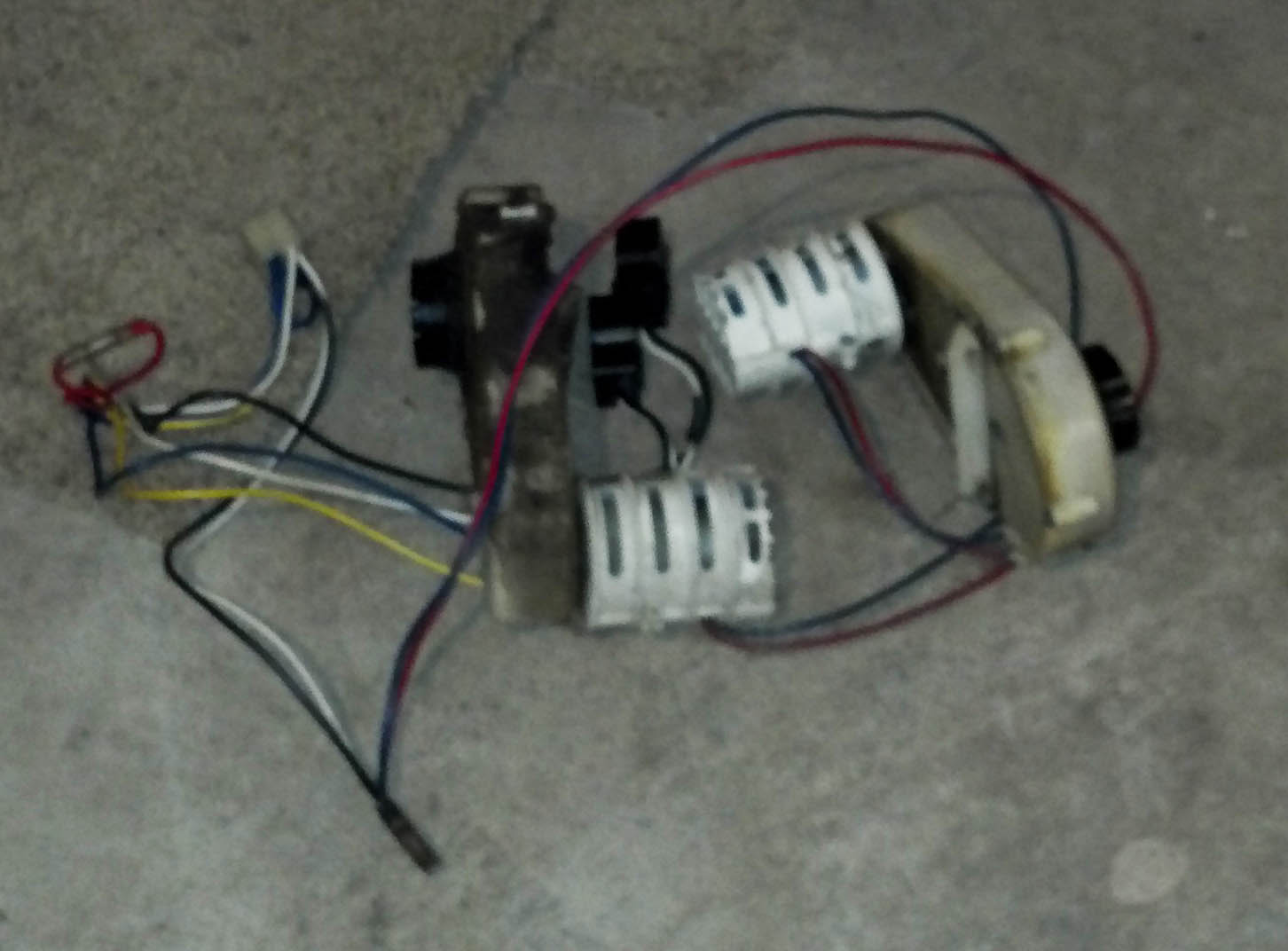 As engineers we cannot leave anything alone for long and when restoring the Jeep things were no different. If you had one you would know the old Ni-Cad batteries were not that powerful, 6 Volts in Low, and 12 Volts in High (two 6 Volt batteries). The plastic wheels worked OK on pavement, and so so on grass. Add a hill into the mix and usually you needed to be pushed up it by an adult. Besides restoring the Jeep to as new as possible shape I wanted to address the lack of power, and horrible traction. I did plenty of research, and had a plan put in place to make the Power Wheels Jeep, better, smarter, and FASTER. A couple of good resource pages Wil's Power Wheels Page and Modified Power Wheels.
Plenty of others before me have converted their kids Power Wheels to utilize Rubber Tires. Most of these conversions consisted of some rubber hose, band clamps, and mixed apparatus. While these setups worked, I wanted something more "stock" and long lasting. Luckily I have access to SOLIDWORKS and a Statasys Uprint Plus. Check out my next blog titled "SOLIDWORKS & Stratasys put the POW Back in Power Wheels Part 2" to see how I was able to employ SOLIDWORKS, Simulation, and additive manufacturing for the restoration of the Power Wheels Jeep. The results could not have been better.
Thanks to haikarate4 for posting the vintage Power Wheels commercial.