SOLIDWORKS 2019 What's New – Improved Problem Capture in SOLIDWORKS Rx – #SW2019
When SOLIDWORKS is not behaving properly, SOLIDWORKS Rx is the best tool to understand crashes and other problems and find how to address those problems head on. For SOLIDWORKS 2019, the Rx Problem Capture portion of SOLIDWORKS Rx was enhanced. Let's check it out!
Go to START > All Programs > SOLIDWORKS 20XX > SOLIDWORKS Tools > SOLIDWORKS Rx. Where XX is your version year.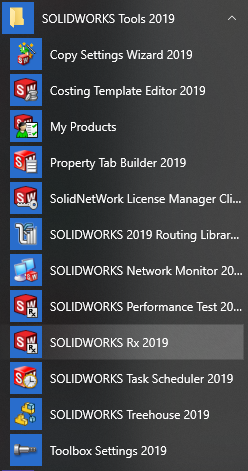 You can also access SOLIDWORKS Rx from the Task Pane inside the SOLIDWORKS application under SOLIDWORKS Resources.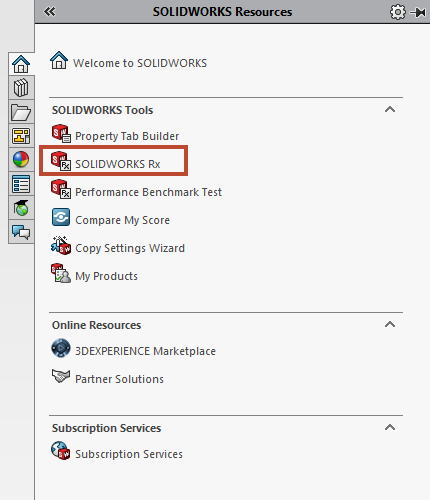 When you open SOLIDWORKS Rx, the 5th tab is the Problem Capture function.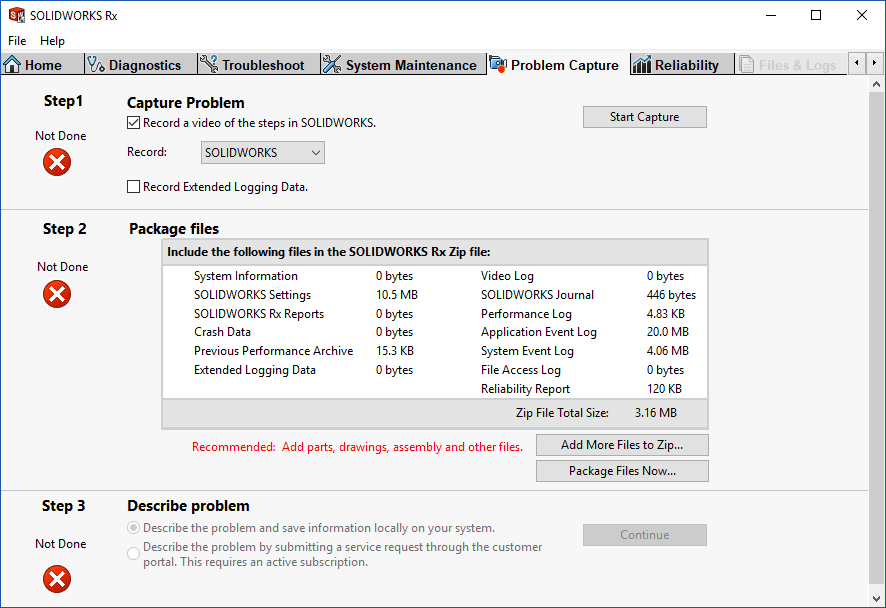 For anyone who has used the Problem Capture function in the past, you'll agree that these 5 new enhancements make Problem Capture easier, faster and give users more flexibility. Here they are ….
• You can restart the video recording without shutting down the SOLIDWORKS software, when you cannot capture an event on the first attempt. To restart the recording, click Restart to delete the current video and then Record to record a new video.
• SOLIDWORKS no longer shuts down when you Finish a video capture.
• You can pause a recording. To pause the recording, click Pause and Resume to record.
• You can record the entire screen instead of just the SOLIDWORKS window. Previously, you could start capturing, run the SOLIDWORKS software, and place another application window in front of the SOLIDWORKS window.
• Maximum video length has increased from 5 to 10 minutes, making sure you capture more information.
If you aren't familiar with this tool and would like more information on how to use SOLIDWORKS RX tool, here is a link to a blog "How to create a Problem Capture in SOLIDWORKS Rx: https://www.cati.com/blog/2018/08/how-do-i-create-a-solidworks-rx-problem-capture/
I hope this part of the What's New series gives you a better understanding of the new features and functions of SOLIDWORKS 2019. Please check back to the CATI Blog as the CATI Application Engineers will continue to break down many of the new items in SOLIDWORKS 2019. All these articles will be stored in the category of "SOLIDWORKS What's New."
Thanks for reading!
Judy Marlo, CSWE
Application Engineer
Computer Aided Technology, Inc
Design Innovation Month – October 2018
What is DI MONTH?
CATI is declaring October Design Innovation MONTH. We've created a month-long series of events and activities around design innovation especially for our customers. Attend a SOLIDWORKS 2019 event, enter our rendering contest, and learn about some cool tips and tricks at the daily online events. Plan your month at www.cati.com/design-innovation-month