SOLIDWORKS 2022 What's New – SOLIDWORKS Manage – Upgrades to Tasks
With the release of SOLIDWORKS Manage 2022, we get to share some exciting enhancements! This release introduces some incredible features to our SOLIDWORKS Manage capabilities. You can see our blog "SOLIDWORKS 2022 What's New – 5 Feature Enhancements in SOLIDWORKS Manage" that lists out our top five favorites (outside of tasks). In this post, we focused on upgrades to tasks. As a SOLIDWORKS Manage user, tasks are one of the building blocks of the entire Manage system.
Task visibility
Some users can be assigned hundreds of tasks at a time. The number of items sitting in our "to do" lists can be overwhelming. There are times we need to order our tasks based on importance as well as keep track of cancelled tasks. With the release of SOLIDWORKS Manage 2022, you now can order tasks in projects, show or hide cancelled tasks in any task list with an icon, and change the default setting for visibility on new tasks. Let's look closer at each option:
Setting Task Order in Projects
Project Managers and users now have an easy way to reorder their tasks within projects. The task tab now includes up and down icons that allow the user to modify the tasks position within the list. This is a great way to set priority within a large list.
See Cancelled Tasks
We've been able to show or hide completed tasks for some time. Now, cancelled tasks can now be shown or hidden as well. This happens via a new icon that is remembered for each object, as well as in the home screen.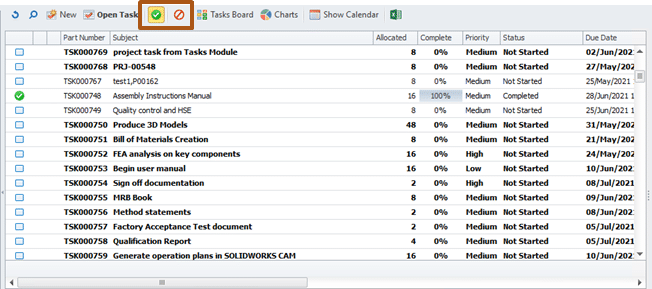 Also, a new icon has replaced the previous check box to show or hide completed tasks. The show or hide completed task icon and the new show or hide cancelled task icons are found right next to each other. This change has been made for all task interfaces, to streamline icon location.

Public & Private Task Controls
To help maintain company preferences when creating new tasks, a global setting has been added to control whether tasks are created as public, private, or to let the user decide. When setup as "let the user decide," the setting defaults to the individual user's "My Options" setting. This will help standardize how task visibility is set for all users.
Task Board
Now in SOLIDWORKS Manage 2022, tasks can easily be added through the task board feature. Under each "Group By" list within the task board, a new button labelled "New Task" has been added. This button allows us to create new tasks based on the grouping. Previously, new tasks could only be added in Group By lists that did not have any existing tasks. This is another way SOLIDWORKS Manage users can work in a way that best fits their needs.
Edit Completed Tasks
Many of us have marked a task "complete" in Manage, prematurely. It never fails, we mark the task complete, then the next day the project manager determines that it's not actually complet Previously, there wasn't much we could do about a completed task. Now in 2022, tasks marked as completed can be edited by the owner or an administrator via the "Mark as uncompleted" command. This feature enables additional work or information to be added to the task. It's simple to mark a task as uncompleted. Just right click and select "Mark as uncomplete," and the task becomes editable once again. The Complete (%) will be set back to 99%, and the action removes the setting to calculate completion from time allocated. This allows more time to be added; then the setting can be re- enabled if desired.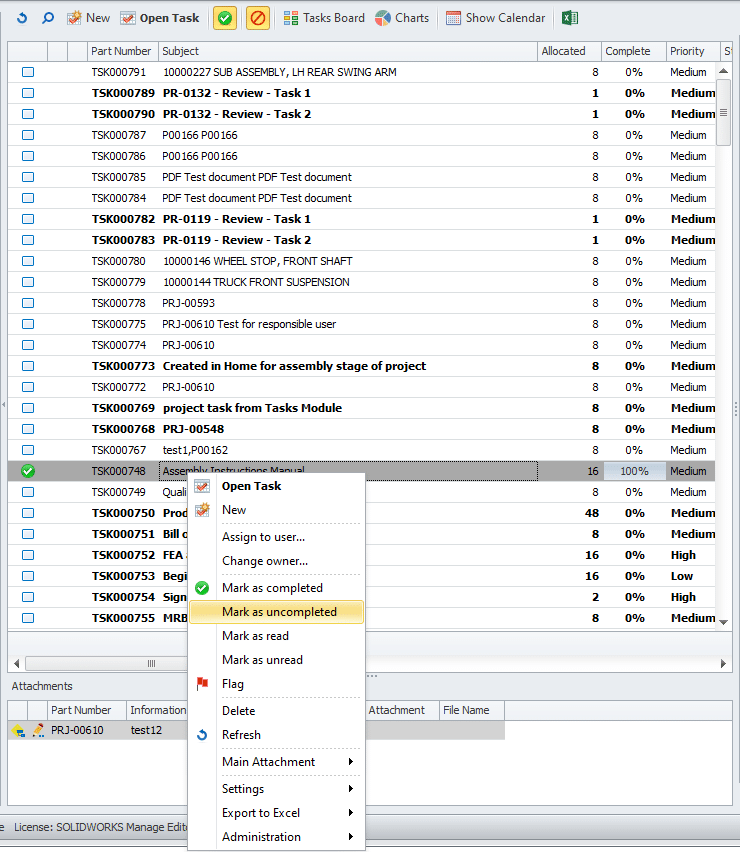 Creating Tasks – Auto Assignment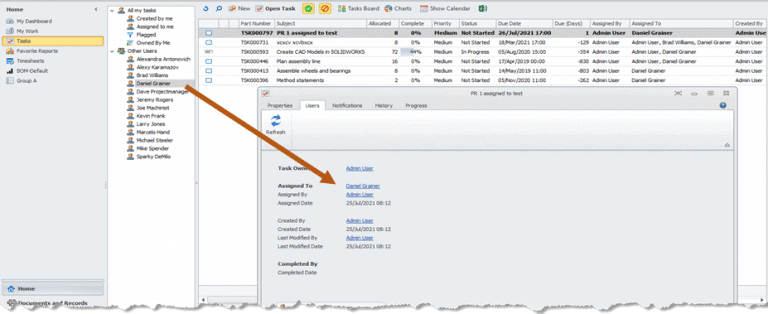 This next one is great if you are responsible to creating tasks for other users. In the 2022 release, tasks are automatically assigned to the user selected in the Home>Tasks module when creating a new task. This is great for streamlining the task creation process, right from the home screen. It's always nice to cut out an extra step or two.
Tasks in SOLIDWORKS Add-in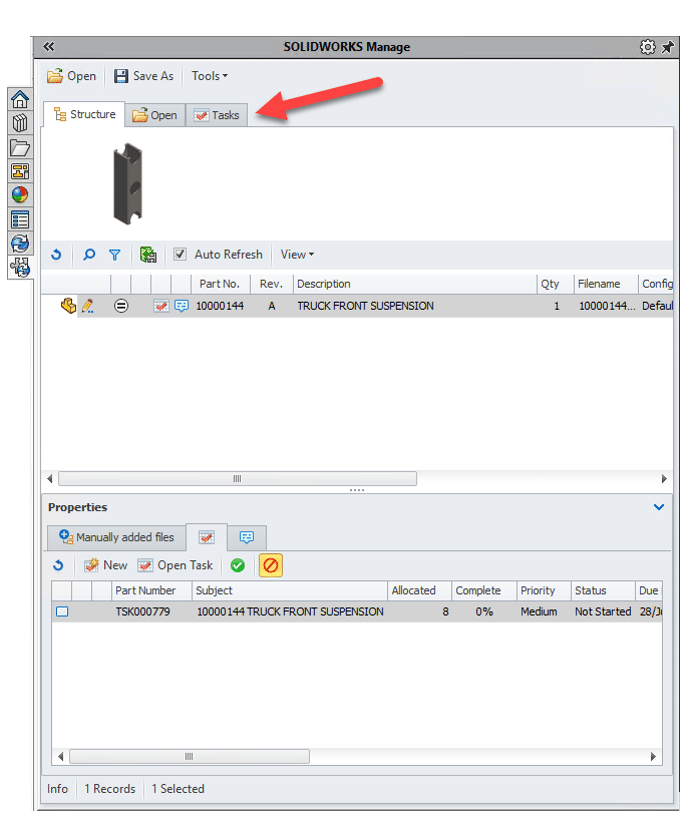 The SOLIDWORKS Manage add-in for SOLIDWORKS CAD has gotten some extra love this release. My favorite feature on this release, is the new task tab in the SOLIDWORKS Manage add-in. I can see all the tasks assigned to me, or just the tasks that have SOLIDWORKS files as attachments. Now my drafters can see their tasks without leaving the CAD file.
Additionally, we can see Manage tasks and comments for files we have open, right from the add-in. This enhancement gives us task visibility without leaving SOLIDWORKS. With the task visibility, users will see tasks associated to any of the files in the structure. Comments are now displayed in the same section. This lets me keep my drafters informed, and make sure nothing gets missed.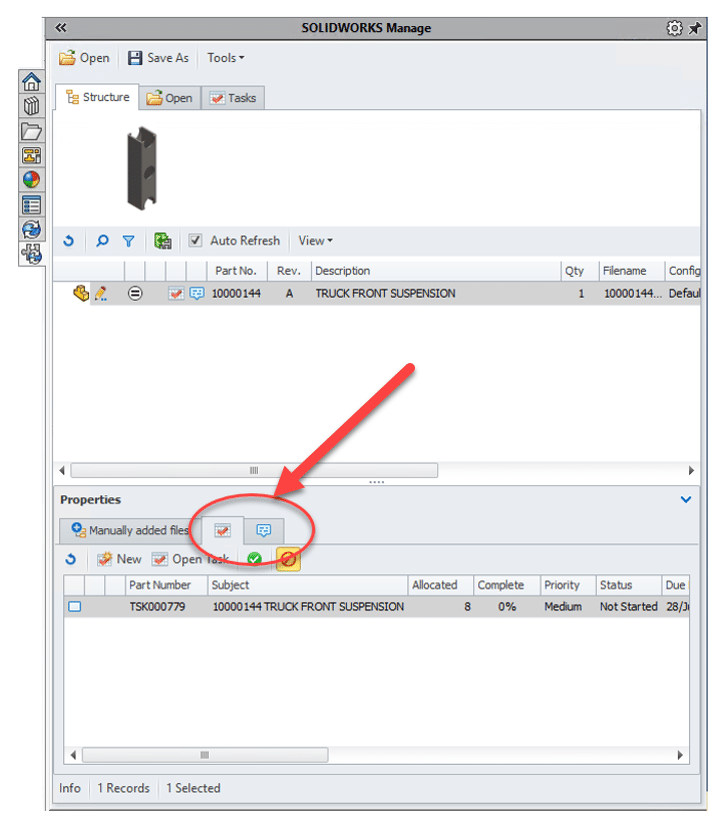 Want more info about SOLIDWORKS Manage or SOLIDWORKS PDM? Give us a call or contact your account manager today!
I hope this part of the "What's New" series gives you a better understanding of the new features and functions of SOLIDWORKS 2022. Please check back to the CATI Blog, as the CATI Application Engineers will continue to break down many of the new items in SOLIDWORKS 2022. All these articles will be stored in the category of "SOLIDWORKS What's New."
Michael King
PLM Solutions Architect
Computer Aided Technology