SOLIDWORKS 2022 What's New – Updates to Sketching
Among the changes in SOLIDWORKS 2022 are two important improvements focusing on the reuse of sketch geometry: Directions in the Linear Sketch Pattern command can be defined using lines from the current sketch, and sketch text can be replicated with Linear Sketch Pattern and Copy Entities. Let's take a closer look at these enhancements.
Directions in the Linear Sketch Pattern Command
In past versions of SOLIDWORKS, the directions in a Linear Sketch Pattern could be represented only by the default X or Y axes, an edge of the model, or a line in an earlier sketch—geometry in the current sketch could not be used. This, fortunately, is no longer the case. We can now select linear entities in the active sketch to define either direction in the Linear Sketch Pattern command.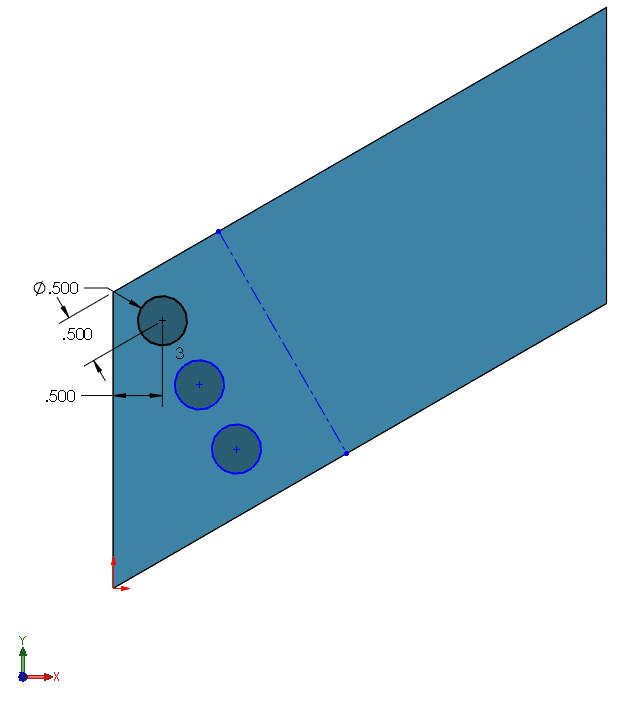 This certainly seems like an effective and intuitive change. Just adding a construction line to represent the desired pattern direction, for instance, feels like such a logical move that it always surprised me this option didn't exist before. Having this capability now removes the reliance on solid geometry or reference sketches, making it much easier to produce patterns exactly how you want them.
There are a couple restrictions to consider. For one, lines belonging to a sketch block cannot be selected as a direction; the block must be exploded if such a line is needed. Additionally, it is not possible to use a line as both a direction reference and one of the Entities to Pattern. If you want to use a segment being patterned as a direction too, it could help to create a parallel construction line and make that the reference instead.
Replicating Sketch Text with Linear Sketch Pattern and Copy Entities
SOLIDWORKS 2022 is the first edition of the program to allow sketch text to be patterned and copied just like other sketch entities. To use text in a Linear Sketch Pattern, simply select it from the graphics area to add it to the Entities to Pattern box. For the Copy Entities command, choose the text in the Entities to Copy field and define either the starting and ending points of the translation or the ΔX and ΔY values.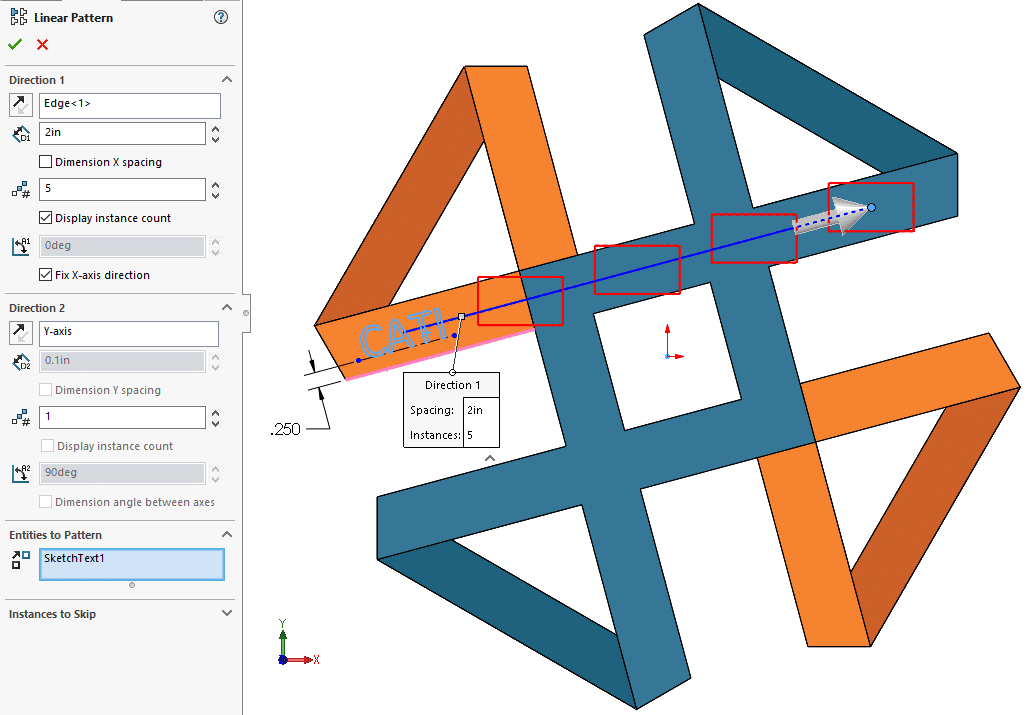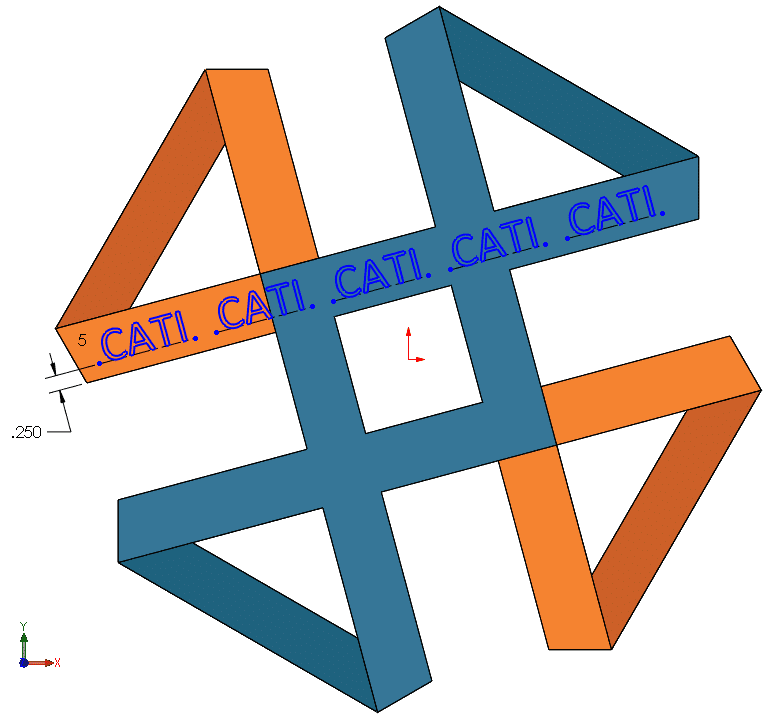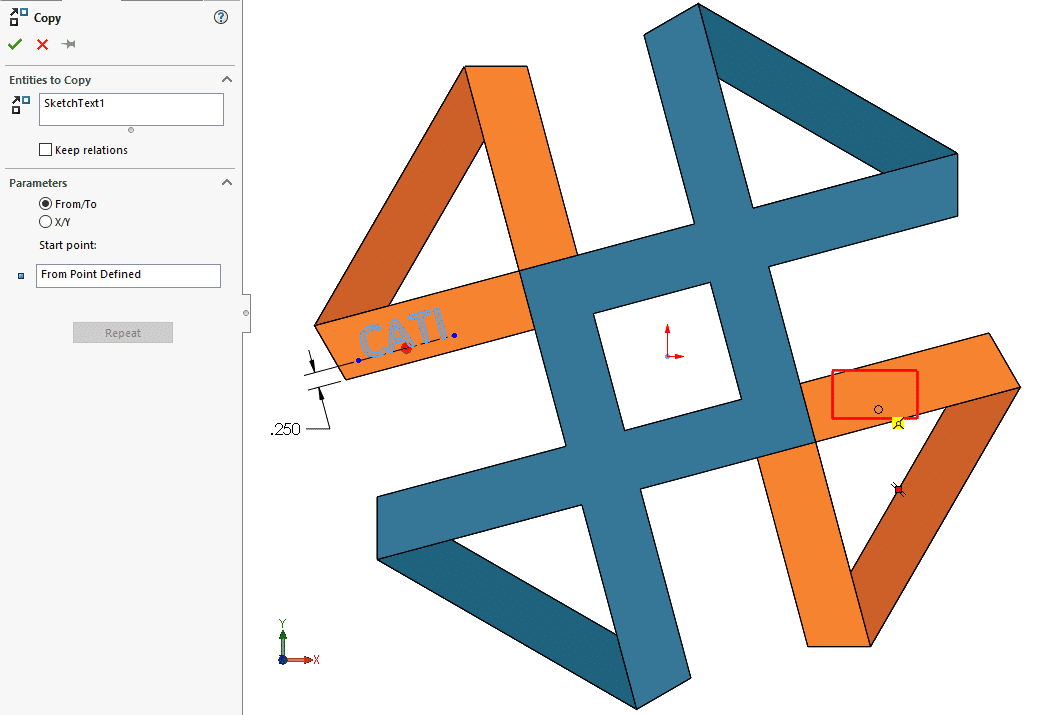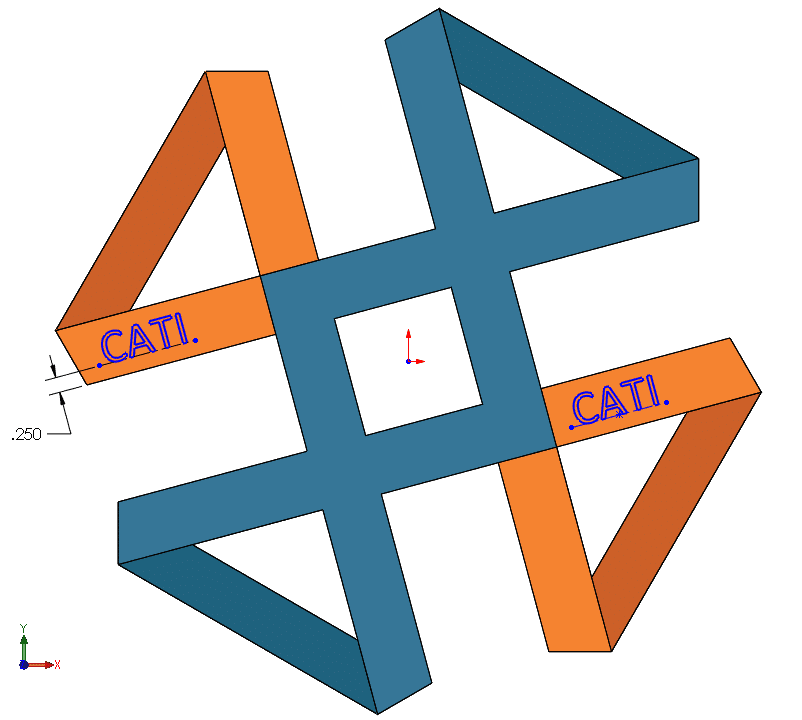 At this point, text still cannot be used for a Circular Sketch Pattern. If you need a circular pattern of text, the easiest method will likely be to create a 3D feature (e.g., an extruded boss or cut) with the text first and then apply a feature-level Circular Pattern.
Overall, SOLIDWORKS 2022 introduces a couple of long-requested capabilities for sketch patterns and text. (I find entries in the Knowledge Base asking about patterning sketch text at least as far back as 2009.) As a result of these developments, reusing sketch geometry is more convenient than ever before, making it even easier for you to ensure consistency across your models.
I hope this part of the What's New series gives you a better understanding of the new features and functions of SOLIDWORKS 2022. Please check back to the CATI Blog as the CATI Application Engineers will continue to break down many of the new items in SOLIDWORKS 2022. All these articles will be stored in the category of "SOLIDWORKS What's New."
Anthony Sandri
Application Engineer
Computer Aided Technology
What is Design Innovation Month?

DESIGN INNOVATION MONTH 2021 – Live Events, Webinars, Virtual Showroom, Contests
Design Innovation Month is CATI's massive "What's New in 2022" event for SOLIDWORKS, 3DEXPERIENCE, and 3D printing & 3D scanning technology.  That's six weeks of in-person events, live and on-demand webinars, demonstrations, in-depth blog posts, and prizes!  Best of all, it's free of charge! Check the DI Month Hub for all the details and to sign up for your nearest live event.