Stratasys 3D Printing: New Line of Objet 3D Printers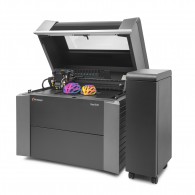 What's New With Stratasys 3D Printing
The most recent additions to the line of Stratasys Objet 3D printers are the Connex 1, 2, and 3. These machines each have their own strengths, and they all share some new upgrades to the Objet Connex 3D printing system. Stratasys has also released the first Polyjet 3D printer with dissolvable support material, as well as a new software upgrade to the desktop line of Polyjet printers.
The upgrades that are common to all three Connex printers are put in place to help reduce waste and increase running time. First, the way material replacement occurs in the print heads has been modified to dramatically reduce the waste created during this process. By splitting the reservoir above the print head into two sections, the new material can be filled in above the existing material as it is being used. This process eliminates the need to flush the entire reservoir when swapping materials in a head. Another major upgrade to the Connex system is the new material storage cabinet. The material cabinet is capable of holding eight containers of material and can "hot" swap between them during a print job. This means that larger jobs can be printed faster in a single uninterrupted build.
The Connex 1 has the ability to print in three base materials and can print rigid, flexible, and clear materials. As well as being able to print a mixed tray of materials, mixed parts can also be created.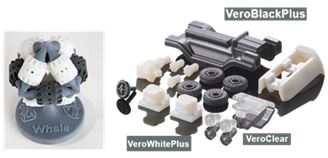 The Connex 2 has all the capabilities of the Connex 1, and can build parts using digital materials. Digital materials give the ability to produce flexible parts of different shore values (rigidity) and digital ABS. This means that a part can be created that simulates ABS, and can be over-molded with a soft or rigid material.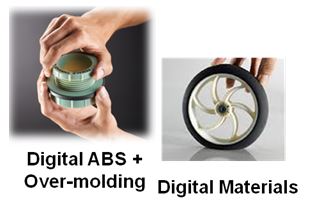 The Connex 3 has all the capacity of the 1 and 2, and can also print three materials in digital mode. This makes it possible to print in full color using opaque rigid, translucent and flexible materials. Access to full color 3D printing with 16 micron layer resolution makes unprecedented creativity and productivity possible.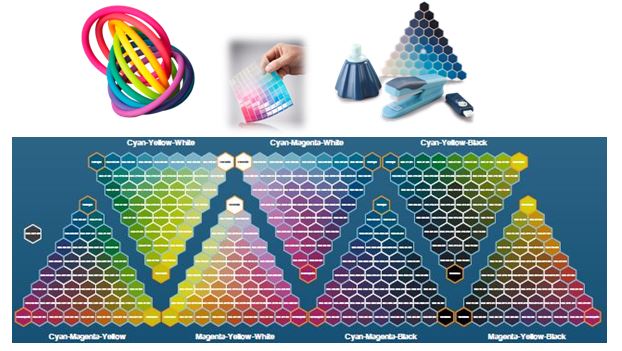 The introduction of soluble support, which is available on the Polyjet Eden 260VS, makes it possible to retain the high accuracy that Polyjet is known for, and clean support material from parts in a "lights out" operation, which saves time and labor cost. It also gives operators the ability to build parts with complex internal structures or very thin features that would otherwise be difficult to clean with the traditional water jet support removal method. The Eden 260VS is also capable of printing with non-soluble support for situations where time is limited. All that is needed is a material change, and it is ready to print.
The latest upgrade to the desktop Objet series is the Objet30 Prime. The 30 Prime package is a new and distinct addition to the Objet desktop family. This printer expands on materials available on the 30 Pro by being able to print in 12 materials instead of eight. 30 Prime users can print in flexible TangoBlack and TangoGrey, translucent RGD720, and Bio-compatible, as well as all the materials offered for the 30 Pro which include translucent, high-temp, and rigid opaque materials. All rigid materials can all be printed in 16 micron layers for outstanding part resolution in HQ mode. There has also been the addition of a time saving print setting called "draft mode". By printing layers slightly thicker (0.00079 in thicker than HQ), print speeds can be completed over 50% faster than high quality mode, and up to 29% more efficient in material usage. This increase in speed and material efficiency saves time, money, and reduces waste while still producing parts with stunning accuracy and detail.

Blog Post By: Nick Weldon