Stratasys Announces New Fortus 900 Acceleration Kit
Earlier this week Stratasys
released a new acceleration kit that will get builds in their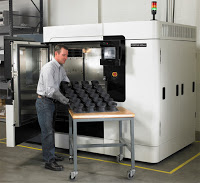 Fortus 900
machines done faster and more effectively. The top of the line Fused Deposition
Modeling machine current customers are using features the T20 extruder tip,
this can be upgraded to a new T40 tip which will provide customers:
·
The largest
available slice height for FDM systems.
·
Throughput 2-3
times faster on average compared to T20 tip.
·
Plug-and-play'
solution that requires no additional hardware.
900 users will need to have the latest controller (Version 3.19) and insight software (Version 10.8) updates in order to utilize the upgraded tip. The Fortus 900 delivers to its customers all the available benefits that Stratasys FDM printers have available, this new tip enables user the ability to continue producing high quality parts, but in a way that enables more control and faster build speeds.