3DEXPERIENCE CATIA Construction
Enables all stakeholders of a building project to manage and execute all phases of a project from design to fabrication within a single platform.
Ready to Purchase?
Get 3DEXPERIENCE CATIA from the 3DEXPERIENCE experts.
Get a Quote
The design and engineering processes for complex buildings and infrastructures project development requires close collaboration among multiple stakeholders and across all project phases. Additionally, increasingly complex construction projects require that all teams rely on CATIA and 3DEXPERIENCE virtual twin technology as a 'common language' to facilitate collaboration and reduce rework between phases.
CATIA allows architects, engineers, owners, and governments to build and collaborate beyond the limits of traditional project delivery methods, by delivering a range of 3D modeling and experience solutions that span throughout the whole design, engineering, and delivery process. This allows for complete digital continuity for diverse project teams on the 3DEXPERIENCE platform.
Robust, industry-specific CATIA tools for the design and engineering of complex buildings and infrastructure projects based on "virtual twin" technology.

Create high-level-of-detail models fully compliant with industry standards (IFC).

Design for manufacturing and assembly by developing models that conform to prefabrication or industrialized construction methods, such as modular or off-site fabrication.

Geolocate the model and manage the construction project in the context of the city or territory while associating territory or city planners.

Generate associative 2D documents from the 3D model.

Extract complete bill of materials from the construction model.

Collaborate with all range of external partners and consultants by importing various file types to integrate into the master model.

Capitalize on accumulated knowledge by reusing templates and best practices across all projects, a CATIA-specific technology.
3DEXPERIENCE CATIA Construction Packages
Building Designer
CREATE CONCEPTUAL BUILDING DESIGNS THAT SEAMLESSLY TRANSITION INTO THE DETAILED DESIGN PHASE
---
CATIA Building Designer is a complete package for conceptual design building, including CATIA subdivision surface modeling, Building Structures, and Building Space Planning applications.
All standard parametric building components are fully compliant with industry standards (IFC) and they link directly to higher-LOD building components created within the system. With Live Rendering, designers can also create photo-realistic renderings of their projects for marketing and design review sessions:
Geolocate a building project
Perform site massing and daylighting studies
Quickly model conceptual surface building driver geometry with the Imagine and Shape application
Create associative 2D design documents from the 3D model
Quickly model all building elements with standard generic building component catalogs in the Building Space Planning app
Model a conceptual building structure using standard steel sizes from different catalogs with the Building Structure app
Import various file types to collect project site information
Produce quality renderings with the Live Rendering application
Building Design Engineer
DESIGN DETAILED ARCHITECTURAL PROJECTS FOR FABRICATION AND CONSTRUCTION
---
CATIA Building Design Engineer helps you design and deploy custom or standard parametric building components compliant with industry standards (IFC), and virtually assemble the building in its entirety before construction begins.
It does this with powerful CATIA surface and solid modeling features, Sheet Metal and Terrain Preparation apps, and the conceptual architectural design application Building Space Planning app:
Geolocate a building project
Model the surrounding terrain to a high level of detail
Create low-LOD architectural models with Building Space Planning
Create high-LOD architectural building components with Building Engineering 3D Design
Design detailed building components using the Sheet Metal app
Transition from low to high LOD automatically with component-based design
Manage and visualize complete building assemblies and monitor the building information model attribute completeness
Extract parts of the building assembly for fabrication
Create associative construction documents from the 3D model
Collaborate with fully compatible IFC import/export functionality
Create Engineering Templates to maximize knowledge reuse
Create custom scripts to automate repetitive tasks with knowledge patterns, actions, reactions, and rules
Civil Engineer
CREATE INFRASTRUCTURE DIGITAL TWINS FOR BRIDGE AND TUNNEL CONSTRUCTION PROJECTS ACROSS CITIES AND TERRITORIES
---
CATIA Civil Engineer lets users create and geolocate realistic terrain representations to reduce design cycles, conceptualize the infrastructure project in 3D, then create Building Information Models (BIM) compliant with industry standards (IFC):
Geolocate the construction and infrastructure project
Create alignments for roads, rails, bridges and tunnels
Quickly instantiate infrastructure components using component-based design
Inspect and analyze different parts of the project
Extract parts of the construction for fabrication
Create associative construction documents from the 3D model
Leverage integrated terrain modeling
Create Engineering Templates to maximize knowledge reuse
Create custom scripts to automate repetitive tasks
Building and Civil 3D Fluid Engineer
DESIGN 3D TUBING, PIPING, AND HVAC SYSTEMS IN AN INTEGRATED DEVELOPMENT ENVIRONMENT

---
This package enables users to manage the design of their fluid systems all the way from conceptual functional design through to producing detailed manufacturing data.
It provides dedicated apps to facilitate piping Specification and Part catalog definition and management. It contains all core functions to do 3D design, assembly, drawing, review, and sectioning:
Creation and management of routed systems discipline including tubing, piping & HVAC systems using smart UI.
Automatic (or manual) function-driven piping and tubing part placement.
Evolution from preliminary to detailed design layout.
Integrated dynamic design rules, including manufacturability checking command.
Intelligent modification of piping and tubing objects and routes.
Query and analysis of piping and tubing parts and configurations.
Customizable report definition and drawings.
Building and Civil 3D Electrical Engineer
DESIGN 3D WIRE HARNESSES AND CABLING IN AN INTEGRATED DESIGN ENVIRONMENT

---
This package is a process-specific solution for designing physical wire harnesses. It is driven by logical specifications (schematics) and realistic simulation of the design and environment, and it is integrated with harness manufacturing preparation:
Create an extended range of electrical 3D components (equipment, mountings, connectors, shells, wires, cables, harness supports and protections, etc.) and define their electrical and mechanical behavior
Efficiently store, manage, and reuse all electrical objects in easy-to-use catalogs
Design and route 3D electrical networks in context (harnesses and cableways), with accurate finite element modeling to provide realistic harness shape and behavior characteristics.
Leverage analysis tools to check design connectivity and quality.
Wire/cable content import and routing into network.
New 3D design capability from 2D schematics.
Building and Civil Systems Schematic Designer
DEFINE SYSTEMS ARCHITECTURE IN CONTEXT OF DETAILED 3D ELECTRICAL & FLUIDIC SYSTEMS DESIGN
---
With this package, systems schematic designers can capture functional and logical architecture and connectivity of electrical and fluid systems. It optimizes the design process with an efficient UI and task automation:
Enable Requirement, Functional, Logical and Physical design of complex products in CATIA.
Define equipment with their electrical and fluidic interfaces, logical connectivity, and content with discipline-specific extensions of the logical model (piping/tubing, equipment, connectors, pin, nets, harnesses, wires and cable, etc.)
Import/export electrical definition in ixfElec format (xml file).
Route with rules and checks and anticipate systems integration issues using CATIA Systems Logical 3D architecture.
Validate and automate design work with knowledgeware.
Easily integrate with other ECAD applications with ELOG and legacy XML import/export.
Additional Packages
---
3DEXPERIENCE CATIA has process-oriented packages for a variety of other users:
3DEXPERIENCE Learning and Support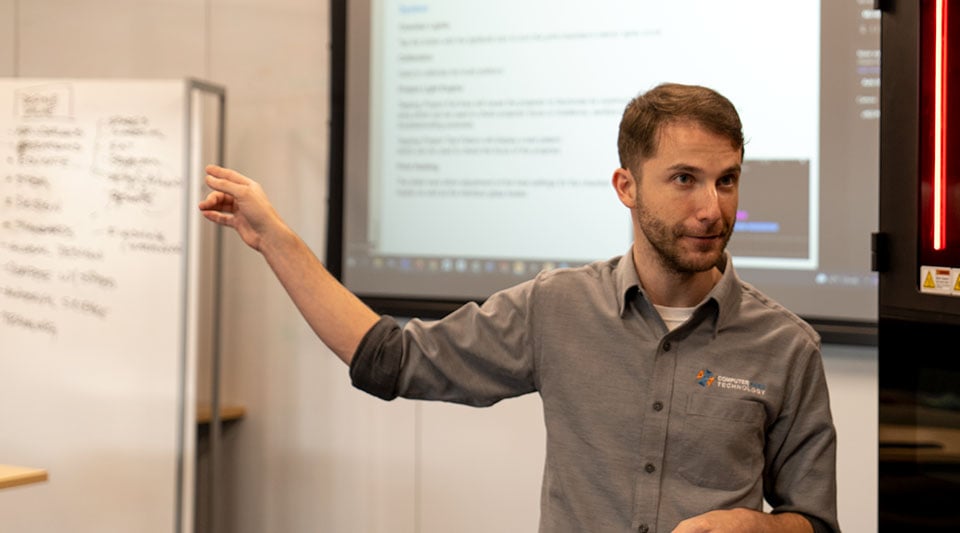 3DEXPERIENCE Learning Resources
---
3DEXPERIENCE is powerful and transformative software, so learning to make the most of it isn't trivial. Thankfully, Dassault Systèmes and CATI provide plenty of resources on the path to proficiency:
Official and custom-tailored classroom training
Online training courses on the Learning Space
CATI's quick-response technical support
Extensive official documentation
Dassault Systèmes Knowledge Base of supplemental materials, technical articles, and support tickets
CATI simulation mentorship programs
CATI consultative methodology development
Why 3DEXPERIENCE with CATI?
---
Computer Aided Technology (CATI) has been implementing solutions on the 3DEXPERIENCE Platform since 2012. No one has more experience when it comes to 3DEXPERIENCE Platform solutions, especially when it comes to implementing the platform with SOLIDWORKS or CATIA.
Watch this video to learn more about why companies choose to partner with CATI for 3DEXPERIENCE solutions.
Get Started with 3DEXPERIENCE from CATI.
We're ready to help figure out the right product development solution plan for you. Contact us today to get started with a quote, a free trial, a demo, or just ask questions.
Other Design & Engineering Software
We Empower The
Innovators