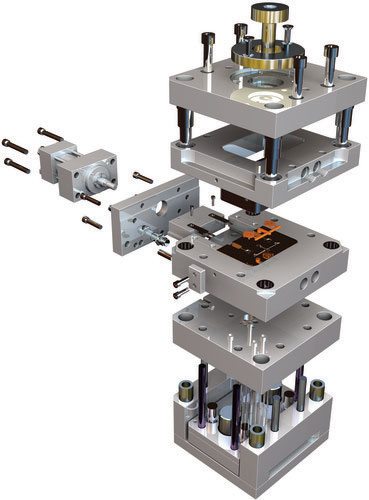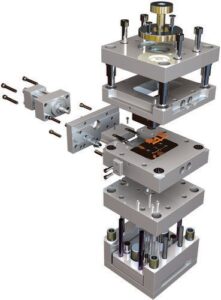 SOLIDWORKS 3D CAD enables product designers and mold makers to easily incorporate design changes throughout the development process, right up to final manufacturing. The software, which can be used for plastic, cast, stamped, formed, and forged designs, fully integrates product design, mold design, and validation in one package, saving time, reducing costs, accelerating the product development process, and increasing productivity.
SOLIDWORKS associativity allows changes made to the design model to automatically flow throughout all the downstream models and documentation, including the mold and electrodes, as well as all the 2D drawings created from these 3D models. If SOLIDWORKS Gold CAM Partner software is used to create the machining tool paths for the mold and electrodes, those tool paths will update as well. There is no need to manually track and edit individual files. All designs—parts, the mold tool, electrodes, drawings, and even the NC data—stay current and accurate.
Mold Design Overview
Complex mold designs change constantly during part development. Constant import, export, and repair of data, as designers move models between part and mold design, can consume valuable design time and introduce errors and inaccuracies due to data translation. As a result, mold designers typically wait until the part design is "frozen" before they start tooling.
SOLIDWORKS provides an advantage with design and validation of parts and tooling in one system. Designers can validate that parts can be molded successfully, including checking for draft, thickness, and undercuts to ensure the correct geometry for molding. Additionally, designers can use SOLIDWORKS Plastics to simulate mold filling and determine the best gate locations, whether the part will fill correctly, where weld lines might form, and possible sink locations.
Key SOLIDWORKS mold design capabilities include:
Complete plastic part and advanced surfacing design tools
Geometry Import, Repair, and Healing tools
Draft Analysis, Undercut Analysis, and Thickness Analysis tools
Parting line tools
Parting surface tools
Automated "fill surface" capability for easy shutoff surface creation
Core and cavity splitting tools
SOLIDWORKS 3D mold bases available on-line and directly from major mold suppliers
SOLIDWORKS configurations to create customizable configurations of molds and mold components
Compare Part tools to visually see in 3D what geometry was added or removed when design changes occur
Mold filling simulation
Production quality mold drawing creation tools
Seamless integrations with several industry leading CAM products allowing NC tool paths to automatically update with part design and tooling changes