Stratasys Healthcare 3D Printer
J5 DentaJet
The Stratasys J5 DentaJet™ may be small, but it's a powerful tool for dental labs. With a small footprint and a large-capacity rotating print tray, the newest addition to the Stratasys Dental family is designed to maximize efficiency.
Ready to Purchase?
Connect With One of Our Experts To Get Started Today!
Request A Demo
Load one tray and walk away
The J5 DentaJet™ may be small, but it's a powerful tool for dental labs. Designed to reduce costs, maximize efficiency and create more dental parts with less handling — all with the precision, accuracy and realism you can expect from Stratasys.
Implantology
Simplify the complexity of implantology and maximize production.
Orthodontics
Cut days off delivery times and produce more orthodontic appliances.
Removables
educing manual labor and increase production.
Crown and Bridge
Produce large volumes of models in high resolution materials.
Printing Materials
Biocompatible (MED610)
VeroGlaze (MED620)
Biocompatible MED625FLX
Vero Materials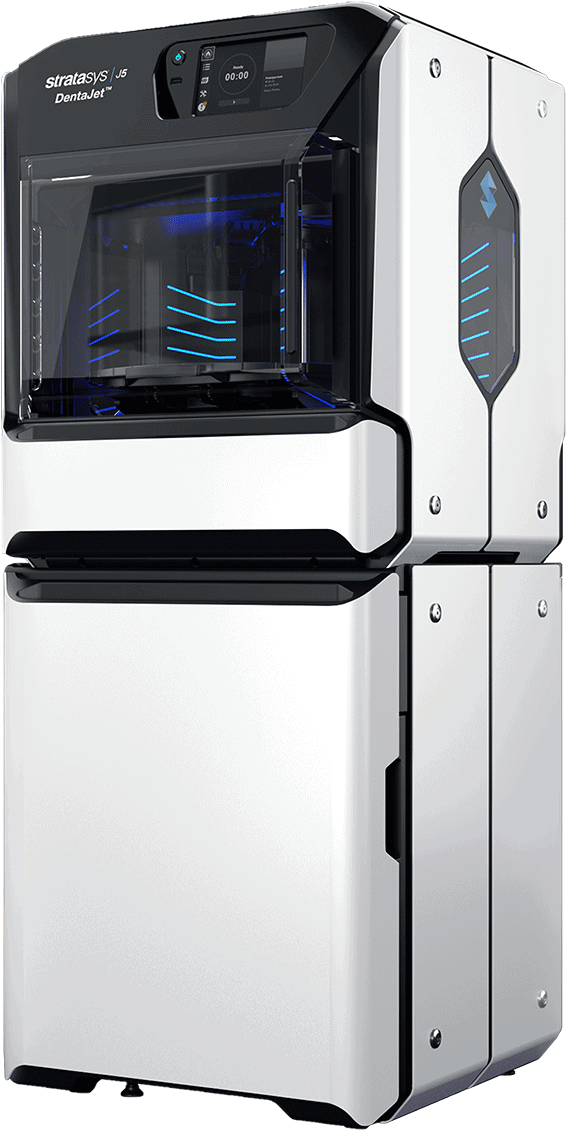 J5 DentaJet Features
System Size

651 x 661 x 1511mm (25.63 x 26.02 x 59.49 in.)

Build Modes

High Quality Speed (HQS) — 18.75μm

Rotating Print Tray

Radial 3D Printing paths for faster prints, better quality

Build Envelope (XYZ)

Up to 140 x 200 x 190mm (5.51 x 7.87 x 7.48in.)
Full Specifications
Model Materials

Biocompatible materials:

• Biocompatible Clear MED610™

• VeroGlaze™ (MED620)

• Flexible clear biocompatible material MED625FLX™

Vibrant colors including:

• VeroCyanV™ (RGD845)

• VeroMagentaV™ (RGD852)

• VeroYellowV™ (RGD838)

• VeroDent™ PureWhite (DEN847)

Digital Model Materials

Unlimited number of composite materials including:

• Over 500,000 colors

• Separator Digital Material

Support Materials

SUP711™ (Water Jet removable)

Build Tray

Printing area: 1,174cm2

Max Part Size: Up to 140 x 200 x 190mm (5.51 x 7.87 x 7.48in.)

Layer Thickness

Horizontal build layers down to 18 microns (0.0007 in.)

Network Connectivity
System Size and Weight

651 x 661 x 1511mm (25.63 x 26.02 x 59.49 in.); 228 kg (503 lbs.)

Operating Conditions

Temperature 18 – 25 °C (64 – 77 °F); relative humidity 30 – 70% (non-condensing)

Power Requirements

100 – 240 VAC, 50 – 60 HZ, 10A, 1 phase

Regulatory Compliance
Software
Build Modes

High Quality Speed (HQS) – 18.75μm

View More
The Stratasys J5 DentaJet™ 3D printer provides high throughput with a small footprint and affordable price. It offers dental labs multiple capabilities to produce fixed restorations, orthodontic appliances and removables with speed and efficiency.
Quality, made compact.
Designed with a larger print tray to create more parts in a compact, lab-friendly environment, the DentaJet is like having three printers in one — print an implant case with a rigid opaque model with a soft gingiva mask and a biocompatible transparent surgical guide, or print an RPD framework in a castable material together with the patient model.
Harness the power of color.
Leverage full-color capability to improve workflow and tracking and communicate more information. Reduce C&B remakes with the only dental printer able to create highly realistic replicas of the patient's mouth — which enable better clinical outcomes and communication between the lab, clinic and patient.
Do You Have a a 3D Printing & Additive Manufacturing Success Plan?
Stratasys Support
The ability to support our customers is the cornerstone of our business. Our engineers are available 12 hours per day, 5 days per week, our award-winning technical team can assist you with your 3D Printing and Additive Manufacturing challenges in a timely manner.
Call: 888-285-2284
Email: 3dp.support@cati.com
Support Hours: 7AM – 7PM Central Time
Support Days: Monday – Friday
3D Printing Services
Are your 3D Printing machines all in-use? Do you need a material or technology you don't currently have in-house? No matter your situation, the team at Computer Aided Technology can get you back on track to meet your deadline by providing you with 3D printed part services.
We can provide you with project support on a vast number of technologies including: FDM, SLS, DLP, CLIP, MultiJet Fusion, PolyJet, Stereolithography, 3D Printed Metals, CNC Machining, Injection Molding, Urethane Cast Molding
CATI Is Your 3D Printing and Additive Manufacturing Success Plan
As the Nation's leading Stratasys partner, no one is more qualified to build and support your product development process.  We believe everyone should have access to our curated portfolio of transformative engineering and manufacturing technologies.
By listening to and working with you, we will find the right solution for you at the right time, with an implementation and growth plan to support your business ambitions.
Get Started with Stratasys Solutions from CATI.
We're ready to help figure out the right product development solution plan for you. Contact us today to get started with a quote, a free trial, a demo, or just ask questions.
Other 3D Printers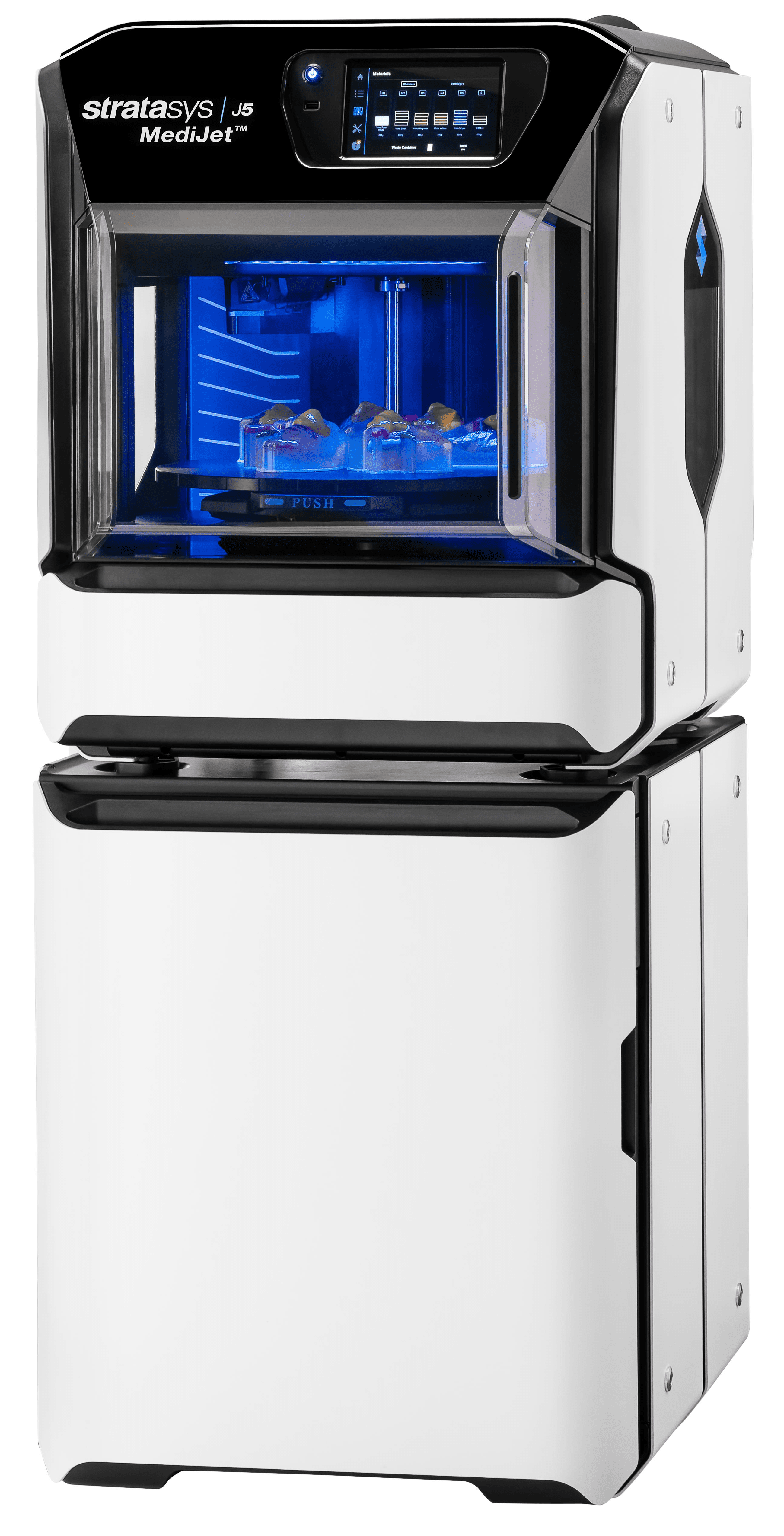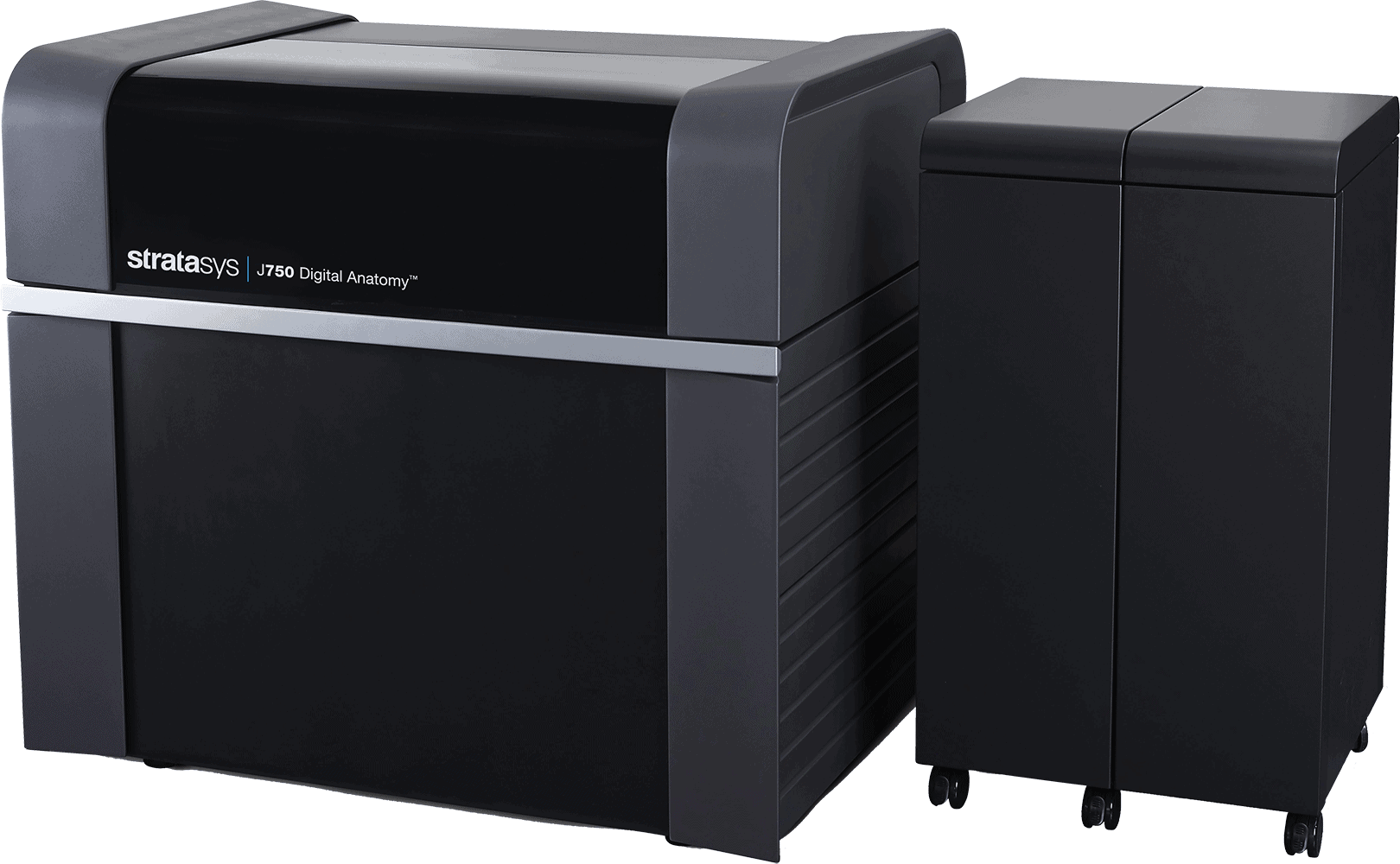 J750 Digital Anatomy Printer
Unrivaled Accuracy, Realism and Functionality
View Details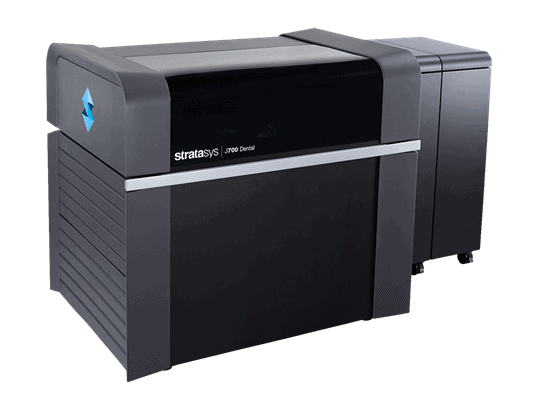 J700 Dental
Optimized for Clear Aligner Production Right Out of the Box
View Details