PostProcess Technologies Surface Finish
DECI Duo
With the patent-pending DECI Duo™, surface finishing of 3D printed parts is automated in a single system and designed with a space-saving footprint that optimizes production floor space.
The DECI Duo has been engineered for the most advanced 3D print materials such as thermoplastics and metals, and offer fast cycle times for even the most complex parts, including those with internal channels, organic geometries, and honeycombs.
The Duo's unprecedented performance is a result of PostProcess' Thermal Atomized Fusillade (TAF) technology, in which two perpendicular, single-axis jet streams comprised of compressed air, detergent, and suspended solids providing targeted blast sequences while utilizing 360° part rotation for maximum surface exposure.
Through a combination of optimized energy, exclusive chemistry including detergents and suspended solids, the system is guided by our proprietary AUTOMAT3D® software to provide the desired surface finish while preserving fine-detail part geometries. The DECI Duo thinks like a member of your team, monitoring and reacting in real-time to maintain optimal conditions with sophisticated features like pre-programmed preventative maintenance schedules, intelligent cycle time programming, and one-touch repeatability with recipes stored within the software.
Thoughtfully designed, the DECI Duo also includes an LED lighted chamber, noise-reducing features for a low dBa, and the flexibility of a manual mode to allow for hands-on part finishing. We're always thinking about how to optimize efficiency, with considerations like casters for easy installation, a smart electrical panel design, and pass-through door capability to help streamline your entire additive manufacturing operation.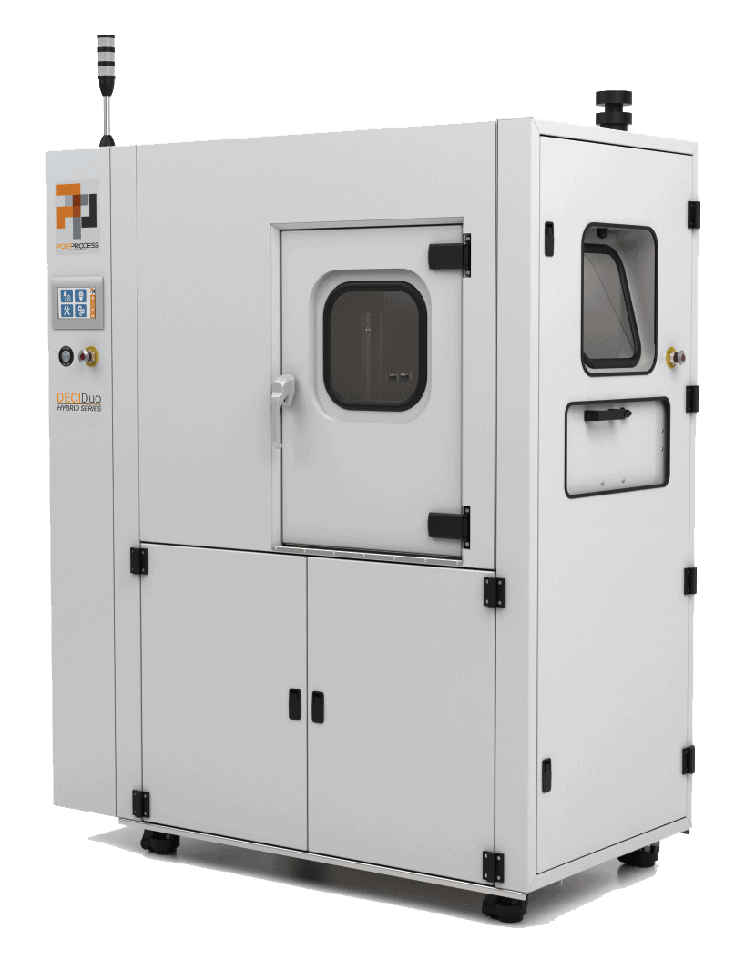 DECI Duo Features
Envelope Size

15" D x 15" H 

(38 cm x 38 cm)

Weight

2180 lbs. empty, 2350 lbs. full

System Size

69.5″ L x 37″ W x 94″ H (177 cm x 94 cm x 239 cm)
Full Specifications
Hardware Features

Customizable settings

Set and save programs for future runs

Stainless steel envelope

Textured powder-coated enclosure

Counter-weighted vertical door

Fully insulated exterior

Casters for easy installation

Size and Weight

Machine footprint: 69.5″ L x 37″ W x 94″ H (177 cm x 94 cm x 239 cm)

Approximate Weight: 2180 lbs. empty, 2350 lbs. full

Envelope Size

Envelope: 15" D x 15" H (38 cm x 38 cm)

Electrical

Voltage: 480V 3 Phase

Amperage: 60A

AUTOMAT3D™ Software Features

Variable Tempertures

Intelligent cycle times

Proprietary Agitation Algorithms

Consumables

PLM-001-DUO Detergent

AS-SS, AS-ALO, SS-SS Suspended Solids

Safety Features

Emergency stop

Auto power off

Compliant with all OSHA regulations

View More
Do You Have a a 3D Printing & Additive Manufacturing Success Plan?
PostProcess Support
The ability to support our customers is the cornerstone of our business. Our engineers are available 12 hours per day, 5 days per week, our award-winning technical team can assist you with your 3D Printing and Additive Manufacturing challenges in a timely manner.
Call: 888-285-2284
Email: 3dp.support@cati.com
Support Hours: 7AM – 7PM Central Time
Support Days: Monday – Friday
3D Printing Services
Are your 3D Printing machines all in-use? Do you need a material or technology you don't currently have in-house? No matter your situation, the team at Computer Aided Technology can get you back on track to meet your deadline by providing you with 3D printed part services.
We can provide you with project support on a vast number of technologies including: FDM, SLS, DLP, CLIP, MultiJet Fusion, PolyJet, Stereolithography, 3D Printed Metals, CNC Machining, Injection Molding, Urethane Cast Molding
CATI Is Your 3D Printing and Additive Manufacturing Success Plan
As the Nation's leading PostProcess partner, no one is more qualified to build and support your product development process. We believe everyone should have access to our curated portfolio of transformative engineering and manufacturing technologies.
By listening to and working with you, we will find the right solution for you at the right time, with an implementation and growth plan to support your business ambitions.
Get Started with PostProcess Solutions from CATI.
We're ready to help figure out the right product development solution plan for you. Contact us today to get started with a quote, a free trial, a demo, or just ask questions.
Other 3D Printers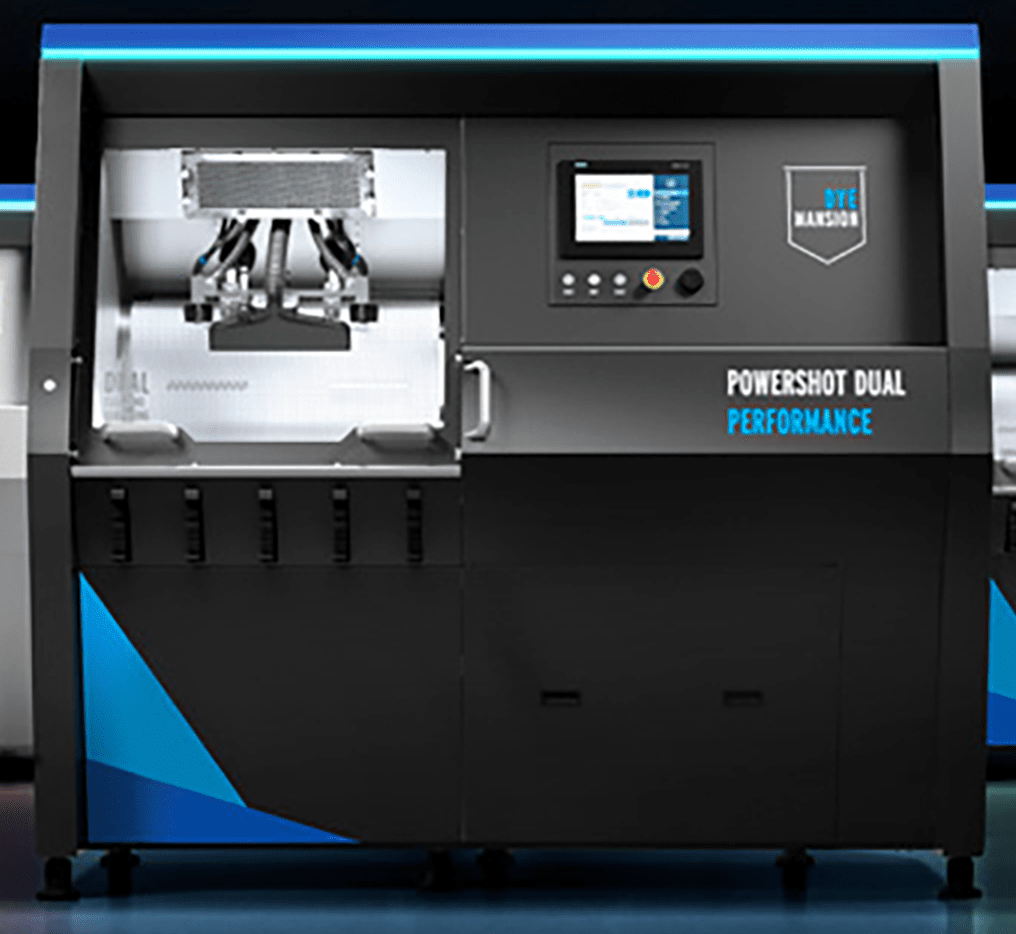 Powershot Performance Series
Next level blasting systems purpose-built for the factory of the future & high-volume production with Additive Manufacturing
View Details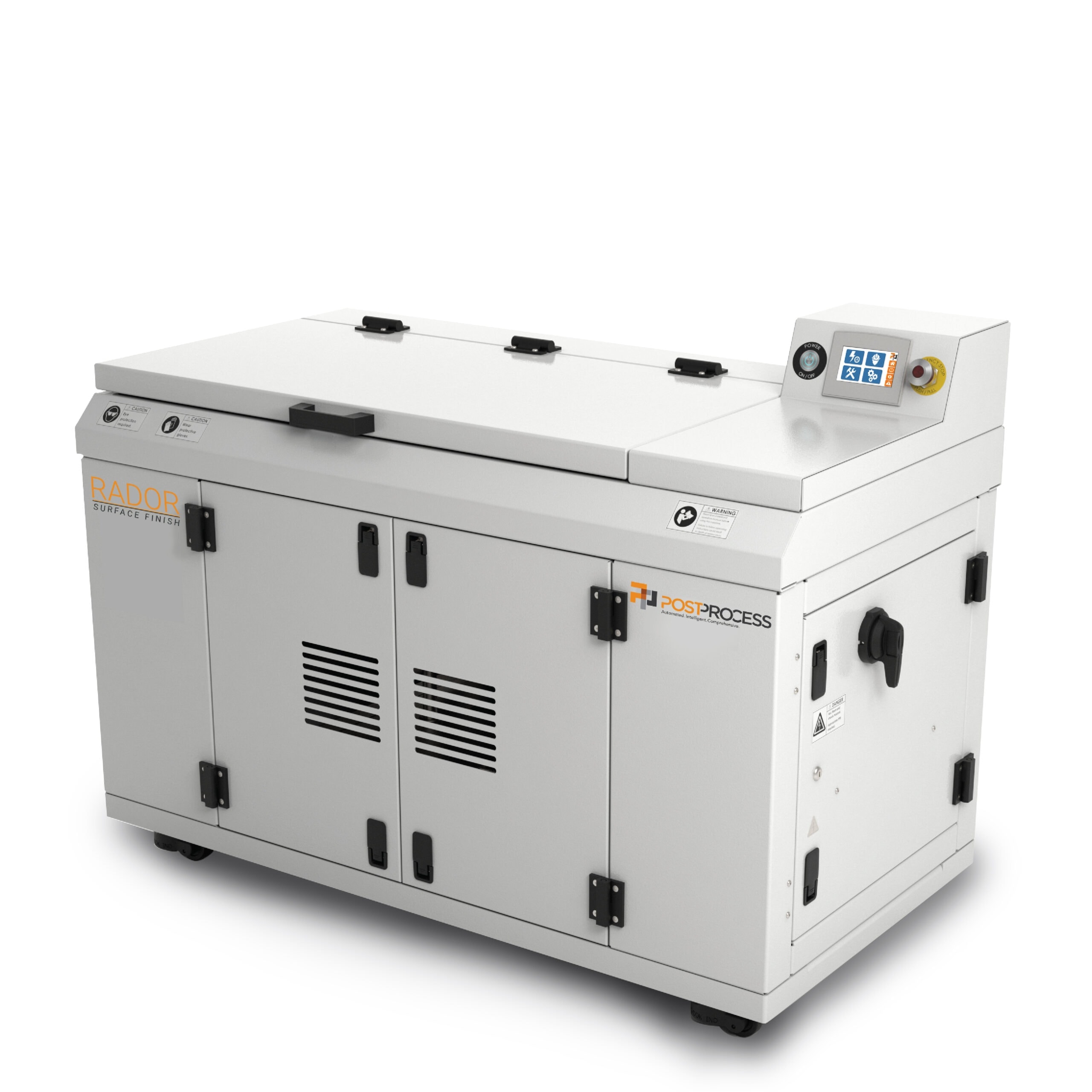 RADOR
Whatever your surface finish requirements are, the RADOR has been engineered to meet the specifications for the desired Roughness Average (Ra) to achieve various types of finishes on a wide range of 3D printed materials.
View Details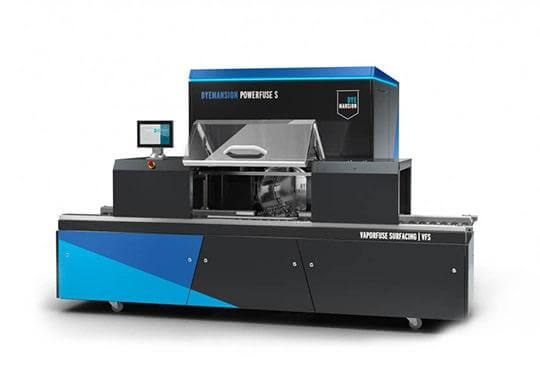 Powerfuse S
The green & industrial vapor polishing system for sealed surfaces.
View Details
Related articles on our blog