PostProcess Technologies Support and Resin Removal
DEMI 200
Support & Resin Removal solutions provides all the conveniences of a compact bench-top footprint, with an envelope sized for a few large or several small geometries.
The PostProcess™ DEMI 200™ Support & Resin Removal solution provides all the conveniences of a compact bench-top footprint, with an envelope sized for a few large or several small geometries. Rely on the patent-pending DEMI 200 for superior PolyJet and FDM support removal and excess SLA, DLP, and CLIP resin removal.
The DEMI 200 includes our patented Submersed Vortex Cavitation (SVC) technology, a rotating motion while immersed in fluid for disposing support material and providing even exposure to induced mechanical agitation. Utilizing our proprietary software and paired with our exclusive detergents, the right amount of time, and exact temperature based on the material and geometry of the 3D printed part, the DEMI 200 delivers precise, hands-free post-printing for additively manufactured parts.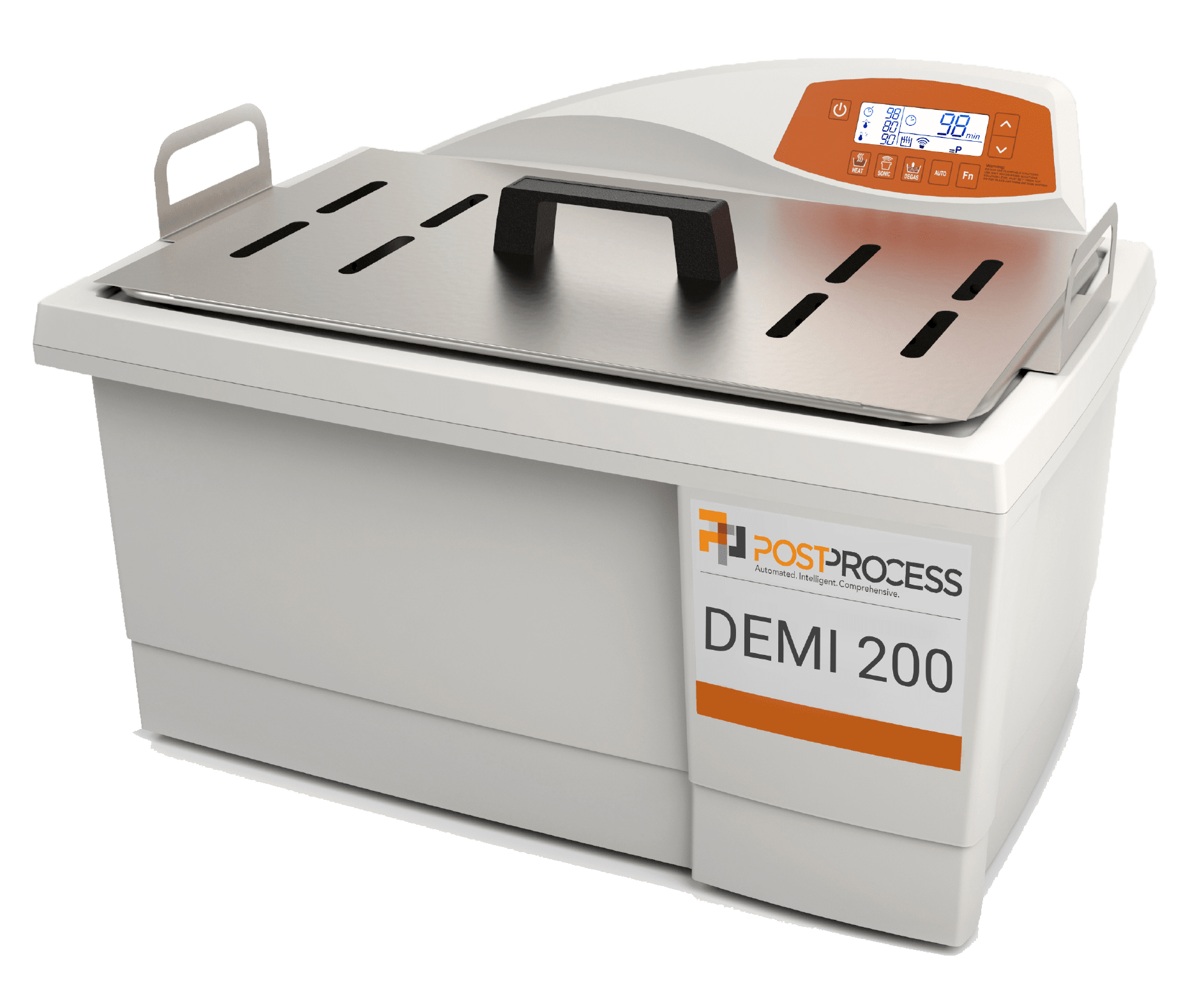 DEMI 200 Features
Envelope Size

19 x 27.5 x 26 in.

(48 x 70 x 66 cm)

Weight

700 lbs. empty. 1000 lbs full

System Size

44.7 x 40.4 x 93.8 in. (114 x 103 x 238 cm)
Full Specifications
Hardware Features

Digital interface

Piezo-electric Ultrasonics

Stainless steel envelope

Removable envelope lid

Magnetically driven pump

Drain and hose

Size and Weight

Machine footprint: 23.5 x 18 x 15.5 in. (60 x 46 x 39 cm)

Approximate Weight: 35 lbs. empty. 75 lbs full

Envelope Size

Envelope: 18 x 10 x 6 in. (46 x 25 x 15 cm)

Electrical

Voltage: 110V/240V, 60/50Hz

Amperage: 8.5A/3.9A

Connector: NEMA 5-15P

AUTOMAT3D™ Software Features

Variable temperature (70-156°F / 21-69°C)

Programmable cycle times

Proprietary Agitation Algorithms

Detergent

Capacity: 5 Gallons / 19 Liters

Polyjet Materials: PLM-101-SUB

SLA, CLIP, and DLP Materials: PLM-403-SUB

FDM Materials: PLM-201-SUB

Safety Features

Auto power down

Compliant with all OSHA regulations

Noise reducing features for a low dBa

View More
Do You Have a a 3D Printing & Additive Manufacturing Success Plan?
PostProcess Support
The ability to support our customers is the cornerstone of our business. Our engineers are available 12 hours per day, 5 days per week, our award-winning technical team can assist you with your 3D Printing and Additive Manufacturing challenges in a timely manner.
Call: 888-285-2284
Email: 3dp.support@cati.com
Support Hours: 7AM – 7PM Central Time
Support Days: Monday – Friday
3D Printing Services
Are your 3D Printing machines all in-use? Do you need a material or technology you don't currently have in-house? No matter your situation, the team at Computer Aided Technology can get you back on track to meet your deadline by providing you with 3D printed part services.
We can provide you with project support on a vast number of technologies including: FDM, SLS, DLP, CLIP, MultiJet Fusion, PolyJet, Stereolithography, 3D Printed Metals, CNC Machining, Injection Molding, Urethane Cast Molding
CATI Is Your 3D Printing and Additive Manufacturing Success Plan
As the Nation's leading PostProcess partner, no one is more qualified to build and support your product development process. We believe everyone should have access to our curated portfolio of transformative engineering and manufacturing technologies.
By listening to and working with you, we will find the right solution for you at the right time, with an implementation and growth plan to support your business ambitions.
Get Started with PostProcess Solutions from CATI.
We're ready to help figure out the right product development solution plan for you. Contact us today to get started with a quote, a free trial, a demo, or just ask questions.
Other 3D Printers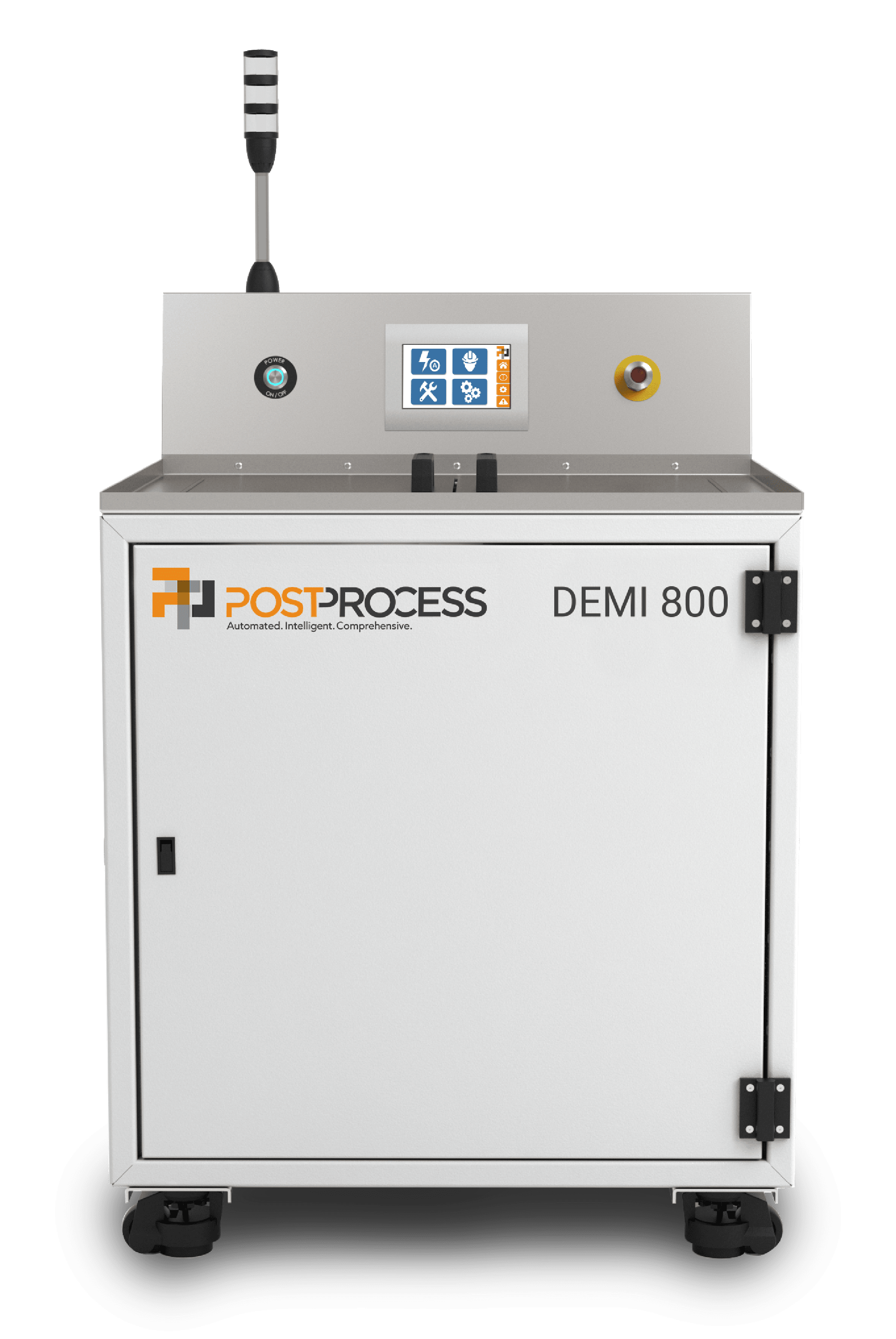 DEMI 800
When throughput is essential, the PostProcess™ DEMI 800™ Series automated submersion systems are engineered to meet the demands of volume production while ensuring consistency of every part.
View Details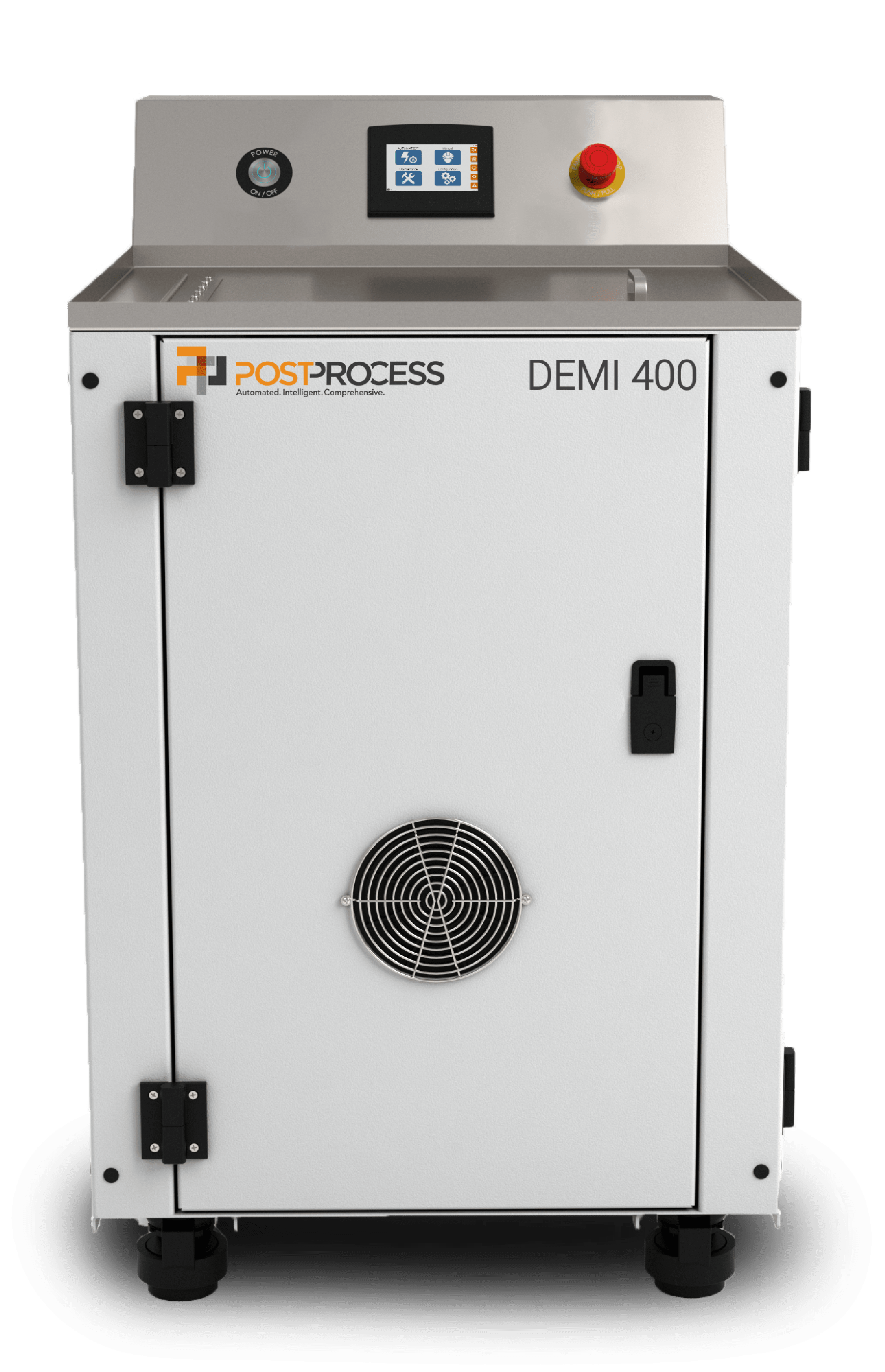 DEMI 400
The PostProcess™ DEMI 400™ Series Support & Resin Removal submersion solutions deliver automated removal of PolyJet and FDM supports and excess resin for SLA, CLIP, and DLP technologies.
View Details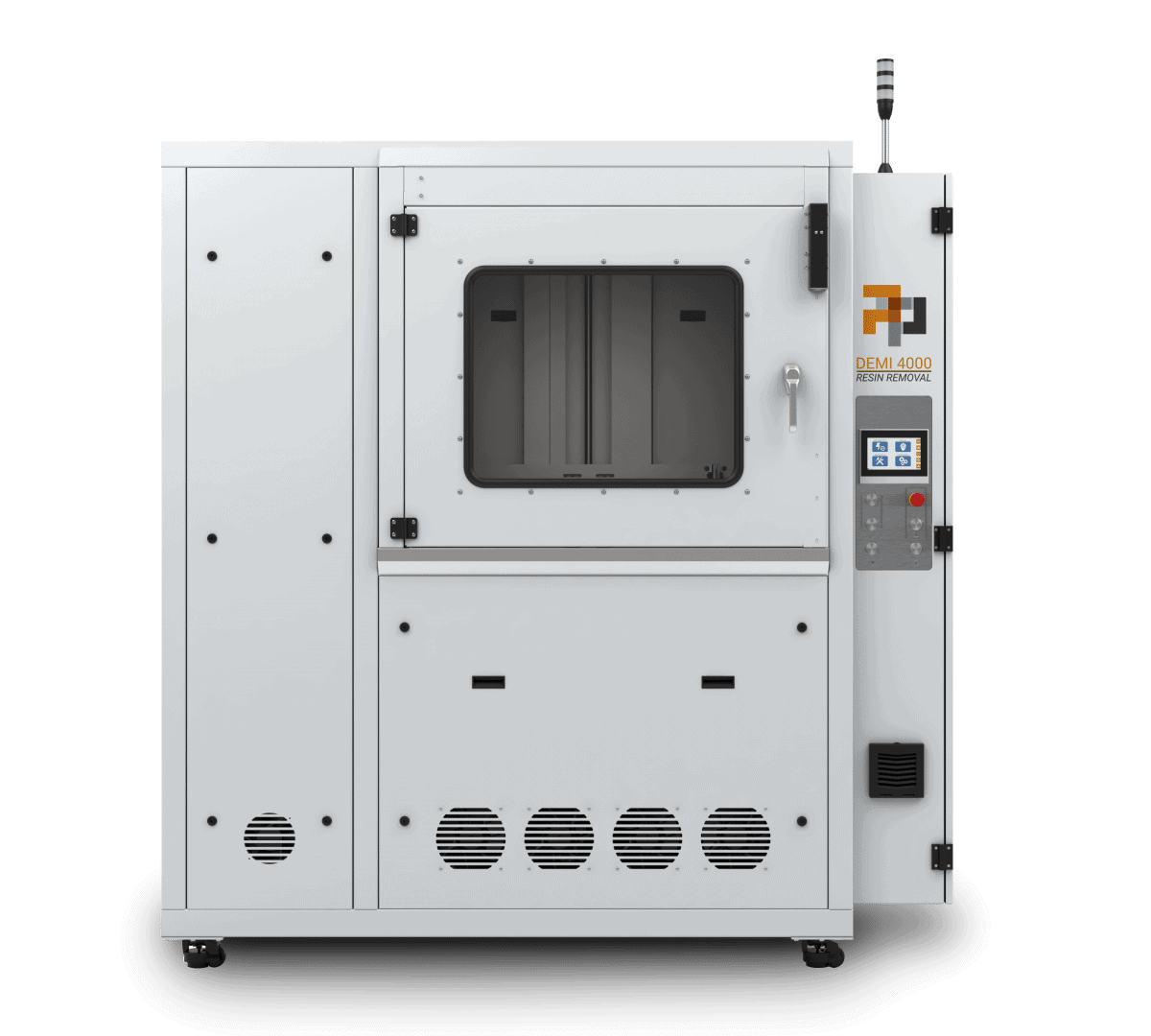 DEMI 4000
Need a scalable post-printing solution for high-volume stereolithography (SLA) production? The DEMI 4000™ is the world's only automated technology developed for production SLA resin removal.
View Details
Related articles on our blog