PostProcess Technologies Support and Resin Removal
DEMI 4000
Need a scalable post-printing solution for high-volume stereolithography (SLA) production? The DEMI 4000™ is the world's only automated technology developed for production SLA resin removal.
Powered by PostProcess's proprietary software platform, AUTOMAT3D®, this solution utilizes our patented Submersed Vortex Cavitation (SVC) technology, ensuring consistency and optimizing the rate of resin removal. The solution works in concert with PostProcess's suite of long-lasting detergents, specialized for applications from standard resins to ceramic-filled resins to high-temp resins. The most recent detergent release outperforms all typical solvents (e.g. IPA, TPM, DPM) on longevity, and offers an exceedingly safe flashpoint over 200°F / 93°C. This decreases the frequency of chemical changeouts and improves sustainability standards.
With a processing tank measuring 890mm x 890mm x 635mm, the DEMI 4000 Series can seamlessly process large part sizes or large builds with many smaller-sized parts, improving cycle times and increasing throughput. The utilization of a powered lift system eliminates the need for multiple machines, allowing ergonomic, operator-friendly same-height loading of multiple build trays.
The lift system's fully-enclosed process envelope provides an optimized operator experience while enabling a cleaner and safer working environment. The process envelope of the DEMI 4000 is aligned with many of the most popular production level SLA 3D printers, including the Stratasys Neo Series.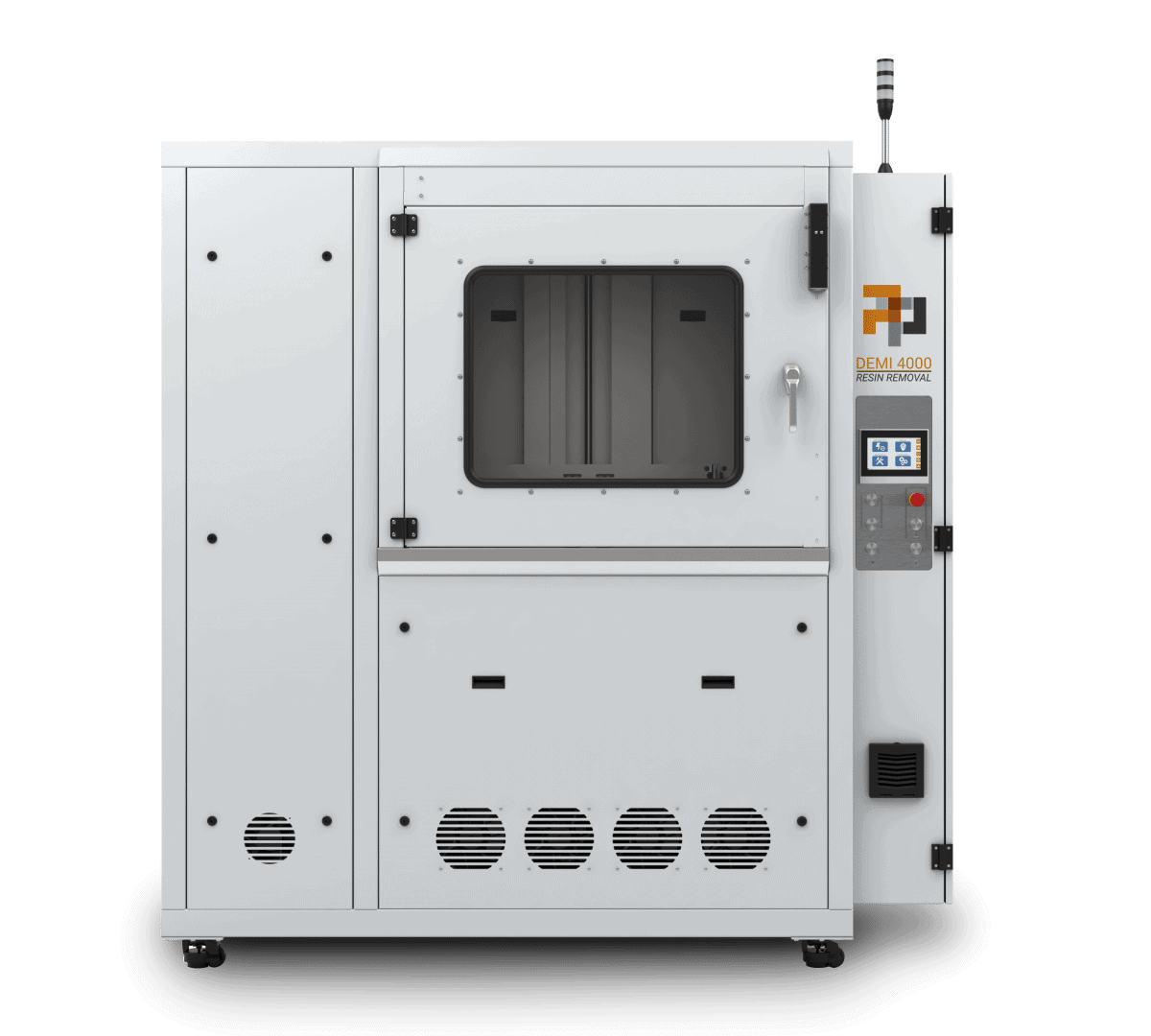 DEMI 4000 Features
Envelope Size

35" L x 35" W x 25" H

(89 cm x 89 cm x 63.5 cm

Weight

2590 lbs. empty (1174 kg)

4886 lbs. (2216 kg) full

System Size

89" L x 55" W x 94"H (226 cm x 140 cm x 239 cm)
Full Specifications
Size and Weight

Machine Footprint: 89" L x 55" W x 94"H (226 cm x 140 cm x 239 cm)

Approximate Weight: 2590 lbs. empty (1174 kg), 4886 lbs. (2216 kg) full

Lift Capacity: 200 lbs. (90 kg)

Envelope Size

Envelope: 35" L x 35" W x 25" H (89 cm x 89 cm x 63.5 cm)

Electrical

240V, 60Hz, 3-phase, 30 Amps, HBL430P9W plug

Dual agitation with 3500W ultrasonics available

AUTOMAT3D™ Software Features

Programmable cycle time

Proprietary Agitation Algorithms

Storable user recipes

Detergent

Capacity: 275 Gallons (1040 Liters)

SLA and CLIP Materials: PLM-403-SUB

Safety Features

Emergency stop

Auto power down

Safety interlocked door

CE, UL/CSE certified

View More
DEMI 4000
Your High-Volume Automated Solution
AUTOMAT3D takes the guesswork out of post-printing and reduces operator labor time with pre-programmed recipes. Controlling agitation intensities, temperatures, process times, and more, the DEMI 4000 delivers consistently complete resin removal. AUTOMAT3D optimizes the rate of resin removal with ultrasonics, an advanced pumping scheme, as well as heat and variable fluid flow.
Industry-Leading Cycle Times & Detergent Longevity
PostProcess offers a comprehensive suite of detergents, each uniquely optimized for post-printing of numerous resins from various manufacturers. This extends to specialized applications such as ceramic-filled resins and high-temp resins. Our newest generation of detergent was found to have better longevity than all typical solvents (e.g. IPA, TPM, DPM), and an exceedingly safe flashpoint over 200°F / 93°C. This equates to less frequent chemical change outs, improved environmental friendliness, and compliance with regulatory requirements.
Built for Productivity and Safety
Measuring 890mm x 890mm x 635mm, the DEMI 4000's tank is designed to hold 275 gallons (1,040 liters) of resin removal chemistry. At this size, the tank can handle multiple trays of parts at one time, effectively increasing throughput and improving cycle times for all part sizes. Additionally, as a fully-enclosed system with a ventilation port, the DEMI 4000 ensures safety for operators, effectively controlling fumes while keeping resin and detergents contained.
Do You Have a a 3D Printing & Additive Manufacturing Success Plan?
PostProcess Support
The ability to support our customers is the cornerstone of our business. Our engineers are available 12 hours per day, 5 days per week, our award-winning technical team can assist you with your 3D Printing and Additive Manufacturing challenges in a timely manner.
Call: 888-285-2284
Email: 3dp.support@cati.com
Support Hours: 7AM – 7PM Central Time
Support Days: Monday – Friday
3D Printing Services
Are your 3D Printing machines all in-use? Do you need a material or technology you don't currently have in-house? No matter your situation, the team at Computer Aided Technology can get you back on track to meet your deadline by providing you with 3D printed part services.
We can provide you with project support on a vast number of technologies including: FDM, SLS, DLP, CLIP, MultiJet Fusion, PolyJet, Stereolithography, 3D Printed Metals, CNC Machining, Injection Molding, Urethane Cast Molding
CATI Is Your 3D Printing and Additive Manufacturing Success Plan
As the Nation's leading PostProcess partner, no one is more qualified to build and support your product development process. We believe everyone should have access to our curated portfolio of transformative engineering and manufacturing technologies.
By listening to and working with you, we will find the right solution for you at the right time, with an implementation and growth plan to support your business ambitions.
Get Started with PostProcess Solutions from CATI.
We're ready to help figure out the right product development solution plan for you. Contact us today to get started with a quote, a free trial, a demo, or just ask questions.
Other 3D Printers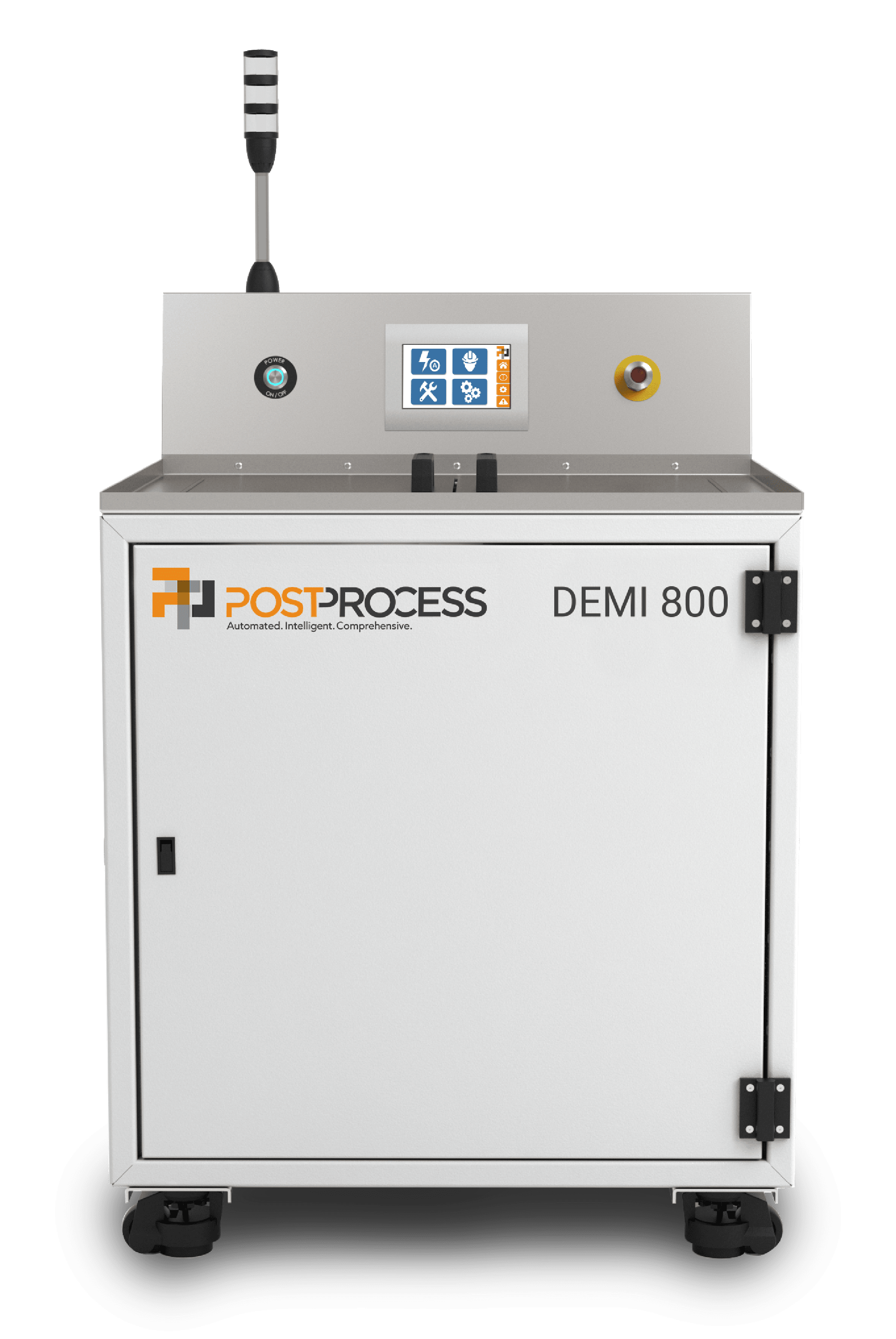 DEMI 800
When throughput is essential, the PostProcess™ DEMI 800™ Series automated submersion systems are engineered to meet the demands of volume production while ensuring consistency of every part.
View Details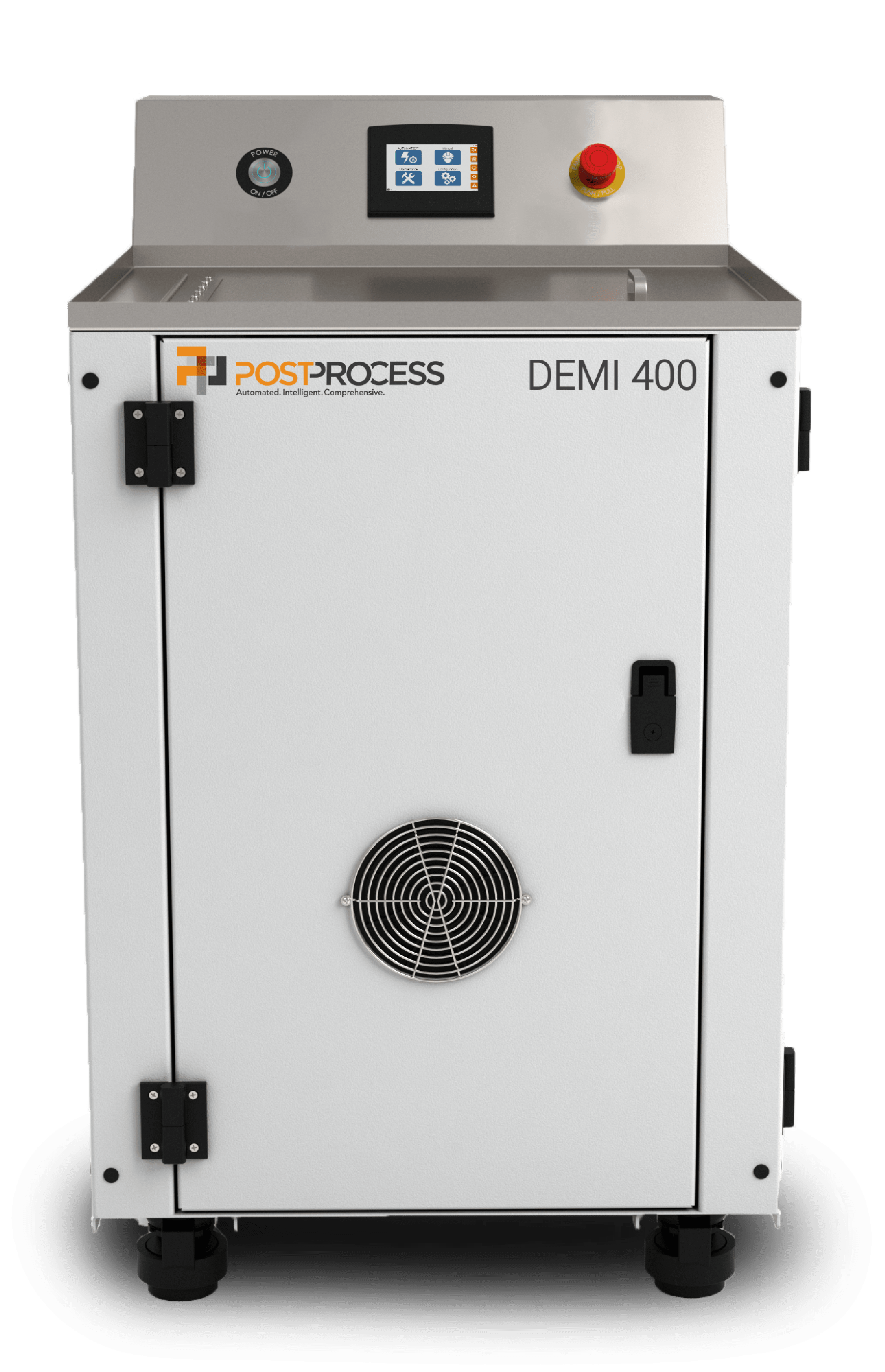 DEMI 400
The PostProcess™ DEMI 400™ Series Support & Resin Removal submersion solutions deliver automated removal of PolyJet and FDM supports and excess resin for SLA, CLIP, and DLP technologies.
View Details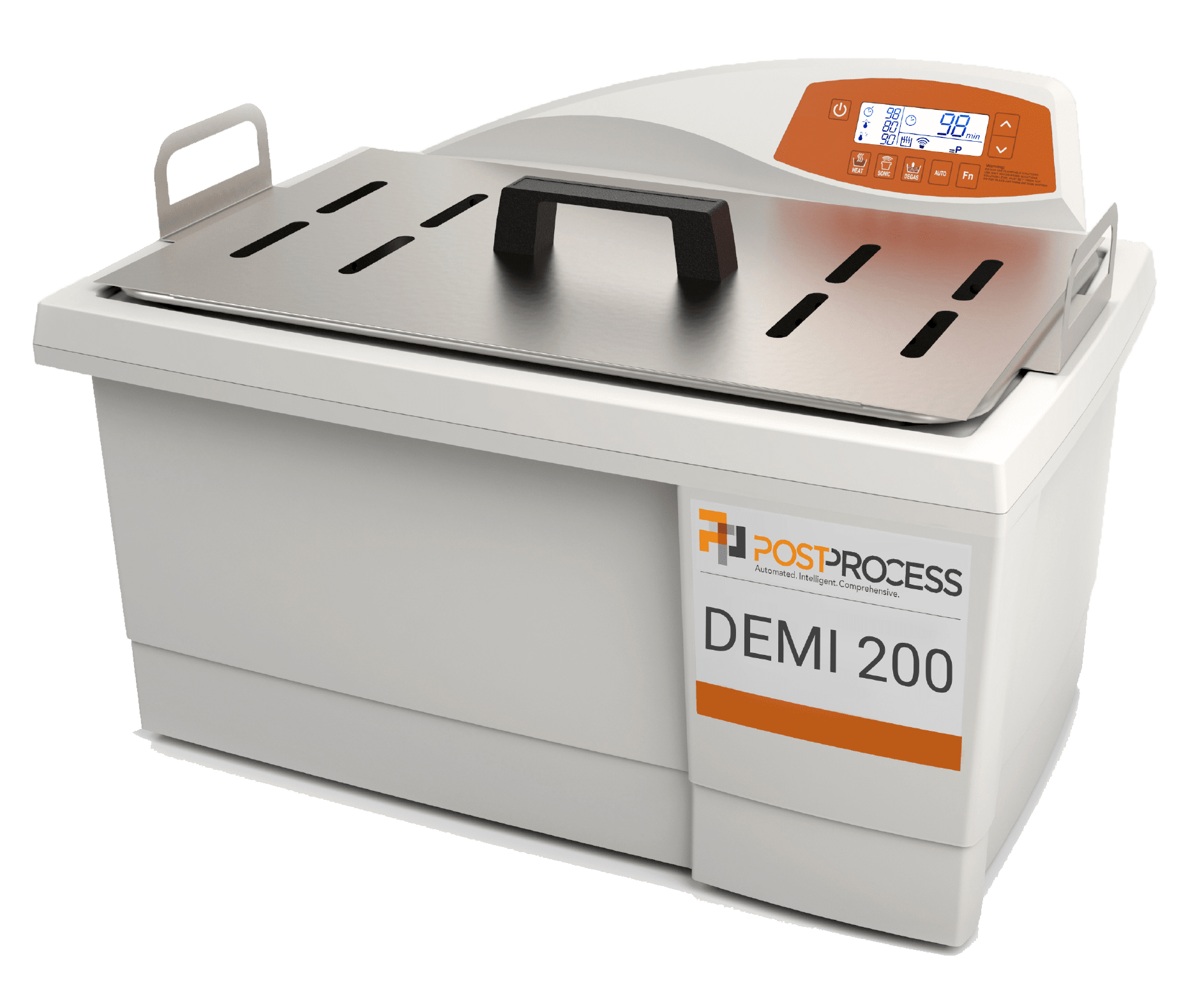 DEMI 200
Support & Resin Removal solutions provides all the conveniences of a compact bench-top footprint, with an envelope sized for a few large or several small geometries.
View Details
Related articles on our blog