Stratasys P3 3D Printer
Origin One
Hello Origin® One, goodbye tooling lead times. Say yes to more jobs with expanded production capabilities.
Ready to Purchase?
Connect With One of Our Experts To Get Started Today!
Request A Demo
Take on the most demanding applications
From biocompatible medical devices to aerospace-grade components and everything in between, Origin One enables breakthrough production applications. Discover how Origin One customers have harnessed P3 technology and materials from Stratasys material ecosystem partners to extend capabilities and create new business opportunities.
Injection Molded Quality Parts
Printing Materials
Loctite 3d 3172 High Impact
KeyGuide by KeyPrint (Dental)
LOCTITE® 3D IND403 High Modulus by Henkel
SOMOS® QuickGen 500 by DSM
LOCTITE® 3D MED 413 by Henkel
Origin DM100 by BASF
LOCTITE® 3D IND402
Ultracur3D® ST45 by BASF
KeySplint Soft by KeyPrint(Dental)
LOCTITE® 3D 3955 FST by Henkel
LOCTITE® 3D IND405 Clear
LOCTITE ® 3D 3843 High Toughness by Henkel
Stratasys Dura56 by LOCTITE®
LOCTITE® 3D MED 412 by Henkel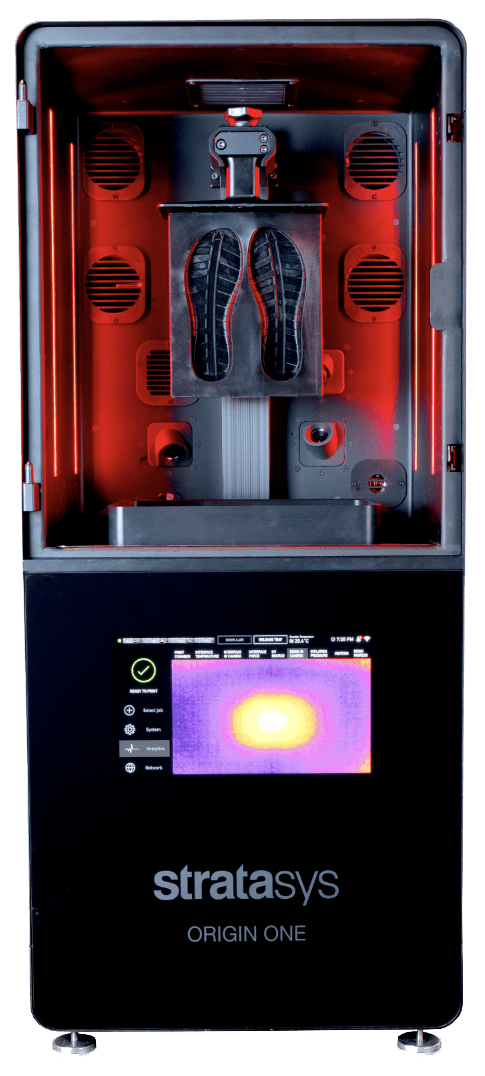 Origin One Features
System Size

49 x 51 x 113cm (19 x 20 x 44 in.)

Accuracy

Print details as low as 50μm in size with high-accuracy materials.

Build Envelope (XYZ)

192 x 108 x 370 mm / 7,672 cm3 (7.5 x 4.25 x 14.5 in. / 462 in3
Full Specifications
Technology

Programmable PhotoPolymerization P3™

Materials

Photocurable materials from Stratasys ecosystem material partners.

Build Envelope (XYZ)

192 x 108 x 370 mm / 7,672 cm3

(7.5 x 4.25 x 14.5 in. / 462 in3)

Maximum length on the diagonal — 220mm (8.6 in.)

Minimum Feature Size

Material and design dependent, as low as 50μm

Resolution
Process Energy
Software

Origin One cloud based web application

Regulatory Compliance
System Size and Weight

49 x 51 x 113cm (19 x 20 x 44 in.)

81 kg (180 lbs.)

Power Requirements

90 – 264 VAC, 50 – 60 HZ, 700 W, 1 phase

Network Connectivity

Ethernet / WiFi with secure network configuration

Ventilation

Refer to photopolymer material MSDS or contact Stratasys rep for guidelines.

Operating Conditions

Operating temperature 15 °C to 30 °C (59 °F to 86 °F) Operating Humidity 30-70%

Gas Input (optional)

Facility air or inert gases

Gas Exhaust (optional)
Material Handling

Resin Tray Capacity 2L

Resin Storage Temp Typically 15-30 °C (59-86 °F)

Printer Authentication Security

 Cryptographically-secure handshake

Network Security

Industry-standard end-to-end encryption

View More
A transformative 3D printer enabling mass production of end-use parts in a diverse range of high-performance materials. Achieve industry-leading accuracy, consistency, detail and throughput with the P3™ Programmable Photopolymerization technology. Get ready for a new era of 3D printing.
Programmable PhotoPolymerization ​P3™
An evolution of digital light processing, P3 powers the Origin One. The tightly synchronized print process includes pneumatic controls to reduce pull forces during the print process, resulting in exceptional surface quality, without sacrificing speed or isotropy. Coupled with an advanced 4K light engine, P3 enables the highest 3D printed part quality and throughput the industry has seen.
Volume production
An optimized build volume, compact footprint, and minimal power requirements enable manufacturers to maximize production capacity per sq ft efficiently. Scale up production with modular hardware and post-process in minutes versus hours to produce parts at scale.
Features big and small
Gain ultimate production flexibility with short or long builds and fast material swaps. Easily print features as small as a hair or solid large molds in the size of the build area with the same exceptional accuracy and consistency.
Return on investment
Achieve a low per-part cost with a fast time to part, affordable single component resins, minimal post-processing, low waste and high production yields. Seamlessly move from prototyping to production on the same platform.
Do You Have a a 3D Printing & Additive Manufacturing Success Plan?
Stratasys Support
The ability to support our customers is the cornerstone of our business. Our engineers are available 12 hours per day, 5 days per week, our award-winning technical team can assist you with your 3D Printing and Additive Manufacturing challenges in a timely manner.
Call: 888-285-2284
Email: 3dp.support@cati.com
Support Hours: 7AM – 7PM Central Time
Support Days: Monday – Friday
3D Printing Services
Are your 3D Printing machines all in-use? Do you need a material or technology you don't currently have in-house? No matter your situation, the team at Computer Aided Technology can get you back on track to meet your deadline by providing you with 3D printed part services.
We can provide you with project support on a vast number of technologies including: FDM, SLS, DLP, CLIP, MultiJet Fusion, PolyJet, Stereolithography, 3D Printed Metals, CNC Machining, Injection Molding, Urethane Cast Molding
CATI Is Your 3D Printing and Additive Manufacturing Success Plan
As the Nation's leading Stratasys partner, no one is more qualified to build and support your product development process.  We believe everyone should have access to our curated portfolio of transformative engineering and manufacturing technologies.
By listening to and working with you, we will find the right solution for you at the right time, with an implementation and growth plan to support your business ambitions.
Get Started with Stratasys Solutions from CATI.
We're ready to help figure out the right product development solution plan for you. Contact us today to get started with a quote, a free trial, a demo, or just ask questions.