Creaform Stationary 3D Scanner
Creaform Cube-R
The CUBE-R™ extends the 3D digitizing and inspection capabilities of the MetraSCAN 3D™ for the dimensional measurement of parts ranging from 1 m to 3 m with metrology-grade volumetric accuracy in real-life shop-floor conditions. Unlike conventional systems, the CUBE-R delivers both speed and volumetric accuracy.
Ready to Purchase?
Connect With One of Our Experts To Get Started Today!
Request A Demo
Fast and accurate 3D scanning solutions for automated quality control
CUBE-R is a fast, reliable, and efficient complete turnkey solution for automated quality control applications. It features the MetraSCAN-R™, a powerful robot-mounted optical 3D scanner that can be integrated into factory automation systems without compromising on accuracy. It is the perfect alternative to solve any productivity issues caused by bottlenecks at the traditional coordinate measuring machine (CMM). Our 3D scanning CMM enables manufacturing companies to harness the power of optical 3D measurement and industrial automation. It optimizes the production cycle and throughput resulting in better product quality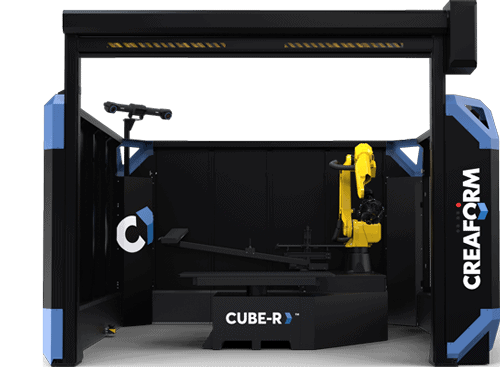 Creaform Cube-R Features
At-line Inspections in Mass Production, up to a Few Hundred Parts/Day

At-line Inspections of Parts Ranging up to 3m

Stamping parts (car body panel, car door, front end, etc.)

Quality Control Inspections of Supplier Parts

Conformity assessments of 3D models against original parts or production tooling

Conformity assessments of manufactured parts against originals
Full Specifications
Dimensions
Max. part size
Max. part weight
Automated axes
Entry
Opening width
Floor mounting or fixing
Loading concept

Manual, transport cart, pallet truck, forklift truck

View More
CUBE-R Automated 3D Scanning System
Designed for automated quality control applications, the R-Series™ 3D scanning solutions are perfect for manufacturing companies who want to increase their productivity by measuring more dimensions on more parts without compromising on accuracy.
The MetraSCAN 3D-R™ is a powerful, innovative robot-mounted optical CMM scanner that can be seamlessly integrated into automated quality control processes for at-line inspection in mass production. Its cutting-edge technology enables manufacturing companies to detect quality issues faster.
The CUBE-R™ leverages the power of the MetraSCAN 3D-R in a high-productivity industrial measuring cell that has been designed to be integrated into factories for at-line inspections. Compared to traditional CMMs, the CUBE-R is much faster, providing a gain in productivity and better efficiency.
Do You Have a a 3D Scanning and Metrology Success Plan?
Creaform 3D Scanner Support
The ability to support our customers is the cornerstone of our business. Our engineers are available 12 hours per day, 5 days per week, our award-winning technical team can assist you with your 3D Printing and Additive Manufacturing challenges in a timely manner.
Call: 888-285-2284
Email: 3dp.support@cati.com
Support Hours: 7AM – 7PM Central Time
Support Days: Monday – Friday
3D Scanning Services
Whether you are just exploring the technology or need access for an upcoming project, our experienced team can provide you with the information you need for parts as small as a screw to as large as an airplane. Ideal for reverse engineering and part inspection, 3D scanning lets you:
Create accurate CAD models from existing parts by digitizing.
Minimize costs & time when validating prototypes by comparing to CAD.
Ensure quality production and eliminate downtime by tracking wear and tear of tooling.
Perform faster and more accurate First Article Inspection (FAI) directly on the shop-floor.
CATI Is Your 3D Scanning & Metrology Success Plan
As a Creaform Strategic Partner, no one is more qualified to build and support your product development process.  We believe everyone should have access to our curated portfolio of transformative engineering and manufacturing technologies.
By listening to and working with you, we will find the right solution for you at the right time, with an implementation and growth plan to support your business ambitions.
Get Started with Creaform Solutions from CATI.
We're ready to help figure out the right product development solution plan for you. Contact us today to get started with a quote, a free trial, a demo, or just ask questions.