Creaform Handheld 3D Scanner
Creaform HandySCAN Silver
The HandySCAN 3D | SILVER Series is a proven and trusted patented portable optical measuring device capturing highly accurate and repeatable 3D measurements.
Ready to Purchase?
Connect With One of Our Experts To Get Started Today!
Request A Demo
Proven and trusted professional 3D scanners at an accessible price
The SILVER Series is part of the HandySCAN 3D™ line-up, the industry standard in portable metrology-grade 3D scanners.
This proven and trusted patented technology captures accurate and repeatable 3D measurements of any complex surface in any location.
The HandySCAN 3D | SILVER Series is optimized to meet the needs of technology innovators and engineering professionals looking for a powerful, accessible, and reliable way to improve product development, shorten time-to-market, and reduce development costs
Assembly/Production
Virtual Assembly
Tool/Robot Path
Part Assessment Before Machining
Prototyping
Rapid Prototyping & Manufacturing
Integration of Prototype Modifications Into CAD File
Testing, Simulation, and Analysis
Finite Element Analysis (FEA)
Interference Analysis
Deformation, Geometry Analysis
Requirements & Specifications
Competitive Product Analysis
Measurement of Product Environment or Connecting Surrounding Parts
Measurement of Exisitng Parts For Aftermarket or Custom Equipment
Concept Design
Clay Model Measurement/Reverse Engineer
Models and Mock-Ups Measurements/Reverse Engineering
Styling & Aesthetics
Concept Prototyping
Integration of Prototype Modifications Into CAD File
Form Study, Proof-of-Concept
Ergonomy
Documentation
As-built Documentation of Parts/Tooling
Marketing Presentations, 3D Training Systems, Gaming
Digital Archiving
Maintenance, Repair and Overhaul
Wear & Tear Analysis
Custom Repairs/Modication
As-built Documentation of Parts/Tooling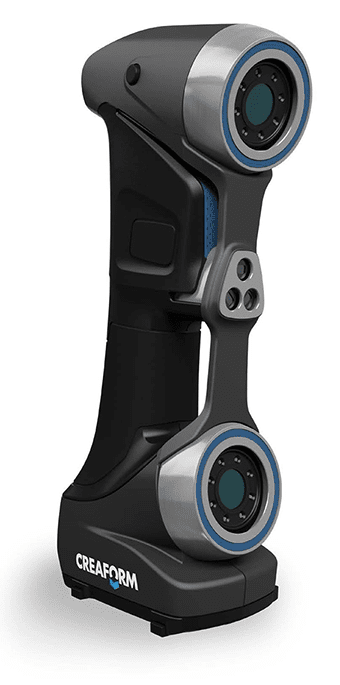 Creaform HandySCAN Silver Features
Accurate, Reliable & High-Resolution 3D Measurements

Faster 3D Scanning Process

Simplicity and Versatility
Which HandySCAN is Right For You?
Specifications
HandySCAN 307
HandySCAN 307 | Elite
HandySCAN 700 | Elite
Accuracy(1)

HandySCAN 307

Up to 0.040 mm (0.0016 in)

HandySCAN 700 | Elite

Up to 0.030 mm (0.0012 in)

(1) Typical value for diameter measurement on a calibrated sphere artefact.

Volumetric accuracy(2) (based on part size)

HandySCAN 307

0.020 mm + 0.100 mm/m (0.0008 in + 0.0012 in/ft)

HandySCAN 700 | Elite

0.020 mm + 0.060 mm/m (0.0008 in + 0.0007 in/ft)

(2) Value for spheres spacing measurement on a calibrated length artefact. Results are obtained using integrated photogrammetry with volumetric accuracy optimization.

Volumetric accuracy with MaxSHOT Next™ | Elite(3)

HandySCAN 307

0.020 mm + 0.015 mm/m (0.0008 in + 0.00018 in/ft)

(3) The volumetric accuracy of the system when using a MaxSHOT 3D cannot be superior to the default accuracy for a given model.

Measurement resolution

HandySCAN 307

0.100 mm (0.0039 in)

HandySCAN 307 | Elite

0.050 mm (0.0019 in)

HandySCAN 700 | Elite

0.050 mm (0.0019 in)

Mesh resolution

HandySCAN 307

0.200 mm (0.0078 in)

Measurement rate

HandySCAN 307

480,000 measurements/s

Light Source

HandySCAN 307

7 red laser crosses

HandySCAN 307 | Elite

7 blue laser crosses


HandySCAN 700 | Elite

7 blue laser crosses (+ 1 extra line)

Laser class

HandySCAN 307

2M (eye-safe)

Scanning area

HandySCAN 307

275 x 250 mm (10.8 x 9.8 in)

Stand-off distance

HandySCAN 307

300 mm (11.8 in)

Depth of field

HandySCAN 307

250 mm (9.8 in)

Part size range (recommended)

HandySCAN 307

0.1–4 m (0.3–13 ft)

Software

HandySCAN 307

VXelements

Output formats

HandySCAN 307

.dae, .fbx, .ma, .obj, .ply, .stl, .txt, .wrl, .x3d, .x3dz, .zpr, .3mf

Compatible software(4)

HandySCAN 307

3D Systems (Geomagic® Solutions), InnovMetric Software (PolyWorks), Metrologic Group (Metrolog X4), New River Kinematics (Spatial Analyzer), Verisurf, Dassault Systèmes (CATIA V5, SOLIDWORKS), PTC (Creo), Siemens (NX, Solid Edge), Autodesk (Inventor, PowerINSPECT)

(4) Also compatible with all major metrology, CAD, and computer graphic software through mesh and point cloud import.

Weight

HandySCAN 307

0.85 kg (1.9 lb)

Dimensions (LxWxH)

HandySCAN 307

77 x 122 x 294 mm (3.0 x 4.8 x 11.6 in)

Connection standard

HandySCAN 307

1 X USB 3.0

Operating temperature range

HandySCAN 307

5-40 °C (41-104 °F)

Operating humidity range (non-condensing)

HandySCAN 307

10-90%

Certifications

HandySCAN 307

EC Compliance (Electromagnetic Compatibility Directive, Low Voltage Directive), compatible with rechargeable batteries (when applicable), IP50, WEEE

Patents

HandySCAN 307

CA 2,600,926, CN 200680014069.3, US 7,912,673, CA 2,656,163, EP (FR, UK, DE) 1,877,726, AU 2006222458, US 8,032,327, JP 4,871,352, US 8,140,295, EP (FR, UK, DE) 2,278,271, EP (FR, UK, DE) 2,230,482, in 266,573, US 7,487,063, CA 2,529,044, EP (FR, UK, DE) 3,102,908, US 15/114,563, CN 201580007340X

View More
Accurate, Reliable & High-Resolution 3D Measurements
Accuracy
The HandySCAN 3D | SILVER Series delivers accurate and reliable 3D measurements regardless of the measurement setup quality and the user's experience level. Featuring dynamic referencing, both the scanner and part can move freely during scanning, and an accurate and high-quality scan can still be obtained.
Accuracy
Up to 0.030 mm (0.0012 in)
Volumetric accuracy
0.020 ± 0.060 mm/m (0.0008 in ± 0.0007 in/ft)
High repeatability and traceable certificate
High level of detail
Proven and trusted technology
Offering the best value for money, the HandySCAN 3D | SILVER Series represents a smart purchase because of its accessible price and high-quality performance. Designed and manufactured in North America and with more than 5,000 users already, this proven and trusted technology demonstrates Creaform's prioritization of attentive service and reliability.
Best price / performance option
Designed and manufactured in North America
More than 5,000 users worldwide
Supported by a global team of engineers and technicians
Portability
Using triangulation on optical reflectors to determine its relative position to the part, this handheld 3D scanner is a stand-alone device that does not require a tripod or any external tracking device to operate. Compact enough to fit into a small suitcase, it can be brought anywhere and used in any environmental conditions without its performance being affected.
Lightweight and small
0.85 kg (1.9 lb)
Fits into a suitcase
Self-positioning with dynamic referencing
On-the-go scanning
Use it in-house or on site
Quick set-up
Up and running in less than 2 minutes
Simplicity & versatility
With its user-friendly interface and ergonomic design, this 3D measurement solution is easy to use and has a short learning curve regardless of the user's experience or expertise level. Its versatility enables users to scan various objects no matter the part size, complexity, material, or color—all with the same device.
Plug and play
Simple user interface and real-time visualization
Masters complex and difficult surfaces
One device for all shapes and sizes
Do You Have a a 3D Scanning and Metrology Success Plan?
Creaform 3D Scanner Support
The ability to support our customers is the cornerstone of our business. Our engineers are available 12 hours per day, 5 days per week, our award-winning technical team can assist you with your 3D Printing and Additive Manufacturing challenges in a timely manner.
Call: 888-285-2284
Email: 3dp.support@cati.com
Support Hours: 7AM – 7PM Central Time
Support Days: Monday – Friday
3D Scanning Services
Whether you are just exploring the technology or need access for an upcoming project, our experienced team can provide you with the information you need for parts as small as a screw to as large as an airplane. Ideal for reverse engineering and part inspection, 3D scanning lets you:
Create accurate CAD models from existing parts by digitizing.
Minimize costs & time when validating prototypes by comparing to CAD.
Ensure quality production and eliminate downtime by tracking wear and tear of tooling.
Perform faster and more accurate First Article Inspection (FAI) directly on the shop-floor.
CATI Is Your 3D Scanning & Metrology Success Plan
As a Creaform Strategic Partner, no one is more qualified to build and support your product development process.  We believe everyone should have access to our curated portfolio of transformative engineering and manufacturing technologies.
By listening to and working with you, we will find the right solution for you at the right time, with an implementation and growth plan to support your business ambitions.
Get Started with Creaform Solutions from CATI.
We're ready to help figure out the right product development solution plan for you. Contact us today to get started with a quote, a free trial, a demo, or just ask questions.
Other 3D Scanners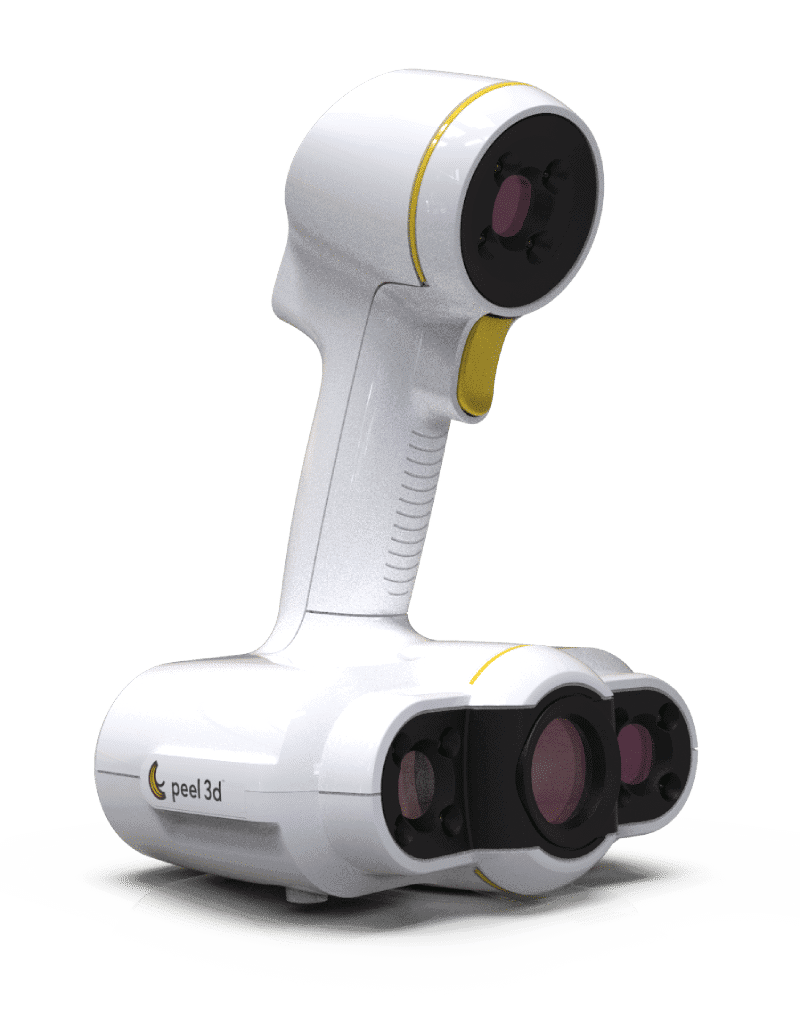 peel 2 / peel 2 CAD
peel 2 is the next-generation of peel 3d scanners that features the same easy, breezy use—all while packing a 1-2 punch of enhanced performance.
View Details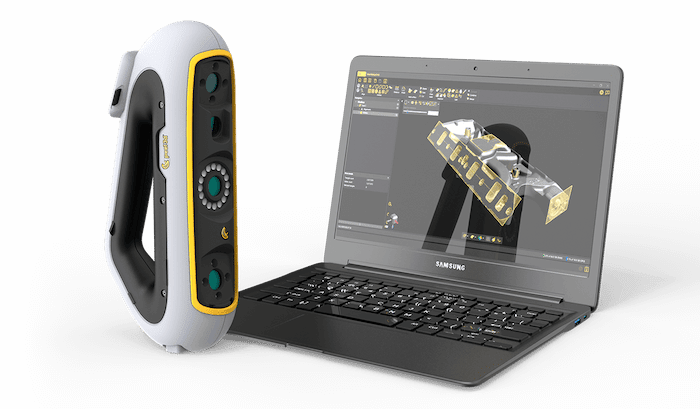 peel 3 / peel 3.CAD
peel 3.CAD is your go-to fully integrated 3D scanning solution for all your reverse engineering needs. Extract all the information you need and send them right to your preferred CAD software.
View Details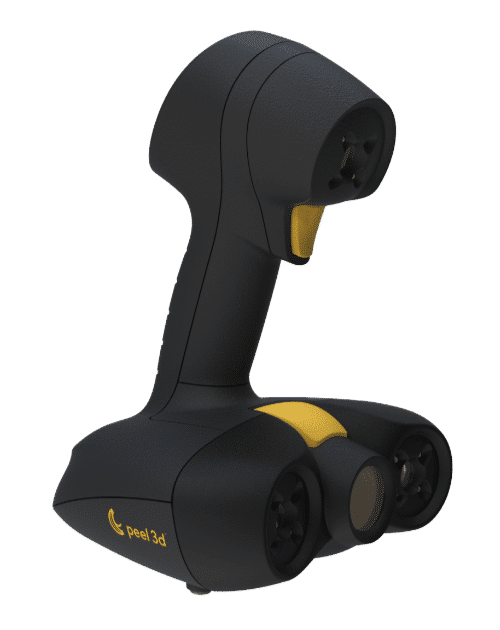 peel 2-S / peel 2 CAD-S
peel 2-S is based on the same proven technology as the peel 2 scanner but has been optimized to scan smaller parts. Its smaller field of view provides it with a whopping resolution of up to 0.1mm! Excellent when used with a simple turntable, it can also be taken to a specific location and capture the finest of details.
View Details