Creaform Handheld 3D Scanner
HandyPROBE Next
Measurement accuracy that is insensitive to the instabilities of any environment.
Ready to Purchase?
Connect With One of Our Experts To Get Started Today!
Request A Demo
The arm-free portable probing system designed for the shop floor
The HandyPROBE™ line-up is a portable optical CMM specifically designed for use on the shop floor. Thanks to its metrology-grade accuracy and dynamic referencing capabilities, the HandyPROBE delivers unmatched accuracy regardless of the measurement setup, instabilities of the environment and user experience level.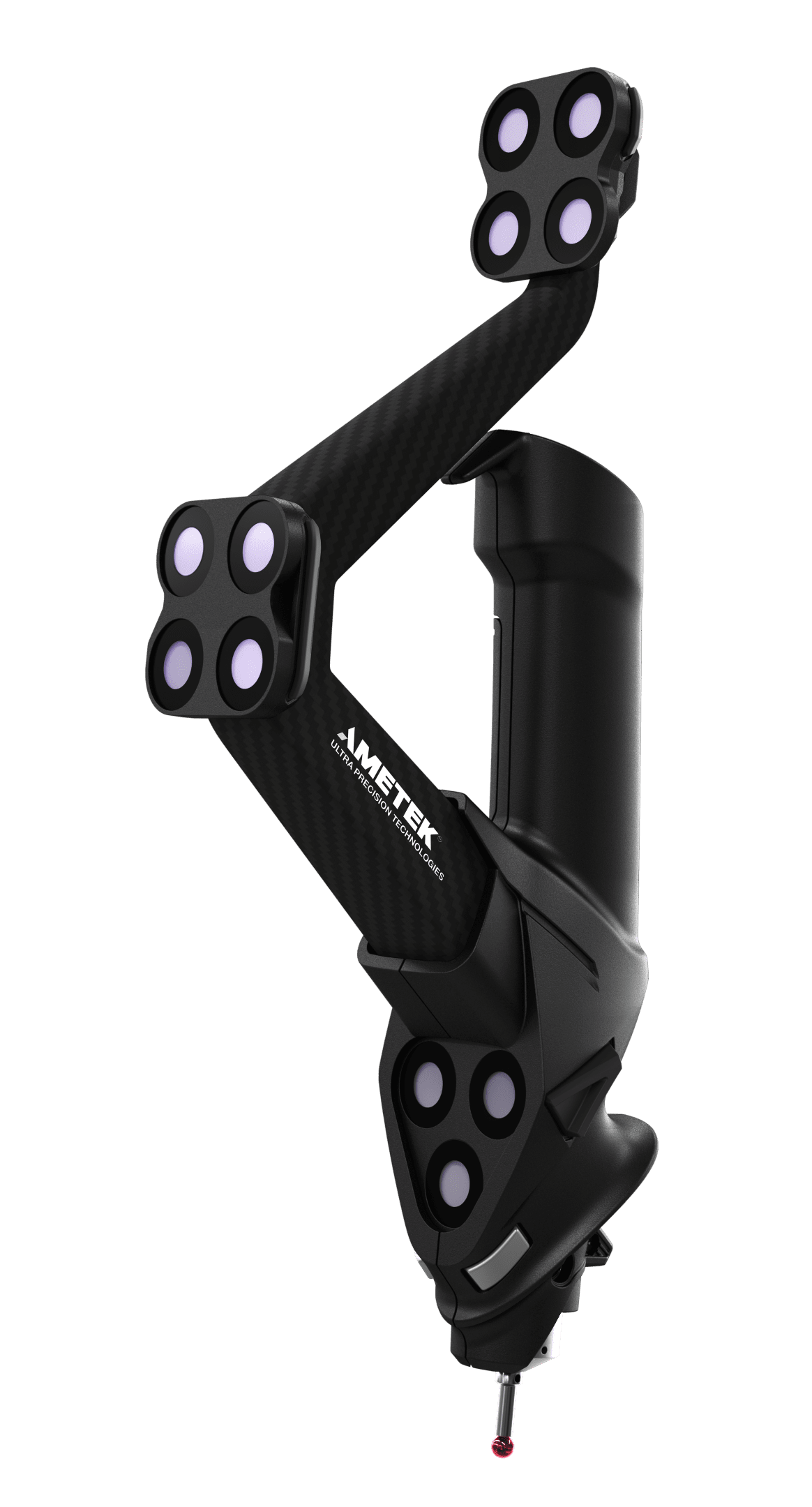 HandyPROBE Next Features
First Article and Supplier Quality Inspection

Conformity Assessment of 3D Models Against Original Parts/Production Tooling

Conformity Assessment of Manufactured Parts Against the Originals

Multi-shot Measurements (up to 30 points/s)

Complete Free-form Inspection and High-density Color Maps When Used With a MetraSCAN 3D

Reverse Engineering of Geometrical Entities (Spheres, Cylinders, Planes)

Faster and More Accurate Reverse Engineering of Mixed Parts (Geometrical and Free-form) When Used With a MetraSCAN 3D Optical CMM Scanner
Full Specifications
Size and Weight

154 x 178 x 235 mm (6 x 7 x 9.2 in.)

930 g (2.05 lbs.)

Certifications

EC Compliance (Electromagnetic Compatibility Directive, Low Voltage Directive, RoHS 2 Substance Restrictions Directive), IP50, WEEE

Measurement Rate
Accuracy

Up to 0.025 mm (0.0010 in.)

9.1m3 Working Volume

VOLUMETRIC: 0.086 mm (0.0034 in.)

16.6m3 Working Volume

VOLUMETRIC: 0.122 mm (0.0048 in.)

View More
Accuracy and Simplicity Combined With Portability
Without the requirements of a rigid measurement setup, the complete measuring system—the part, optical tracker, and wireless probe—can all be moved freely at any time during the measurement sequence.
The HandyPROBE is simply the best metrology solution for measuring geometrical entities on parts of any size directly on the production floor.
VXelements: Creaforms' 3D Software Platform and Application Suite Creaform 3D scanners come with VXelements and the VXscan module, a fully-integrated 3D data acquisition software that powers its entire fleet of 3D scanning and measurement technologies. It gathers all the essential elements and tools into a uniform, user-friendly and intuitive working environment.
VXinspect: dimensional inspection software module VXinspect is an intuitive and powerful 3D inspection software designed for manufacturing companies conducting first article inspection (FAI) or quality control. Directly integrated into VXelements™, Creaform's 3D software platform and application suite, VXinspect provides the simplest integration of probing and scanning measurement capabilities.
Do You Have a a 3D Scanning and Metrology Success Plan?
Creaform 3D Scanner Support
The ability to support our customers is the cornerstone of our business. Our engineers are available 12 hours per day, 5 days per week, our award-winning technical team can assist you with your 3D Printing and Additive Manufacturing challenges in a timely manner.
Call: 888-285-2284
Email: 3dp.support@cati.com
Support Hours: 7AM – 7PM Central Time
Support Days: Monday – Friday
3D Scanning Services
Whether you are just exploring the technology or need access for an upcoming project, our experienced team can provide you with the information you need for parts as small as a screw to as large as an airplane. Ideal for reverse engineering and part inspection, 3D scanning lets you:
Create accurate CAD models from existing parts by digitizing.
Minimize costs & time when validating prototypes by comparing to CAD.
Ensure quality production and eliminate downtime by tracking wear and tear of tooling.
Perform faster and more accurate First Article Inspection (FAI) directly on the shop-floor.
CATI Is Your 3D Scanning & Metrology Success Plan
As a Creaform Strategic Partner, no one is more qualified to build and support your product development process.  We believe everyone should have access to our curated portfolio of transformative engineering and manufacturing technologies.
By listening to and working with you, we will find the right solution for you at the right time, with an implementation and growth plan to support your business ambitions.
Get Started with Creaform Solutions from CATI.
We're ready to help figure out the right product development solution plan for you. Contact us today to get started with a quote, a free trial, a demo, or just ask questions.
Other 3D Scanners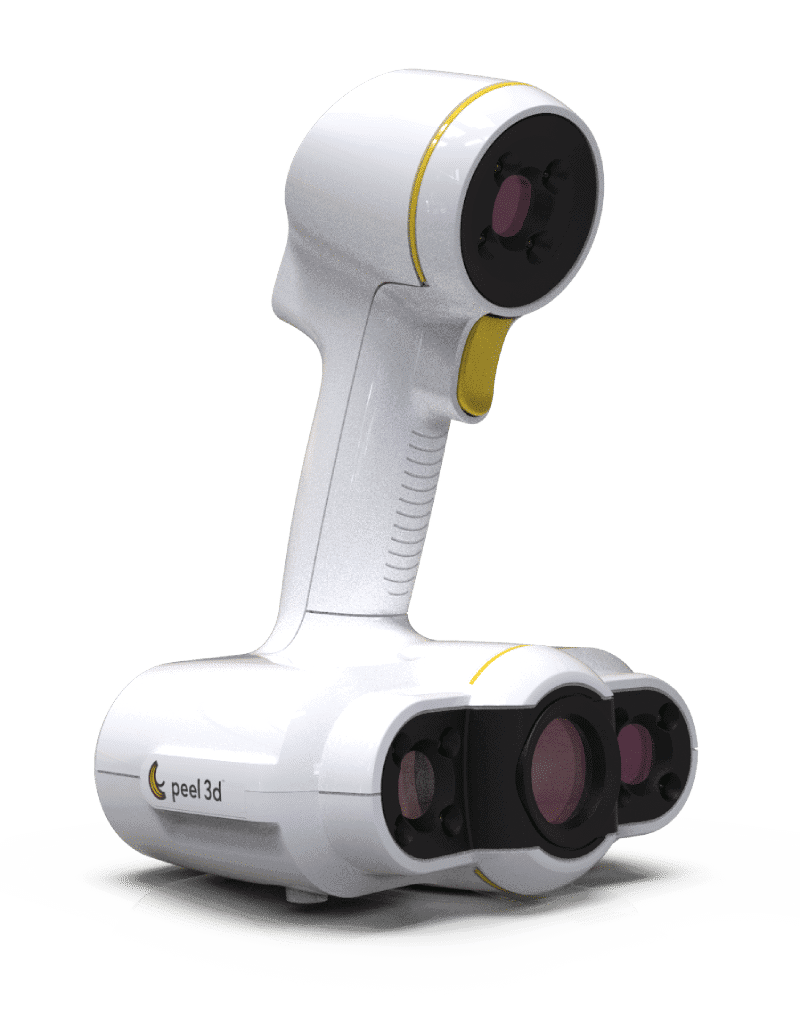 peel 2 / peel 2 CAD
peel 2 is the next-generation of peel 3d scanners that features the same easy, breezy use—all while packing a 1-2 punch of enhanced performance.
View Details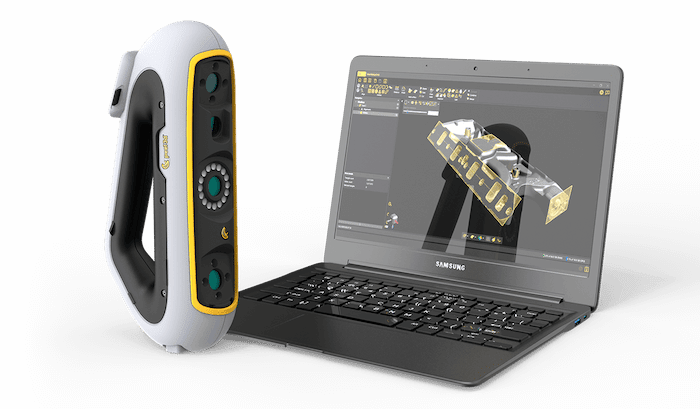 peel 3 / peel 3.CAD
peel 3.CAD is your go-to fully integrated 3D scanning solution for all your reverse engineering needs. Extract all the information you need and send them right to your preferred CAD software.
View Details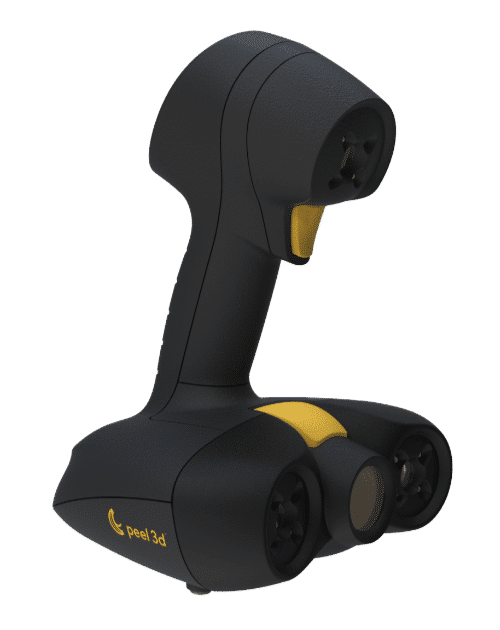 peel 2-S / peel 2 CAD-S
peel 2-S is based on the same proven technology as the peel 2 scanner but has been optimized to scan smaller parts. Its smaller field of view provides it with a whopping resolution of up to 0.1mm! Excellent when used with a simple turntable, it can also be taken to a specific location and capture the finest of details.
View Details