Peel Handheld
peel 2 / peel 2 CAD
peel 2 is the next-generation of peel 3d scanners that features the same easy, breezy use—all while packing a 1-2 punch of enhanced performance.
Ready to Purchase?
Get the peel 2 3D scanners today in our online store!

Buy Peel
The evolution of the peel 1, peel 2 is capable of a lot more and perfect for mechanical components. Improved tracking, better geometry capabilities and enhanced means to capture colors. This portable 3D scanner has it all!
Interested in Reverse Engineering? Have a look at peel 2 CAD, the perfect solution to take your scan to your favorite CAD software.
Everything you can do with a peel 1 you can do with a peel 2, only better! It is ideal for medium to larger parts. Comes with peel software.
Design & Styling
Bring anything your hands can make into the digital world.
Reverse Engineering
Save precious time by starting your design with existing setups or components.
Art
Digitally immortalize your creations and take them to the virtual realm.
Heritage Preservation
Preserve your cultural heritage for generations to come.
Human Body Scanning
Capture the complex organic shapes of human anatomy.
Get Creative
Your imagination will know no bounds!
Which peel 2 3D Scanner Is Right For You?
peel 2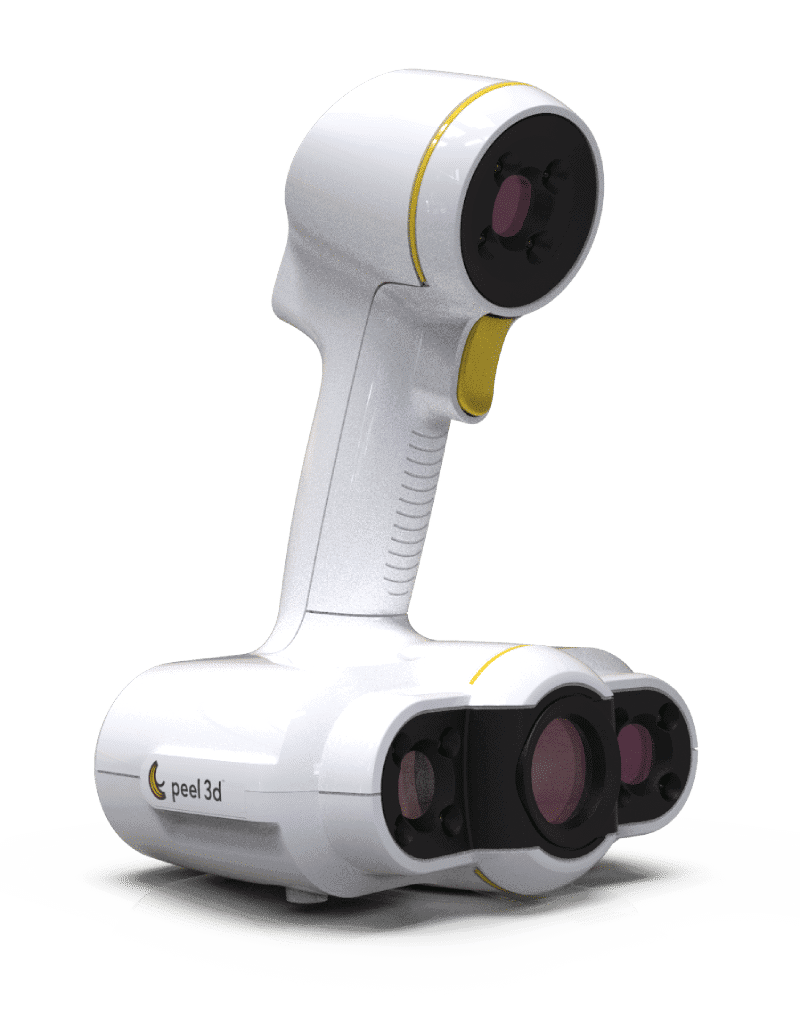 peel 2 is the next-generation of peel 3d scanners that features the same easy, breezy use—all while packing a 1-2 punch of enhanced performance.
Thanks to this new 3D scanner, you can tackle more complex projects and take advantage of higher measurement resolution, color capture, enhanced tracking and better geometry capabilities.
Buy peel 2
peel 2 CAD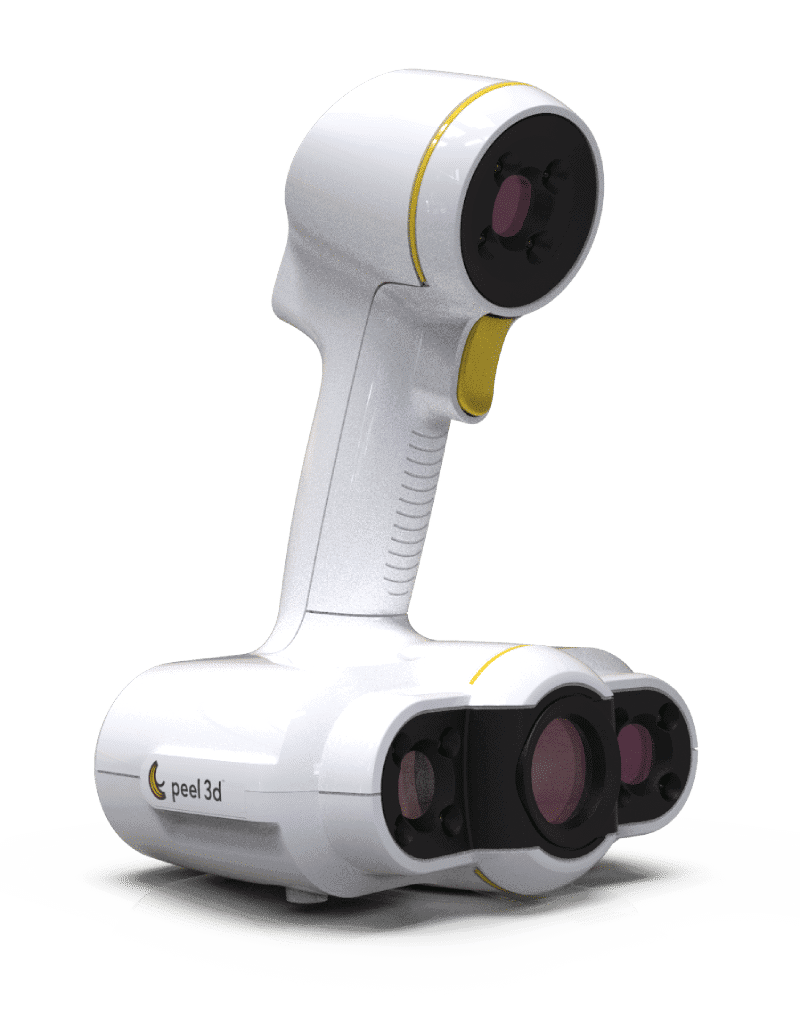 peel 2 CAD is an easy-to-use and fully integrated solution that enables you to extract all the information you need from your 3D scans and send them right to your preferred CAD software. You can directly scan objects of many sizes and surfaces—without any prep work—as the scanner recognizes shapes automatically. peel 2 CAD also comes with a calibration certificate so that you gain peace of mind knowing you are not sacrificing on performance.
Buy peel 2 CAD
Full Specifications
Part size range (recommended)

 0.3 – 3.0 m (1 – 10 ft) 0.05 – 0.5 m (2 – 20 ft)

Accuracy

Up to 0.100 mm (0.004 in) Up to 0.100 mm (0.004 in)

Mesh resolution

0.250 mm (0.010 in) 0.100 mm (0.004 in)

Measurement rate
Volumetric Accuracy (based on part size)

0.300 mm/m (0.0036 in/ft) * 

Scanning area

380 x 380 mm (15.0 x 15.0 in) 143 x 108 mm (5.6 x 4.3 in)

Stand-off distance

400 mm (15.75 in) 380 mm (15 in)

Depth of field

250 mm (10 in) 100 mm (4 in)

Light source
Texture resolution

50 to 150 DPI 50 to 250 DPI

Positioning methods

Geometry and/or targets and/or texture

Dimensions

 150 x 171 x 251 mm (5.9 x 6.7 x 9.9 in) 154 x 178 x 235 mm (6 x 7 x 9.2 in)

Weight
Connection standard
Output formats

 .txt, .wrl, .x3d, .x3dz, .zpr .dae, .fbx, .ma, .obj, .ply, .stl, .txt, .wrl, .x3d, .x3dz, .zpr

Operation temperature range
Operating humidity range(non-condensing)
Certications

EC Compliance (Electromagnetic Compatibility Directive, Low Voltage Directive), IP50, WEEE

View More
Do You Have a a 3D Scanning and Metrology Success Plan?
Creaform 3D Scanner Support
The ability to support our customers is the cornerstone of our business. Our engineers are available 12 hours per day, 5 days per week, our award-winning technical team can assist you with your 3D Printing and Additive Manufacturing challenges in a timely manner.
Call: 888-285-2284
Email: 3dp.support@cati.com
Support Hours: 7AM – 7PM Central Time
Support Days: Monday – Friday
3D Scanning Services
Whether you are just exploring the technology or need access for an upcoming project, our experienced team can provide you with the information you need for parts as small as a screw to as large as an airplane. Ideal for reverse engineering and part inspection, 3D scanning lets you:
Create accurate CAD models from existing parts by digitizing.
Minimize costs & time when validating prototypes by comparing to CAD.
Ensure quality production and eliminate downtime by tracking wear and tear of tooling.
Perform faster and more accurate First Article Inspection (FAI) directly on the shop-floor.
CATI Is Your 3D Scanning & Metrology Success Plan
As a Creaform Strategic Partner, no one is more qualified to build and support your product development process.  We believe everyone should have access to our curated portfolio of transformative engineering and manufacturing technologies.
By listening to and working with you, we will find the right solution for you at the right time, with an implementation and growth plan to support your business ambitions.
Get Started with Creaform Solutions from CATI.
We're ready to help figure out the right product development solution plan for you. Contact us today to get started with a quote, a free trial, a demo, or just ask questions.
Other 3D Scanners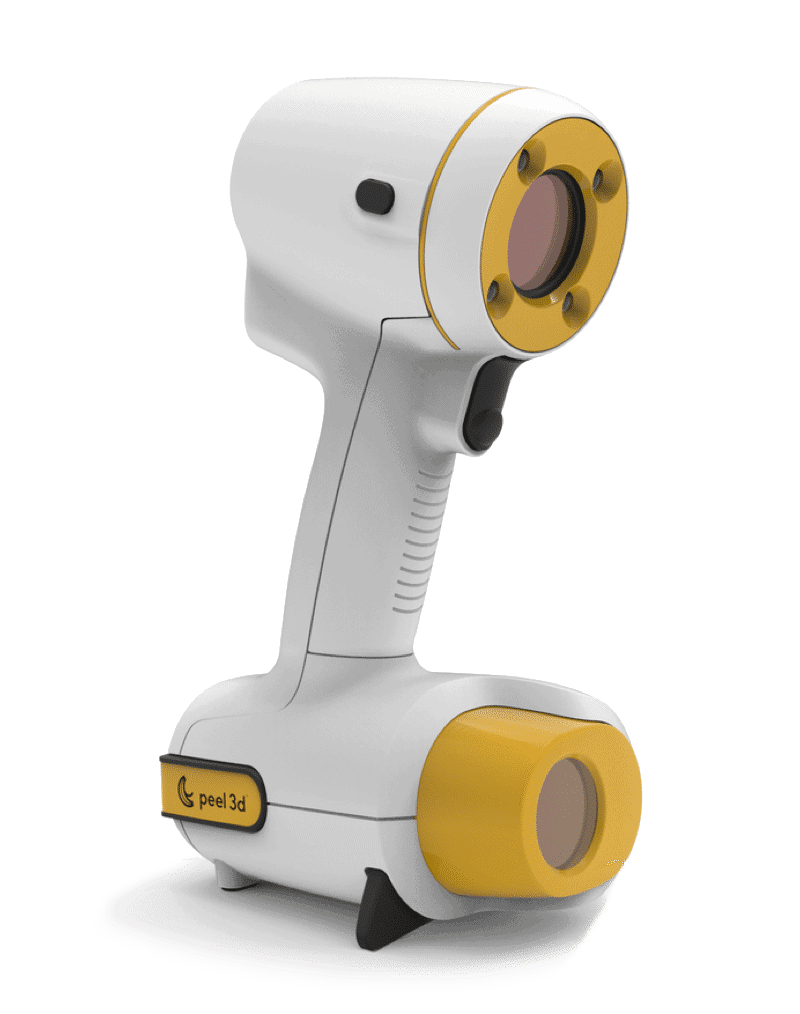 peel1
peel 1 is a professional 3D scanner in its purest, most affordable form.
View Details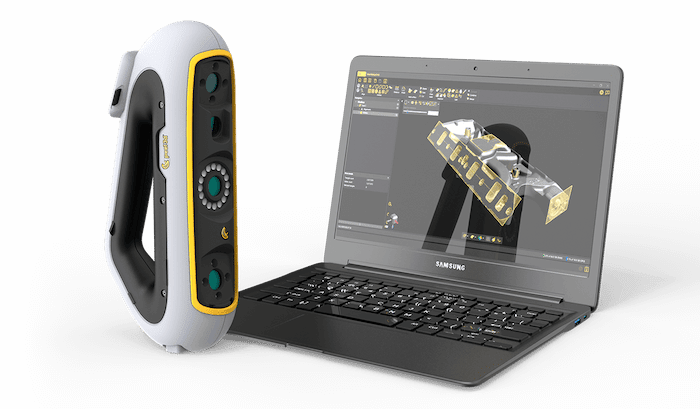 peel 3 / peel 3.CAD
peel 3.CAD is your go-to fully integrated 3D scanning solution for all your reverse engineering needs. Extract all the information you need and send them right to your preferred CAD software.
View Details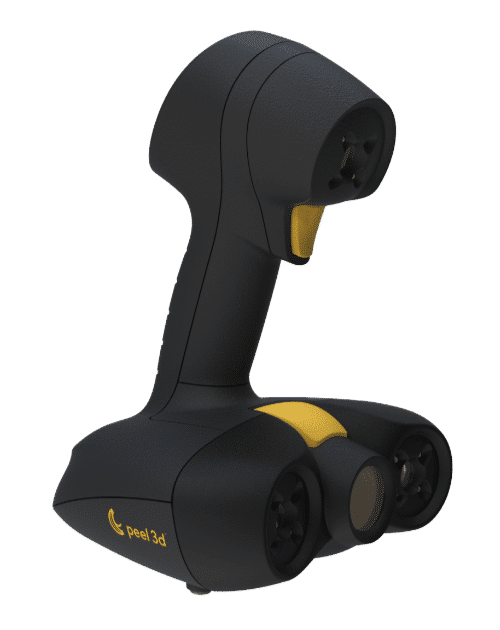 peel 2-S / peel 2 CAD-S
peel 2-S is based on the same proven technology as the peel 2 scanner but has been optimized to scan smaller parts. Its smaller field of view provides it with a whopping resolution of up to 0.1mm! Excellent when used with a simple turntable, it can also be taken to a specific location and capture the finest of details.
View Details