A customer had recently called in looking for a way to show his Bend Lines on the drawing of his sheet metal parts and while some people may say the answer is simple there are several ways to get the Bend Lines to show or not show in your drawing.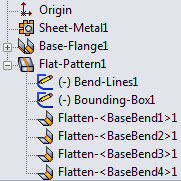 The first thing that everyone needs to know is where the Bend Lines are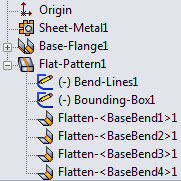 stored/create/saved, or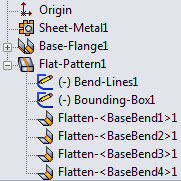 whatever you want to call it. So in a part generated with the Sheet Metal Tools your Bend Lines are stored in the Flat-Pattern feature, remember that this sketch you can show/hide and suppress/unsuppress to control how/when it is displayed. By default it is always in the Folded configuration unsuppressed and hidden and in the Flat configuration it is unsuppressed and set to shown.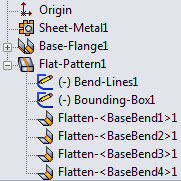 (Create features, Insert Bends). Your Bend Lines are stored in the same location as above but there are 2 other Sheet Metal Features that can interfere if you change the default way those are displayed, if you do not change anything with in them then you should have nothing to worry about.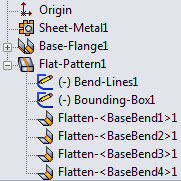 On to the drawing side of things, by default when you insert a Flat Pattern View from the View Palette or from the Model View command it will auto generate a derived configuration in the part file for you and drop in your Flattened view with Bend Notes.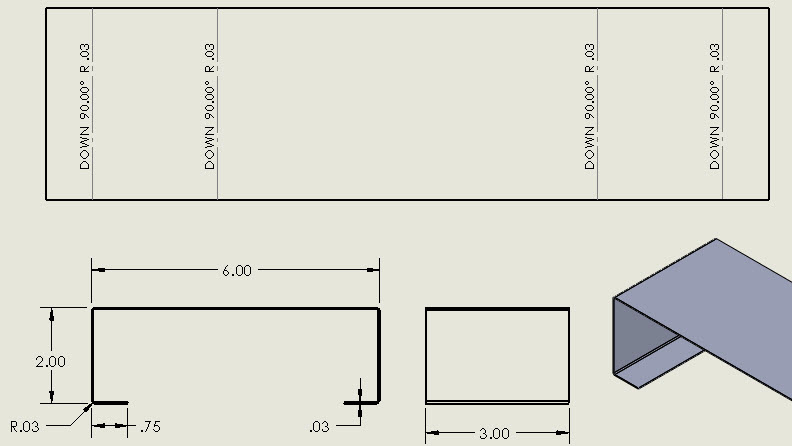 If your view does not display properly then here is what you want to look at:
No Bend Lines but Bend Notes are show, then your Sketches are more than likely not set to View. Go to the View Drop Down Menu or the View Heads Up Menu and select Sketches.


No Bend Lines or Bend Notes are show, then your Bend Line Sketch for that view is more than likely not set to Show. Go to the Feature Tree and expand the View and drill down to the Bend Line Sketch, Right Click on it and set it to Show. You will probably be missing the Bend Notes and if you want those displayed Right Click on/in the View select Properties and Set the Bend Notes check box to show.
 
The last issue that we see is too many lines shown in the Flat and that is because in Part File someone has done an Edit Feature on the Flat Pattern feature and Unchecked the Merge faces check box. By un-checking this you well now see the start/stop of each face.

Note: The Edit Feature of the Flat Pattern is also the area where you can change the Grain Direction of the part.
Josh Altergott
Support Team Leader
Computer Aided Technology, Inc.
Interested in Learning More About SOLIDWORKS Sheet Metal?
CATI offers a variety of introductory and advanced training courses that are available both in-person and online to fit around your busy schedule. Schedule your training today!
View All SOLIDWORKS Sheet Metal Training >>