A complaint that we have received over the years is that SolidWorks users need a font that is a single line versus the outline of the text. I just had another support call this week with the same question again. Most true type fonts show up as two lines outlining each letter. This is great for cut-extrudes, but it is not great for an engraving or CNC path.
Up to this point, there has only been a do it yourself workaround. SolidWorks users have to search the internet for single line fonts and manually add them to their computer. I have come across camworks.ttf and DPS Schrift Single.ttf. Some fonts are free, but others you have to purchase. Although SOLIDWORKS supports all true type fonts, the work around was more or less a do at your own risk type of solution.
SolidWorks continues to listen to its customers by adding new features based on their requests. SolidWorks has licensed a Simple Sans stick font that will be included in SOLIDWORKS 2014. Finally, you will not need a work around. All you have to do is add your text using the new font choice.

When you are entering text in a sketch, simply click Font. In the Choose Font dialog box, under Font, select the OLF SimpleSansOC font.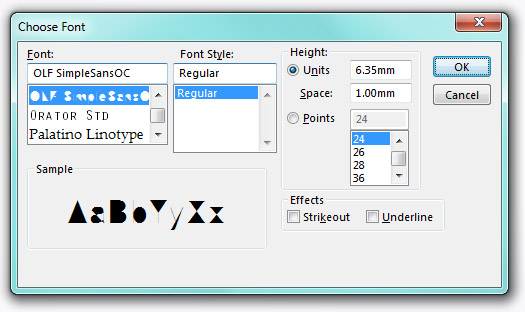 Stick fonts are also called single line, stroke, or open loop fonts. Use the OLFSimpleSansOC Regular font for all stick fonts. I look forward to hearing the response of the industry to see if this new stick font provides the SolidWorks user with a viable solution to the issue.
To see what else is new in SOLIDWORKS 2014, please click here. The CATI Design Innovation Summit is an interactive learning experience focused on helping you design and make better products. This year we are taking you back to school with our SOLIDWORKS Training Focused agenda! In addition to covering What's New in SOLIDWORKS 2014, we have 7 unique lecture style training experiences for you. With content derived from our standard offering of SOLIDWORKS training classes, you will leave this year's Design Innovation Summit with the knowledge to help you get your job done right!

Neil Bucalo, CSWP

Certified SOLIDWORKS Support Technician 2013

Computer Aided Technology, Inc.