3D Printing Medical Devices for Patient Success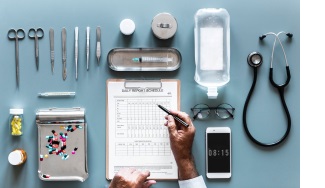 From automotive to aerospace, the impact of 3D printing is well-documented. Companies in a wide range of industries are using additive manufacturing to reduce downtime, speed up processes, and utilize new 3D printing materials to create more efficient products. The medical field, in particular, is using 3D printing to drive innovation in almost every aspect of the industry, spanning everything from medical models and prototype parts to 3D printed assistive devices like prosthetics and wheelchairs. In fact, the use of 3D printing has become so prominent in the medical field that the FDA has issued draft guidance on additive manufactured devices.
Unlike medical models and long-term products like wheelchairs, these medical devices are typically used once and disposed of. The implications of 3D printed medical devices are significant in that they could result in less expensive and more accessible healthcare. 3D printed medical devices can often be produced faster and less expensively than their traditionally manufactured counterparts, giving users more bang for their buck without sacrificing quality. The durability, compactness, and relatively low cost of 3D printers also make them viable options for areas of the world where even the most basic medical devices can be hours away. Because of this, we can expect to see the medical field – including patients and the people who help them – benefit heavily from existing and future innovations in medical 3D printing.
3D Printing Makes Medical Devices More Accessible
As we mentioned previously, one of the greatest advantages to 3D printing medical devices is that they are more accessible than their traditionally manufactured counterparts. Areas that are blocked off from large cities or other parts of the world often have trouble accessing even basic medical supplies, and likely depend on overseas shipments for their materials. However, creating medical devices with 3D printing, or placing a 3D printer directly in the area, can help get critical supplies where they're needed almost immediately.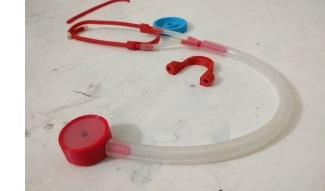 3D printers have been proposed in places like the Gaza Strip and Haiti, where shipments of medical devices can be slow or even impossible. When faced with a blockade, for example, one doctor was able to design and print a stethoscope for about 30 cents, enabling professionals to make their own on-site. Similarly, the nonprofit iLab//Haiti brought the country its first two 3D printers so simple but vital medical devices could be designed and printed on demand for remote medical clinics. The array of devices available for 3D print – including umbilical cord clamps, casts, and splints – makes it possible for doctors to access the tools they need quickly, and ultimately provide a better and safer experience for their patients.
3D Printing Allows Custom Medical Devices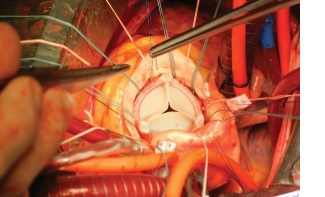 In addition to more standard medical devices, 3D printing allows facilities to create Patient Specific Instruments (PSIs), which studies suggest improve accuracy and reduce operating time when compared to other techniques. This has made them popular in the orthopedic and cardiovascular fields, where patient-specific care can be better than a one-size-fits-all approach. Although the technology is still somewhat new, there has been headway in regards to 3D printed PSIs; surgeons in Spain, for example, have created 3D printed instruments such as aortic valve protectors and paravalvular probes for procedures such as aortic valve replacements and hypertrophic cardiomyopathy. Their work gives us insight into what the future of custom 3D printed healthcare could look like.
3D Printing Creates Entirely New Medical Devices
One of the most exciting impacts of 3D printing on medical devices is the creation of entirely new products. Doctors, professors, and engineers are dealing with difficult surgeries by designing new surgery tools that can be used to simplify procedures and improve patient outcomes. From a pair of antibacterial tweezers printed out of cellulose acetate to a prototype positioned to replace more costly tools in "keyhole" operations, 3D printing has allowed designers to create more effective medical instruments at a lower cost. The Pathfinder ACL Guide, for example, is made out of easily modified biocompatible metal and can be 3D printed 97% cheaper than a traditional casting method, despite its complexity. Now on the market, this tool is an excellent example of the types of innovation we can expect from those who tackle tough problems with 3D printing!
Making a Difference in Medical
When it comes to accessible and patient-focused healthcare, 3D printing may just be the key. With new materials, technology, and innovators from around the world, exciting advancements in 3D printed medical devices are being made at a stunning pace. While we can only speculate as to what breakthroughs will happen next, we can expect 3D printed medical devices to make a big difference in the lives of patients and doctors around the world.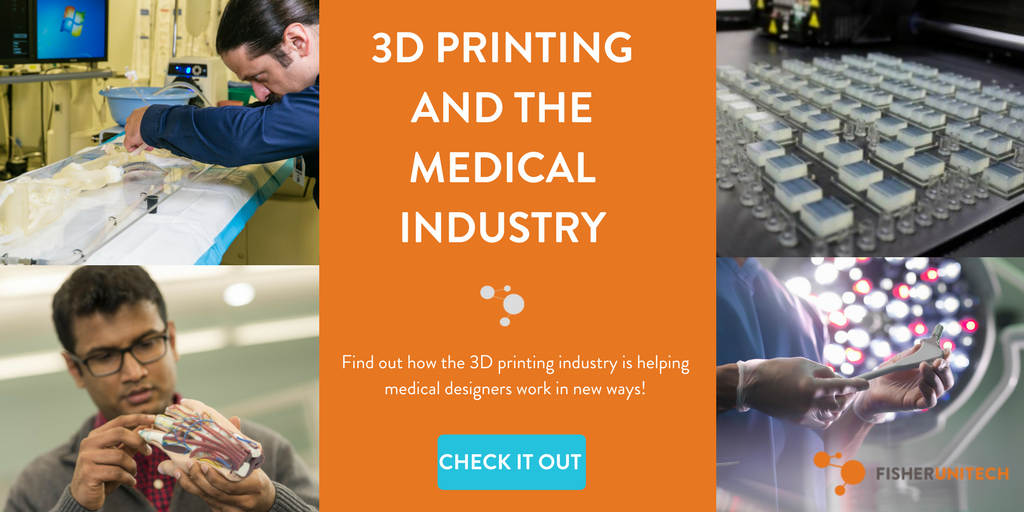 Images courtesy of 3dprint.com
To learn more about 3D printing in the medical field, read our related articles here:
3D Printing and the Medical World
Innovations in Medical 3D Printing: What You Need to Know
Assistive Devices and the Impact of 3D Printing Technology
3D Printers Design Confidence with Individualized Prosthetic Limbs
Even More Design Excellence Forum Adventures
Stratasys & Worrell Declar Announce Collaborative Partnership to Optimize Medical Devices
About the Author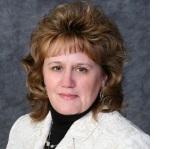 Lisa Hannon is a marketing manager at Fisher Unitech. She develops content for 3D printing topics that have an impact across all industries that are researching ways to maximize getting products to market faster as well as cost savings with 3D printing solutions. Lisa has worked as a marketing management professional since 1998, most recently with Stratasys. You can follow her on Twitter: @lmci37.