3D Printing with Stereolithography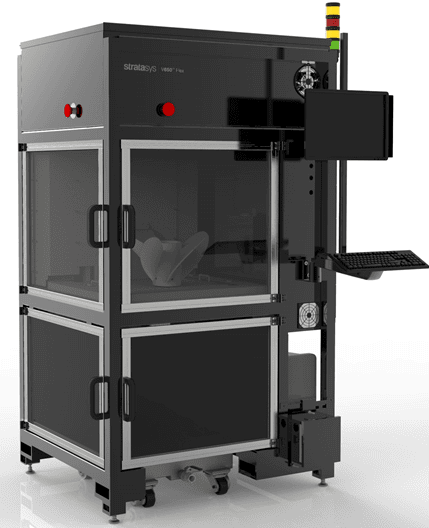 Stereolithography (SL) is the first Additive Manufacturing technology, patented in 1986. But just because it is the oldest does not mean there is nothing new, SL remains a viable solution for prototypes, tooling, production, etc. in the 3D Printing world. Newly introduced is the Stratasys V650 Flex. The 'Flex' in the name truly means that it is giving users more flexibility, Stratasys has unlocked the restrictions to this tried and true technology by allowing customers to use any UV photopolymer on the market or even develop their own. Users are no longer limited to the manufacturer's materials. This open system allows for many more material options to meet mechanical properties at a more competitive cost.
This large-scale machine with a 20 x 20 x 23 inch build volume prints in .004" layers or greater with an adjustable laser beam ranging from .005"-.030" diameter. Interchangeable vats (Full, Half and Quarter sizes) allow for different materials to aid in the versatility. Additionally, a built-in UPS (Uninterrupted Power Supply) insures continued printing through short power outages.
The Stratasys V650 Flex affords the user greater choice with accuracy at a lower cost for 3D printed prototypes and part development.
Please check back to the CATI Blog as the CATI Application Engineers will continue to break down many of the new items in SOLIDWORKS 2021. All these articles will be stored in the category of "SOLIDWORKS What's New."
Mark Abshire
Senior Application Engineer, Additive Manufacturing
Computer Aided Technology Inc.
What is DI Month? We're declaring October Design Innovation Month—again! It's a month-long series of special events focused on what's new in design and manufacturing technology. You'll learn about enhancements in SOLIDWORKS 2021 that deliver new capabilities for improved performance, streamlined workflows, and a connected design ecosystem. Find out what's new in 3D printing applications and 3D scanning to integrate into your design process.