9 Reasons to Get SOLIDWORKS Training at Fisher Unitech
If you or your company recently made an investment in SOLIDWORKS, then you're probably already reaping the many benefits and capabilities that SOLIDWORKS has to offer. But there's more to just owning SOLIDWORKS. Learn how you can get the best out of your software and expand your business by getting the proper SOLIDWORKS training and certifications.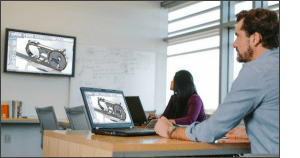 We offer over ten SOLIDWORKS certification programs that allow you to get the best out of your software. Use our Education Roadmap to guarantee you're going down the right path for your educational needs.
Training allows users to explore the areas of the software to prepare a team to work intelligently with speed and to be flexible in design for decision changes. We've got nine reasons why training at Fisher Unitech can change your SOLIDWORKS experience.
Low student count? No problem.

We won't cancel on you just because you're the only student in the room. We understand that your time is important. We'll be there for you no matter how many people have registered.

We're flexible with your learning style. Not everyone learns the same way. We're able to satisfy your unique learning style by offering SOLIDWORKS classes online, on-site, or at your location.
Frequent online classes

. Certain online classes are requested so frequently that we've scheduled them monthly. However, if there is something that you don't see, just let us know, we can work with you to get it scheduled.

Don't have a SOLIDWORKS license yet? It's okay.

With Fisher Unitech Live you can work on exercises at any time during your training course.

Get custom training.

After you've taken the basic courses to get you started you may be interested in a topic that isn't covered in course books. If there is a niche topic that you need to learn more about just let us know and we can make that happen for you.

Get the proper instructor as you advance.

After you've taken the basics and are advancing into particular subjects, we'll handpick one of our Application Engineers that will best meet your needs. Our Application Engineers have been living and breathing their expertise for many years and will provide you the best information available.

Get real-world advice.

You can learn a lot of information in textbooks, but what about real-world advice? We can give you that too. Each of our instructors share their personal tips and tricks along with best practices throughout every session.

We want you to be successful. Our instructors want you to be great SOLIDWORKS users. We'll show you how to use SOLIDWORKS in ways that you never imagined. Sitting in training, especially with other companies, can give you the imagination to push the envelope.
We do giveaways.

Throughout the year, we give away a

3DConnexion SpaceMouse

. This mouse provides a comfortable and natural way to interact with SOLIDWORKS by making it easier to manipulate the model views and adding shortcut keys with your opposite hand.
So what are you waiting for? We want your entire team to be successful. When everyone receives appropriate training and certifications, projects are completed faster and solutions are solved in the most efficient way possible.
View our course list to take your SOLIDWORKS experience to the next level. Happy learning!