A Quick Lesson on SOLIDWORKS Treehouse
Often when I teach SOLIDWORKS training classes, my students will ask me what the best way is to copy an assembly in order to 'reuse' the design. Though there are a few ways to easily copy existing assemblies, I find that the best method is through a tool that was introduced a couple of years ago called SOLIDWORKS Treehouse.
In this blog, I'll give a quick lesson on what SOLIDWORKS Treehouse is, and how it can save you time when creating a design.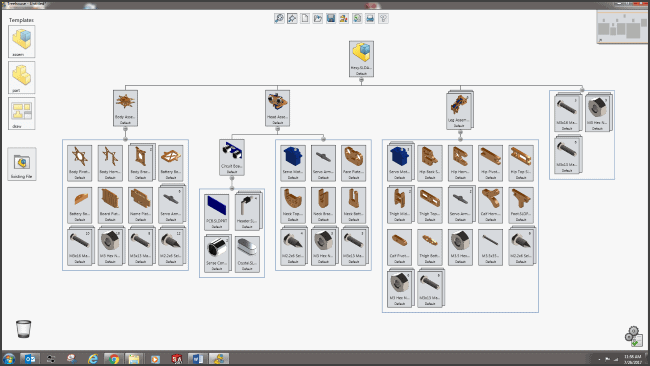 What is SOLIDWORKS Treehouse?
SOLIDWORKS Treehouse is a great tool for both managers and designers. By using the intuitive interface shown above, you can arrange your new assemblies even before you even begin designing.
Treehouse allows you to name your components, drag in existing parts and subassemblies, create configurations, and even add custom properties all before doing any actual design work.
Treehouse can be run independently of SOLIDWORKS and is found amongst all other SOLIDWORKS application tools located within your Start Menu.
What can SOLIDWORKS Treehouse do?
SOLIDWORKS Treehouse allows you to arrange assemblies, parts, and drawings. You can drag in visual representations of your part and subassembly templates, along with drawings to help build the hierarchy of the new design. Need to rearrange components? Treehouse lets you do that too. You can fill in any custom properties defined in the document template.
When your layout is complete, use Treehouse to export the hierarchy to an actual SOLIDWORKS document. SOLIDWORKS will automatically create the documents in the locations specified in the hierarchy and keep the references according to that structure.
Finally, if you just want to see the assembly tree structure of any complex assembly, simply drag that assembly into Treehouse. Here, the assembly structure will automatically populate and display.
I hope you found this tip helpful. You can find more tips & tricks listed below.
More Tips
The Difference Between a Sheet Format and a Drawing Template in SOLIDWORKS
How to Insert a Printed Circuit Board in SOLIDWORKS
What's New in SP3.0: Import SOLIDWORKS BOMs Into SOLIDWORKS Composer