Achieving Extreme SOLIDWORKS Performance: A Hardware Selection Primer
Over the last 15 years here at Computer Aided Technology we have put great effort into SOLIDWORKS benchmarking. We regularly give talks on the topic at 3DEXPERIENCE World and user groups throughout the year. We have been testing hardware for SOLIDWORKS performance using custom-built test suite to run standardized, common operations on a variety of real-world representative models. Our data captures true SOLIDWORKS capability far beyond what the built-in SOLIDWORKS RX benchmark. With results from over 75,000 benchmark runs, we would like to help you, make the most informed decision when it comes to your next PC upgrade or purchase. In this primer we will distill years of testing to what we have found makes the most impact on SOLIDWORKS Performance focusing on four major components, storage, RAM, video cards, and CPU.
Storage Device
Ever since the birth of computers, users have needed to store their data. The concept of a "hard drive" dates back to 1957 with the IBM. Today we have many options for storing our SOLIDWORKS data. HDD (Mechanical hard drives), SSD (solid state drives), and NVMe (Non-Volatile Memory Express) are the types of Drives we find today.
The largest difference in performance for us in testing was changing from a mechanical hard drive to a SSD or a NVMe drive. That change resulted in at least a 15% increase in speed for all of our standard tests. Now looking at the image below, you will see results of a read and write test for an SSD on the left and NVMe drive on the right. Depending on the model, a NVMe drive is theoretically 10x faster than a standard SSD drive. So, why doesn't SOLIDWORKS CAD perform faster with a faster NVMe drive? Answer; SOLIDWORKS files are small enough that when SSD were introduced, the storage device was no longer a bottle neck for performance.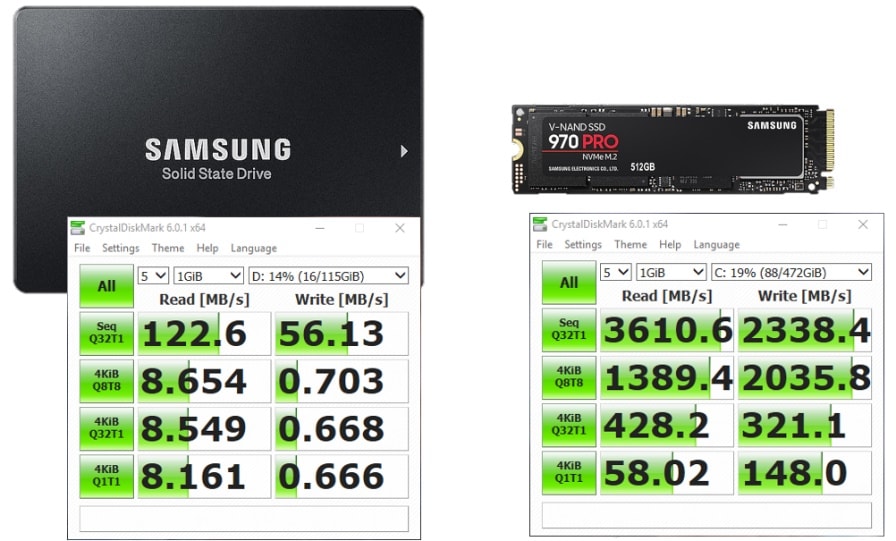 If you are purchasing a new machine, we recommend using a NVMe drive as your primary drive. Because of the amazing speed of the NVMe, Windows and other programs will load much faster. If you are upgrading an older machine, consult with the owner's manual to see if your motherboard has an available M.2 slot for an NVMe drive. If it does not, replacing an older HDD with an SSD is highly recommended.
Note about storage.
SOLIDWORKS will always perform better if the data is saved to your local storage on the machine. In benchmarks ran across a network to a server for storage the time complete was slower by 25 to 40 % slower depending on the size of the assembly involved.
Video Card
One of the hardest areas to understand and define performance is in video cards. The video game industry focuses mostly on Frame Per Second (FPS). As SOLIDWORKS is a commercial CAD we can use FPS as a measure, but it is usually not what increases our quality of life as a designer. Responsiveness of the mouse commands, stability of inserting parts into assemblies and creating drawings views, are what make users more productive. This means purchasing a machine with a dedicated professional graphics card.
Nvidia
Looking at the current line up from Nvidia we recommend staying at a minimum of a 2000 level model of their Quadro line for professional cards. The GeForce line of cards are not certified traditionally by SOLIDWORKS as their drivers are not geared for 3D CAD.
As of June 1st, 2022, we recommend:
Nvidia Quadro RTX 4000
Nvidia Quadro RTX A2000 through A4000
AMD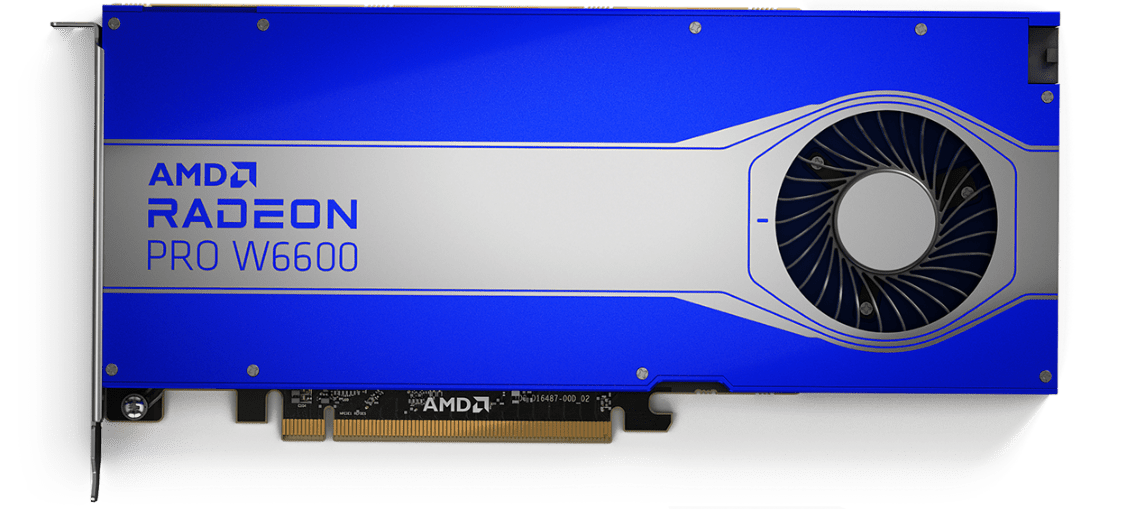 AMD has been doing a very good job putting out video cards over the last few years to compete with Nvidia. We recommend using the Radeon Pro series of cards and to not consider the Radeon RX line up, as their driver as well are geared more for gaming like the Nvidia GeForce line of cards.
As of June 1st, 2022, we recommend:
Radeon Pro W5700
Radeon Pro W6600 through W6800
RAM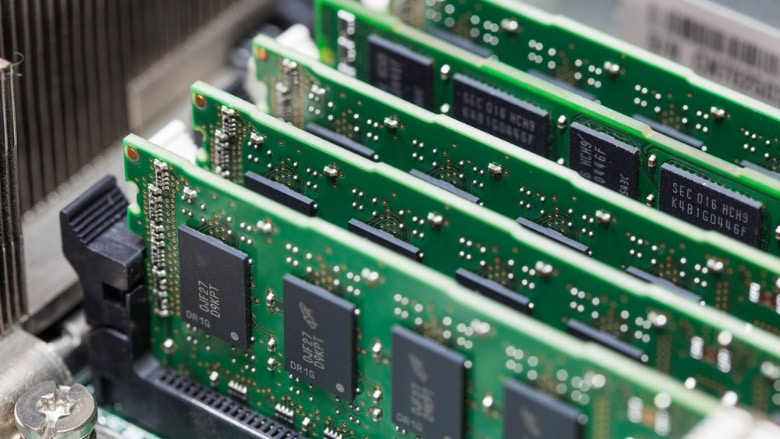 SOLIDWORKS is a RAM-based CAD system. That means that every file you open is loaded into the Random Access Memory. Files are modified while in the RAM, then written back to a storage device upon save operation. Question, " how much ram do I need?
The answer is straight forward. You need enough RAM to prevent your system from using swap space.  When there isn't enough RAM, it will utilize the Windows virtual memory (also referred to swap space), where the system will save information and calculations to the local drive. If the SOLIDWORKS file requires swap space to be used, performance of SOLIDWORKS will degrade quickly.
After developing a RAM consumption test for SOLIDWORKS, we found that the number of components in a design did not cause more RAM to be consumed. The important variable is the number of unique components in the design. To find out how many unique components are in your design you can go the Evaluate Tab in SOLIDWORKS and run Performance Evaluation.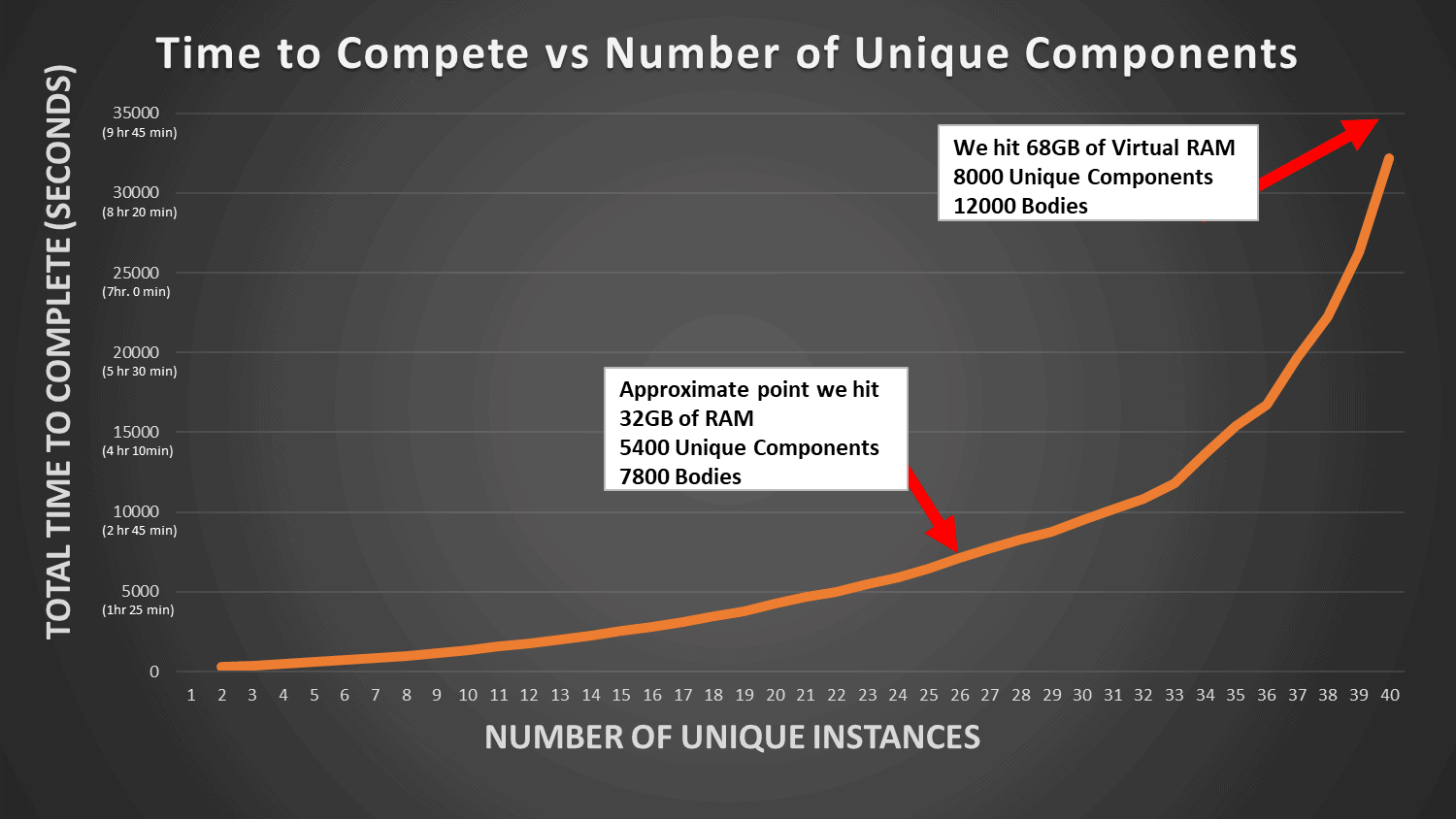 The data above shows the results of taking an assembly and patterning it 40 times. As you go from left to right one more instance would be given new file names resulting in a unique memory address for that file. With the 26th iteration we had gone from 200 to 5400 unique components, at this point we hand consumed all 32 gigabytes of RAM in the system. This RAM vs unique components also correlated with the six other models we had been testing.
For most SOLIDWORKS users, 32 Gb of RAM is more than sufficient. If your designs consistently have than 5000 unique components, then consider going with 64 Gb of RAM. Also, the question of ECC (error correction control) RAM, "Do I need that as a SOLIDWORKS user?" Our answer is no, take that extra money saved and spend it on a faster CPU.
CPU
The CPU (central processing unit) of the computer is the most important decision you will make when it comes to your computer purchase. Much of the SOLIDWORKS instructions that calculated on the CPU are serial in nature. This makes it difficult to take advantage of CPU with a larger amount of processor cores. Currently SOLIDWORKS will leverage fours cores. Other processes like SOLIDWORKS Simulation, SOLIDWORKS Flow, and SOLIDWORKS Plastic will leverage as many cores as CPU has available.
Most CPUs will have two operating speeds you want to know about. First the base clock speed, which is typical speed that process would run under very light loads. The second is the boost speed this is usually the maximum speed that CPU can run. To increase the speed of the CPU, more power is administered to cores increasing their theoretical speed. There is no escaping the laws of physics, the more power/energy is added to a system, the temperatures will increase. This increase in temperature can cause CPUs in laptops to struggle to maintain its maximum potential speed do to something called thermal throttling.
As an example, we tested the Lenovo P14s Gen 2 laptop, much of the time the laptop under heavy SOLIDWORKS loads ran at the proposed 4.4 GHz maximum speed. But when facing difficult simulation studies thermal throttling came into play and reduced the clock speed to 4.2 GHz to not compromise the CPU. Therefore, most high-performance machines are desktop platforms as they will have a better cooling solution to maintain a higher speed for longer.
AMD and Intel are the leaders in the laptop and desktop CPU marketplace. Each vendor has their strengths. Intel has been primarily focused on faster clock speed, where AMD has been focused on a higher core count CPU unit.
SOLIDWORKS CAD Only
If you are only doing SOLIDWORKS CAD, we recommended Intel i7 or i9 with the highest boost speed that you can afford. As of June 1st 2022 most new computers on the market can break that 5GHz boost speed, which is recommended. "Should I buy a Xeon, our vendor recommends it?" Simple answer is no. Most motherboards for Xeon processors will require ECC RAM, which increased the price point of the machine you are purchasing. With our years of historical data on CPU Speed, for every increase in clock speed by a Gigahertz will increase SOLIDWORKS performance by 25%.
SOLIDWORKS Simulation and Beyond
Many programs can leverage multi-thread, meaning the calculations can easily be split up into pieces and easily reassembled post-calculation. SOLIDWORKS Simulation, Flow and Plastics are just a few programs that will leverage a CPU with more than 4 cores. If much of your workloads fall under this category, we strongly recommend you look at something like the Lenovo P620 with an AMD Ryzen Threadripper PRO between 24 to 64 cores. It has a slower clock speed ranging from 4.2-4.5 GHz but the number of cores with performance many times faster than a lower core count machine.
Quick run down, what to look for.
SOLIDWORKS CAD only PC
CPU: Fastest Speed Intel i7 or i9 (newest generation available)
RAM: 32 Gb (64 Gb only for assemblies above 5000 unique components)
Storage: NVMe M.2 drive (Size is up to you. Recommend at least 512Gb)
Video Card:
Nvidia Quadro RTX 4000
Nvidia Quadro RTX A2000 through A4000
Radeon Pro W5700
Radeon Pro W6600 through W6800
SOLIDWORKS Simulation and Beyond
CPU: AMD Ryzen Threadripper PRO with 24 – 64 cores
RAM: 64 Gb
Storage: NVMe M.2 drive (Size is up to you. Recommend at least 512Gb)
Video Card:
Nvidia Quadro RTX 4000
Nvidia Quadro RTX A2000 through A4000
Radeon Pro W5700
Radeon Pro W6600 through W6800
We hope this primer was helpful in your next hardware purchase. If you have any questions feel free to contact us.
Bob McGaughey, CSWE
Senior Applications Engineering
Computer Aided Technology