SOLIDWORKS 2019 What's New – Adding Security to 3D PDF Files From SOLIDWORKS MBD – #SW2019
New enhancements to SOLIDWORKS MBD (Model Based Definition) in 2019 allow you to you to create and share 3D PDF's of your SOLIDWORKS designs safely, knowing that your Intellectual property is secure.
One of these enhancements is a new option to "show only graphical data" in the 3D PDF. This is a great way to ensure that the recipient is still able to view and interrogate the model, without the PDF including the full BREP geometry embedded in the background, which could be used to manufacture the design.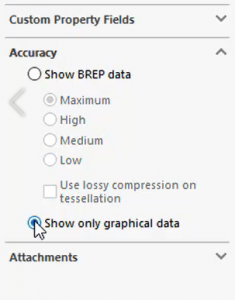 Secondly, new security settings provide even more flexibility, enabling you to set the access to printing, editing, and copying. Documents can be protected further by requiring a password to even be able to open the 3D PDF. An optional master password that can be used to override all security settings if required.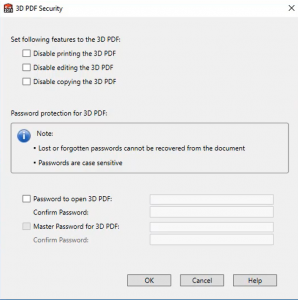 These new enhancements to SOLIDWORKS MBD 2019 will help you make sure that your 3D PDF and the information in it is secure when sending it out to customers and vendors!
I hope this part of the What's New series gives you a better understanding of the new features and functions of SOLIDWORKS 2019. Please check back to the CATI Blog as the CATI Application Engineers will continue to break down many of the new items in SOLIDWORKS 2019. All these articles will be stored in the category of "SOLIDWORKS What's New."
Randy Simmons
Application Engineer
Computer Aided Technology, LLC
Design Innovation Month – October 2018
What is DI MONTH?
CATI is declaring October Design Innovation MONTH. We've created a month-long series of events and activities around design innovation especially for our customers. Attend a SOLIDWORKS 2019 event, enter our rendering contest, and learn about some cool tips and tricks at the daily online events. Plan your month at www.cati.com/design-innovation-month