Cosmetic Threads in a SOLIDWORKS Drawing
Having threads in a part vastly increases the part size and hence increases the rebuild time considerably, lagging performance consequently. For this reason, it is much more advisable to use cosmetic threads in the place of actual threading. Cosmetic threads have the appearance of the actual thread and contain all the information needed to produce that thread. Threaded or not, parts mate and act the same exact way in SOLIDWORKS so putting on a cosmetic thread gives you the best of both worlds; low rebuild time of a non-threaded part and the information contained in the threaded part. Cosmetic threads do not however automatically appear in a drawing. No need to worry, there is a way to show them in the drawing, without having to use the actual threaded part.
To do this, you first have to make sure all the annotations are turned on under View >> All Anotations. Then right click on the annotations and display all annotations. Then open up the details and make sure Cosmetic Threads and Shaded cosmetic threads are checked.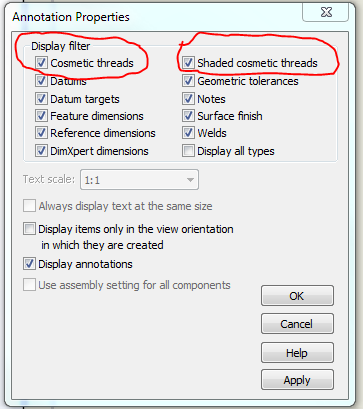 Simple as that, you can get your cosmetic threads to appear on you drawing and avoid using the threaded part unless you absolutely have to. You now have a much smaller file size with all the information you need contained.
BA