FIRST Robotics Team "Calumet CoppperBots" Win Michigan State Championship
The FIRST Robotics program has spent nearly 30 years inspiring young men and women to strive for improvement. Though improvements prove necessary, they are not always easy to achieve because they require hard work, time, and community support. Some FIRST Robotics teams have a rough start due to their location. As the most northern-placed team, the Calumet CopperBots, based out of Calumet, Michigan, are familiar with the hardships of geographical placement, but as their community realized the benefits of FIRST, the ball started rolling for them and today they are flourishing.
For their first six years, from 2008 to 2014, the Calumet CopperBots were unknown to the vast majority of the community. Team meetings were held in the closet of a local machine shop for five years and a garage for another. Regardless of the condition, the Calumet CopperBots strived to complete the mission to build a robot that could drive because they didn't believe they would be able to build a robot that could complete other goals. As crazy as this idea was, it worked. In 2014, the Calumet CopperBots won a district event, gaining them recognition from the school and the first stepping stone to their success.
The year 2015 lit a spark of ideas, creativity, and inspiration that still burns brightly today in the Calumet CopperBots. Winning a district event not only granted them recognition from their school but also a new, larger space within the school for team meetings. Their new meeting space provided access to the school's metal shop and tools. Now that fellow students and faculty were able to see what robotics was about, the team gained new members and mentors which brought in new ideas. The team started brainstorming and integrating components that they never thought possible. That year, the Calumet CopperBots won both the Imagery and Creativity award for the very first time.
Over the next few years, the team's confidence grew tremendously not only in themselves but also in their ideas. They began manufacturing their own pieces for their robot using 3D CAD software, 3D printing, and a CNC Plasma Table. The team started learning how to use specific tools in the metal shop and learned how to use machinist techniques for high-quality robot components. Learning new techniques and putting in long hours paid off for the Calumet CopperBots when they qualified for the State Championship in 2016 and 2017 as well as the World Championship in 2018. The team quickly realized that doing well in FIRST Robotics competitions had little to do with where a team came from or how much money they had, but how much effort they were willing to put in.
After the 2017 season, the Calumet CopperBots lost six of their nine team members (four of which had key mechanical, programming, electrical, and CAD roles). The remaining members had to utilize their pre-season to teach new members and existing members every aspect of their robot. Needless to say, it was not looking like a bright season, but the fire will still there.
After their first competition, the Calumet CopperBots revamped their robot design and became finalists at their second competition ranking them 21st overall in Michigan. From there, the CopperBots went to the Michigan State Championship, where they won not only their division but the entire event!
This was the first time a team from Michigan's Upper Peninsula made it to the state championship as well as being one of the smallest teams. Not a bad showing from a team of seven members (four of which who were Freshmen) and one full-time mentor from a tiny little town in the Keweenaw Peninsula of Michigan.
The CopperBots spent their first five years building the same robot, with the same components, and using the same strategy. Going outside the box allowed them to strive for different achievements. They went from a closet meeting space to a useful classroom, no recognition to an abundance of community support, never seeing the Michigan State Championship to being the Michigan State Champion. The CopperBots went from not believing in themselves to thinking the impossible. That's what FIRST does, it inspires a team like the Calumet CopperBots to strive to achieve the impossible.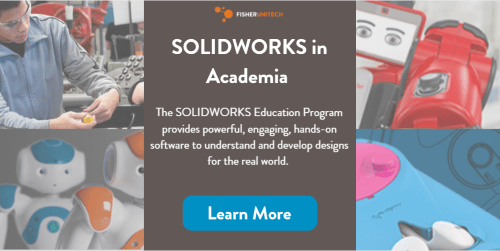 Related Articles
Teaching Kids About 3D Printing and Robotics at Build It by Pathway X Events
Northwestern University Provides SOLIDWORKS For Students, Researchers, and Entrepreneurs
SOLIDWORKS and it's Impact on Our Future Generation
About the Author
Tajah Rayne Davise is a student and member of the Calumet CopperBots (FRC team 2586). The CopperBots, based out of Calumet High School in Calumet, Michigan was founded in 2008. The CopperBots have won numerous competitions including the 2013 St. Joseph District, 2014 Escanaba District, 2018 Division winner Michigan State Championships and were the 2018 Michigan State Champions. They are currently coached by Mr. Todd Waurio. Stay up to date on their Facebook page @CalumetCopperbots.