Fisher Unitech 3D Printing Build Services Adding Value to Customers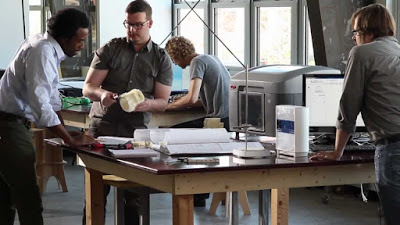 For the design and manufacturing industry, 3D printing has
become an instrumental tool in opening new doors to how we create new products.
However many have not been able to utilize 3D printing due to the initial challenges of return on investment, machine cost, or
other company specific reasons. For those who need parts built quickly but
can't justify the purchase of a 3D printer, this is where Fisher Unitech's
build service team shines.
Overflow:
Many current 3D printer users are finding that at certain
times throughout the year their printer is overwhelmed with print jobs and
can't keep up with demand. Utilizing Fisher Unitech for a quick build that can
reduce the workload on your in-house 3D printer is a common issues that we have
been assisting out customers with for years. We have all the professional grade
materials Stratasys offers on hand in our 3D printing centers and a
professional staff who can meet the specifics of what customers need done.
Budget Constraint:
The investment in getting a 3D printer can be pretty
substantial if your return on investment isn't justified. The value that a
build service brings to a company that only needs a handful of parts built a
year can be instrumental to the quality of your project. For a design team to
hold their 3D printed part in their hands and make an educated decision on
whether that part is satisfactory to proceed to production or go back to your
CAD and make design changes is a far greater value than looking at a design on
a computer screen and trying to make the same decision. Relatively inexpensive
parts can be produced in a timely fission that can be instrumental to the
success of your project.
Turn Around Time:
Speed of production is one of the largest benefits that 3D
printing brings to industries that utilize the technology. For many companies,
being able to keep up with deadlines is sometimes the determining factor in
evaluation the success or failure of project. The value that Fisher Unitech
provides to our customers is a full line of Stratasys 3D printers in multiple
locations throughout the Midwest that are run by a dedicated team to ensure
deadline are met while maintaining a high level of quality.
Expertise Build Team:
Fisher Unitech has over 20 years of 3D printing experience.
As the experts we can ensure part quality and make recommendations to customers
that will help produce a great quality part.
Extensive Material Selection:
Customers are often looking for a specific look and feel of
a part in order to do everything from functional testing to marketing focus
group evaluations. As a Platinum Partner of the Stratasys, Fisher Unitech has
access to the full range of Fused Deposition Modeling and Polyjet Materials.
This enables us the ability to meet the needs of designers who want a part with
a rubber like material for over molding, or machine floor workers looking for
jigs, fixtures, and check gauges that need to be made of strong durable
materials.