Fisher Unitech Named #1 Stratasys Distributor Worldwide
Stratasys, the industry leader in 3D printing, recently announced that Fisher Unitech LLC has been named the 2015 number one selling partner worldwide. The company, a SOLIDWORKS product life-cycle management solutions provider and Stratasys partner for over 19 years, supplies its customers with 3D Printing production equipment, materials, and build services.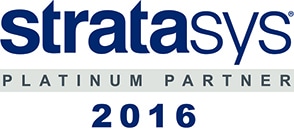 With a territory that ranges throughout the Midwest, Fisher Unitech's strategic
positioning throughout its territory with its sales and applications personnel
has enabled them to develop working relationships with its customer base,
strengthening the support needed to prove out the capabilities of 3D printing
technologies. Over the course of Fisher Unitech's partnership with Stratasys
the strategy for success continues to be customer centric.
The 3D printing team at Fisher Unitech focuses on two basic principles: applying their collective learning from applications ranging from automotive and aerospace, to consumer goods and medical and using this significant experience to solve seemingly unrelated challenges in manufacturing, tooling, product development and design. Fisher Unitech also empowers their team with the proper training and resources to become leading 3D printing experts.
"It was very gratifying for Fisher Unitech to again receive the honor as #1 Stratasys Distributor Worldwide," Says Fisher Unitech Director of 3D Printing
Sales/Service Andy Dehart, "Stratasys has been a fantastic partner–providing
evolving solutions for the broadening 3D Printer Market since the inception of
our relationship in the early 90s, we are proud to be recognized by Stratasys
in this regard and look forward to the bolder challenges in 2016."
Related Articles
Fisher Unitech Named 2010 Top Stratasys Reseller