Fisher Unitech Shines at 2015 Advanced Manufacturing Technologies Trade Show
As always, the annual Advanced Manufacturing
Technologies Trade Show in Dayton Ohio featured lots of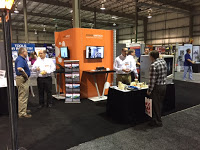 technologies that are
helping all manufacturing industries from injection molding to tool and die
shops create high quality products. This year again one of the most popular and well attended booths was the Fisher Unitech 3D Printing booth. With on sight 3D printers and
lots of example parts on display, Fisher Unitech showcased many different ways of how 3D printing
is helping manufacturing and design industries do things in a more effective way.
3D Printing has been referred to as a
disruptive technology and no doubt there was still a large buzz about the many
applications it can be used for in manufacturing. Attendees who met with the
Fisher Unitech staff ranged from designers to manufacturing engineers, all had
questions that were specific to their own needs and left with a better
understanding of how both Polyjet and Fused Deposition Modeling 3D printing can help
them.
Fisher Unitech Application Engineer Ben
Karczewski also gave presentations on a variety of topics to those in attendance,
ranging from manufacturing applications to material characteristics. "I enjoyed sharing my knowledge of the Stratasys
printers and their manufacturing impact. I look forward to the future of how 3d
printing can complement traditional technologies to bring higher quality
products to market faster".
Related Articles
Say Yes to the Customer Experience Improvement Program
Stratasys to Demonstrate Next Generation 3D Printing at IMTS 2016