Get Your 3D Printer Back Up and Running Quickly
There could be a number of reasons to contact 3DVision Technical Support regarding your Stratasys 3D Printer. Whether you have received an error message or just need help with build quality, we will always be here for our customers. There are a few things to do to get to a resolution as quickly as possible.
1. A picture is worth a thousand words. Take a few pictures of the parts, error messages, screen shots, or anything else that may be helpful (the more the merrier).
2. Include the STL and Build file (CMB) if appropriate. Sometimes part quality could be affected by a poor STL file.
3. Grab that log! The log files are priceless when determining what your printer was doing at the time of the error. Depending on the machine in question, the way to the log file is a little different.
Dimension, Uprint, Fortus
For Control Center (Insight) or Catalyst head to the Services Tab and click the "Export Configuration" button. This pulls the log file from the machine. (See Image Below). This allows you to save a log to your hard drive.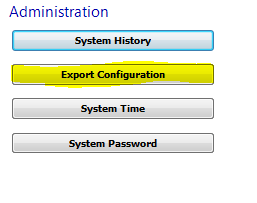 Objet
For Objet machines you'll need to be looking at the embedded software on the printer Click on Options – Collect Service Data, or if you're a fan of hot keys, just press F2. You'll need to place a USB Drive into the USB port on the back of the printer to get to the log file. Save the log file to the USB drive and transfer to your main computer.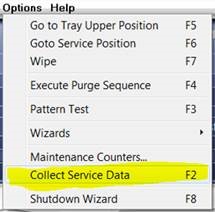 Mojo
For the Mojo (from Mojo Control Panel) Click the little Printer Icon in the upper left hand of the main screen. Select Export Printer File.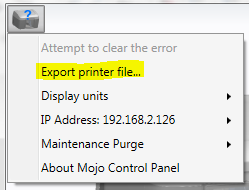 With these (3) items and a detailed description on what happened, we'll have your printer back up and running in no time!
Still have questions? Use the comment section below!