How to Configure SOLIDWORKS Toolbox and Hole Wizard - Part 1
We are kicking off something new with our blog today. Our tech team will be taking some deep dives into the functions of SolidWorks and try to break down various functions to explain how to access, configure and use the many great tools you have available to you.
Today we are going to start by taking a look at the SOLIDWORKS Toolbox. Over the next several postings we will be discussing the different ways of configuring the SOLIDWORKS Toolbox and Hole Wizard.
Let's start with: What is the Toolbox?
SOLIDWORKS Toolbox is a standard library of parts that is fully integrated inside of SolidWorks. This includes all of your standard nuts, bolts, washers, etc., based off the machinist handbook. These parts are easily accessible for drag and drop into your assemblies. Toolbox is part of the SOLIDWORKS Office Professional package. So if you have the base package of SOLIDWORKS you will not have access to this tool.
SOLIDWORKS Toolbox is a large database that covers many standards and fastener types. The Toolbox can be used with the out of the box default settings, or it can be customized to include part number, descriptions, and other custom properties. Let's take a look at how you can customize this setup.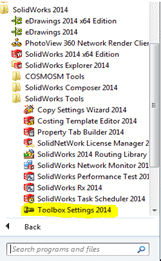 To access the Toolbox setting:
You can access the SOLIDWORKS Toolbox settings in several ways. You can get to the settings from Start, All Programs, SOLIDWORKS 2014, SOLIDWORKS Tools, Toolbox Settings 2014
You can also access the SOLIDWORKS Toolbox setting by going into Tools, Options, System Options, Hole Wizard/Toolbox, Configure inside of SolidWorks.
This is also where you can control where the Toolbox directory is located. This can be local on your machine, or moved to a network location. The checkbox will force SOLIDWORKS to look at the specified location when Toolbox parts are used. This is usually used when you receive file that were originally created with a network Toolbox and you do not have access to that Toolbox.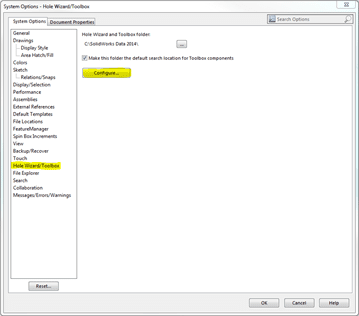 The welcome screen gives you a table of contents, which are hyperlinked to take you directly to that page. Across the top of the window, you have have the save icon

(to save the changes you make), the home key

(to take you back to the table of contents), the number links

(hyperlinks to the difference sections outlined in the table of contents)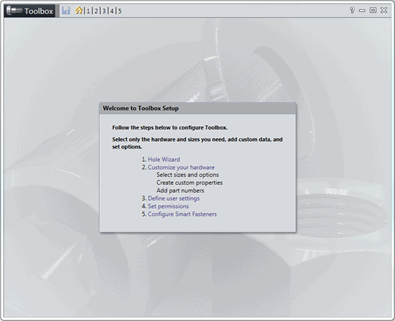 Let's break down each of the options on the table of contents.
Hole Wizard
As Toolbox administrator, you can streamline Toolbox by filtering out the default Toolbox components that are not required by your organization.
Trimming the size of Toolbox makes it more efficient. Users spend less time searching for components or deciding which ones to use.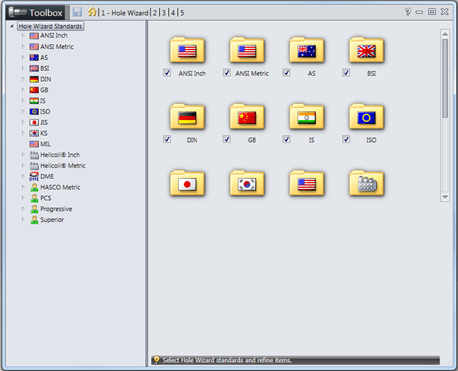 You can filter out the default Toolbox hardware offerings by standard and by component type from the Customize Hardware page of Toolbox Settings:
Exclude standards not used by your company.

Within a selected standard, exclude unnecessary component categories.

Within the component categories, exclude unnecessary component types.
The check boxes next to each folder allow you to control which standards will be visible in the user interface. Double clicking each folder will take you inside of each standard where you can turn off specific types of fasteners within the standard.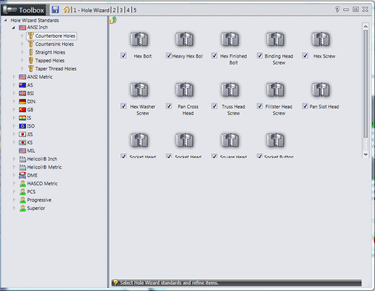 Double clicking each fastener type, it will take you inside of each fastener where you can turn off specific sizes.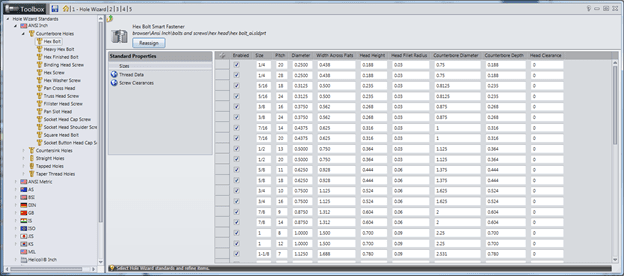 Please check back to the CATI Blog as the Dedicated Support Team will continue posting our series of articles that goes further into the details of each section of configuring our Toolbox and Hole Wizard. All of these articles will be stored in the category of Daily Dose…..of SOLIDWORKS Support and links to each article with their release date are listed below:
-Bryan Pawlak, CSWE
Computer Aided Technology, Inc.