Stratasys Introduces New F123 3D Printer Series
3D printing fans, rejoice – the next generation of FDM 3D printers from Stratasys is here! Stratasys announced its new line of 3D printers, the F123 series, at the SOLIDWORKS World conference on Monday, Feb. 6. The line includes three powerful printers: the F170, F270, and F370. We have all the details of the big announcement, plus a webcast on the new line that is scheduled for Wednesday, Feb. 8.
https://www.youtube.com/watch?time_continue=1&v=WmdU-dmkpFY
Here's what you need to know about the Stratasys F123 series:
It has enhanced 3D printing capabilities
Along with faster build speeds and tight build tolerances, the Stratasys F123 series has an array of advanced capabilities, including:
– FDM technology combined with an improved software experience (design-to-print GrabCAD software)

– New user interface

– Remote print monitoring

– Built-in camera

– Auto calibration

– Easy material change out

– Auto material changeover

– Additional material bays, so you don't have to switch out canisters
For further product details, specifications, and materials visit our F123 page.
It's perfect for a variety of applications
The Stratasys F123 series' printers enhanced capabilities and ease of use makes them adaptable pieces of hardware ideal for various applications, making them well-suited to fit the needs of designers, manufacturers, and classrooms. These include:
– high-quality prototyping for all levels

– accurate and reliable 3D printed parts, including end-use production parts

– manufacturing aids

– concept validation

– design verification

– functional testing
It's powerful, but simple to use
While enhanced capabilities make this line more powerful than previous printer lines, it also makes it more user-friendly, so the F123 series can be operated by less experienced users. The printers include touch screen interfaces for monitoring build jobs, further simplifying the process.
It's suitable for different environments
Whether you're a bustling educational institution, a manufacturing company, or a design firm, you can find a printer for you in Stratasys' new line. The enhanced ease of use for software, standard 15/7A amp electrical outlet, and increased efficiency (at the fraction of the cost of a Production Series machine) makes it a smart choice for a wide range of settings.
All three of its printers come with these features!
The three printers from this line — F170, F270, and F370 — all come with the aforementioned enhanced 3D printing capabilities for power, ease-of-use, and flexibility. They also have other key features such as: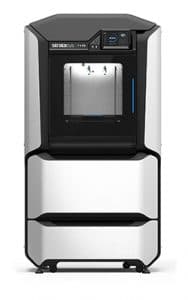 – 4 different slice heights (.005, .007, .010, .013)


– Up to 4 different material options

– Two different build speeds

– Vast assortment of different build and support styles

– Built with customer experience in mind – GrabCAD Insight Software, WIFI Connectivity, Mobile App, Build in Camera
Here's an overview of what else you can expect from these printers:
Stratasys F170 Fused Deposition Modeling 3D Printer
– ABS, PLA, and ASA material options

– ideal for schools and professionals

– a cost-effective way to create prototypes
Stratasys F270 Fused Deposition Modeling 3D Printer
– 44% larger than the F170

– built for high volume

– access to 4 material bays
Stratasys F370 Fused Deposition Modeling 3D Printer
– 36% larger build chamber than the F270

– can use PC-ABS in addition to standard materials

– great for large parts and manufacturing aids
For more specifics on each printer, visit our Stratasys F123 page.