Introduction to SOLIDWORKS Simulation Webinar: What is Finite Element Analysis?
Coming up with engineering concepts and designs is one thing. Understanding how that design will perform in real-world conditions is another. Is an assembly component strong enough? At what point will a part break? Could you use a different material to reduce manufacturing costs?
Questions like these are part of a typical product development process. Finite Element Analysis (FEA) tools help engineers find the answers sooner than later in the design cycle, which not only saves time and money but provides insights into how to improve quality before physical prototyping. In fact, the number of physical prototypes goes down significantly and can be eliminated altogether in some cases.
To learn more about FEA, check out this quick recorded webcast which will give you an understanding of CAD-integrated FEA tools that you can use to test your CAD models and shorten your development cycles. You will learn:

– What a mesh is, why size and shape matter, and when to refine and when not to refine
– How an analysis is solved – the math behind the magic simplified and demystified
– How to improve an existing product with confidence and ease

Most importantly, you'll see examples using FEA to test CAD models and why you don't have to be a specialized engineer to use SOLIDWORKS Simulation for your own designs.
To get you started, here's what you need to know about FEA and SOLIDWORKS Simulation.

What is Finite Element Analysis?
FEA is the method of using virtual simulation technology to test how a product design reacts to physical effects including bending, heat, vibration, fluid flow, and other impacts. With FEA simulation tools, you can evaluate designs early in the design cycle, determine what will cause premature failures, quickly explore design changes to reduce cost and weight, and determine the product's factor of safety.
What is SOLIDWORKS Simulation?
SOLIDWORKS Simulation is a portfolio of analysis tools that use FEA to predict a product's real-world physical behavior by virtually testing CAD models. The portfolio delivers linear, non-linear static and dynamic analysis solutions divided into three products: Simulation Standard, Simulation Professional and Simulation Premium, each of which adds easy-to-use capabilities to solve ever more challenging problems.
How can SOLIDWORKS Simulation help you?
SOLIDWORKS Simulation is particularly valuable to engineers whether you develop complex systems or design parts and components that go into larger assemblies. SOLIDWORKS simulation and analysis tools reduce product development costs, ensure products reach the market promptly, and allow you to experiment with materials and designs that can result in products of minimal weight and cost.
This is just the tip of the iceberg for what FEA simulation and SOLIDWORKS Simulation tools can do to help you test your designs ahead of time. To learn more about how these tools can help you and your business and to get your questions answered during the Q&A session, make sure to check out that free webinar below.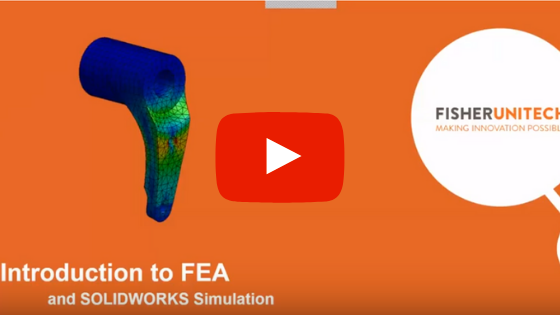 Related Articles
Simulation Workflow: How to Improve Data Management Workflows
SOLIDWORKS Simulation 2019: Nonlinear Pins & Topology Study
Optimize Your Designs While Cutting Costs with SOLIDWORKS Simulation Tools
About the Author

Christa Prokos is a marketing manager at Fisher Unitech. She researches and writes about the latest business trends and technologies impacting manufacturers, including 3D printing, SOLIDWORKS 3D CAD design and product data management tools, product lifecycle management, virtual reality, and the Internet of Things. Christa has worked as a high tech marketing and communications professional since 2000. You can follow her on Twitter: @ChristaProkos.