Live Stream SWW2017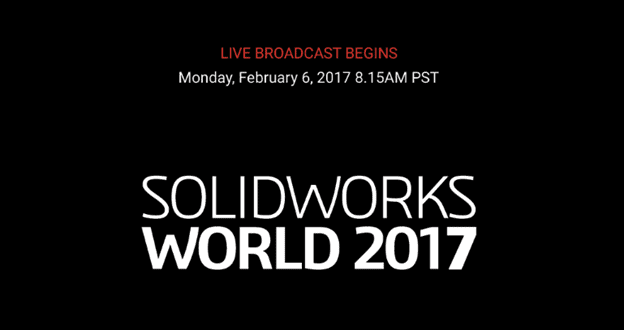 Have you been to a SOLIDWORKS World in the past or even know what the event is? If you are unfamiliar, SOLIDWORKS World is the annual event, held in early February, where the SOLIDWORKS community (users, VARs, and SOLIDWORKS employees) gathers to talk all things SOLIDWORKS. It is 4 days packed with lots of information and lots of fun, typically held in a nice warm location (Los Angeles this year)!
Each day starts with a General Session, followed by breakout sessions with presenters from SOLIDWORKS, VARs, and Users. This year, our Elite Application Engineer, Randy Simmons, will be presenting. The evenings are also always fun, getting to talk and share with other users and employees across the world, in a more relaxed atmosphere. Last year was highlighted by a performance from Grace Potter and the Nocturnals.
The General Sessions are also packed with lots of great information, as you get to hear from the higher ups at SOLIDWORKS and Dassault Systemes, as well as some guest speakers and unique customer stories. One of the highlights of these sessions, on the last day, is a sneak peek into what hopefully is coming in the next release of SOLIDWORKS. They also announce where SOLIDWORKS World 2018 will be held.
Have I sold you on wanting to attend this event yet? Well if I did, by the time you have read this blog, it is probably too late to attend this year! However, do not fret. You can Live Stream the event. Follow this link and register now to watch the General Sessions each morning. This link will also show you the speakers and agenda for the Sessions, which takes place 8:15AM – 10:00AM PST each day. Hopefully you will find it worth the watch, and make you want to attend in person next year!
If you do watch, please let us know what you thought about it in the comments below.