Mastering the SOLIDWORKS Basics with SOLIDWORKS Essentials Training
With more than 240,000 organizations using SOLIDWORKS worldwide, SOLIDWORKS adoption continues to rise, and many companies are beginning to use or switch to some form of SOLIDWORKS software — and with it, demand for current or future employees who know their SOLIDWORKS basics.
Fortunately, SOLIDWORKS training courses are available for a wide range of SOLIDWORKS software and capabilities, including the essentials of its core product line. Anyone wanting to learn SOLIDWORKS can easily find an option that works for them, and learn not only how to use SOLIDWORKS, but how to use it as efficiently as possible. Here's what you need to know about learning the basics of SOLIDWORKS.
How do I learn SOLIDWORKS basics?
SOLIDWORKS Essentials training is perfect for anyone who needs to master SOLIDWORKS basics or wants to use the software more efficiently. This could include employees of a new company just adopting its first CAD system, or engineers switching from one CAD system to another. It can also be useful for college students or interns first gaining exposure to SOLIDWORKS.
What prerequisites are needed for SOLIDWORKS Essentials?
This course requires some practical work experience, although the definition of "experience" can vary. Attendees typically have an engineering degree (or are working toward one), have basic computer skills, and have experience with drafting. However, anyone who is considering this class is likely ready to begin.
If you are unsure whether you qualify for SOLIDWORKS Essentials, contact one of our trainers for more information.
What are the benefits of taking SOLIDWORKS Essentials?
Taking SOLIDWORKS Essentials opens the door to many other SOLIDWORKS capabilities. You will learn not only how to use the tools, but also the fastest way to navigate them and how you can work as quickly and efficiently as possible. Attendees will also learn the foundation of specialty categories of modeling such as sheet metal and surfacing.
What do you learn in SOLIDWORKS Essentials training?
SOLIDWORKS Essentials is structured to help attendees learn SOLIDWORKS basics and use the software as efficiently as possible. This includes learning how to navigate the software, SOLIDWORKS design basics, and how to save time in your work:
Lesson 1 gives you a quick demo on the overall capabilities and concepts of SOLIDWORKS as a software, including the interface and name of menus.
Lesson 2 covers the foundation of everything in SOLIDWORKS. SOLIDWORKS starts in 3D and then helps you generate the 2D designs, and sketching those 2D shapes to become 3D is the basic foundation of how everything begins. This is a detailed and in-depth lesson that is helpful both for people who haven't touched SOLIDWORKS before, and more experienced users that want more efficient ways to sketch.
Lesson 3 is an extension of Lesson 2, which covers turning a sketch into a 3D model and how to create a basic drawing.
Lesson 4 covers your overall orientation of the part, the part file, and why that matters. The part file itself has default geometry that can help or hinder you if you don't do it efficiently. In this lesson, you will learn how to predetermine and orient your part in 3D space. You can use the symmetry to your advantage later on, even in assemblies.
Lesson 5 goes over patterning, including linear patterns, circular patterns, and mirror patterns. This saves a significant amount of time when designing. Instead of creating a feature and then recreating it every time, you can create it once and then click a few buttons to get more.
Lesson 6 covers revolved features and is the last lesson focused on simple forward extrusions. It changes up to things that might be round and includes special dimensioning techniques you can use when features are around an axis.
Lesson 7 covers shelling, a feature that allows you to hollow out a part. You can define how thick you want walls to be, or walls you want to eliminate. This lesson also goes over how to efficiently create ribs with a rib tool.
Lesson 8 covers a vast array of errors and warnings, even some rare ones. You'll learn how to address errors and warnings using the tools SOLIDWORKS has to guide you. This is important because no matter how much experience you have, you're human and will make mistakes.
Lesson 9 builds on Lesson 8 and deals with a design change. In design, you might make a change that causes an error, and this lesson teaches you how your choices in modeling affect your ability to make design changes later. With design intent, you can create your model with the intention of making it easy to edit and create a drawing to use in the assemblies.
Lesson 10 deals with using configurations, another design timesaver. Using configurations allows you to make an individual part file for every configuration. SOLIDWORKS can make one file for different configurations: small, medium, large, small with a hole, small without a hole, etc.
Lesson 11 deals with quick and easy editing — using variables to help you relate dimensions to each other and make quick changes.
Lesson 12 focuses on using drawings. You can create a drawing of a part that has configurations. This lesson helps you continue learning more about drawings and a couple more advanced techniques, such as using linked annotations.
Lesson 13 covers bottom-up assembly modeling, for when you've already created the parts and now want to put them in the assembly. This lesson covers an introduction to assembly files, including movement and detecting interference.
Lesson 14 focuses on using assemblies, including the creation of a drawing of an assembly, exploded view and bill of materials, and balloons.
What is the structure of this SOLIDWORKS class?
For online SOLIDWORKS classes, 1-2 lessons are covered per day, while in-person SOLIDWORKS training covers 2-4 lessons per day. This can vary depending on the length of the lesson.
With in-person training, there is extra time to do exercises and practice with the instructor in the room, while online attendees can practice outside of class and bring in requests and questions for the instructor to cover during the lesson.
How do I sign up for SOLIDWORKS training?
If you're interested in SOLIDWORKS Essentials or another training course, you can use our SOLIDWORKS class schedule to find SOLIDWORKS training near you. Numerous online options are also available, and our team of experts at education@fisherunitech.com are always happy to answer any questions you may have!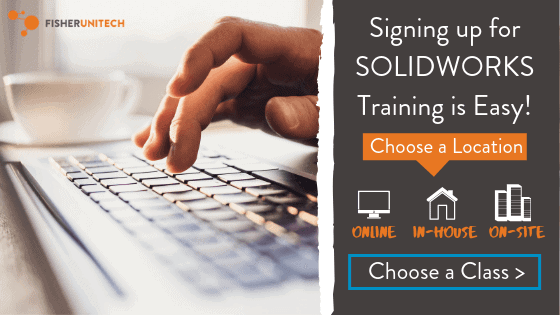 Related Articles
Getting the Most out of a SOLIDWORKS Certification
Learn SOLIDWORKS With a Customized SOLIDWORKS Course Guide
10 Tips for Success: SOLIDWORKS Certification Exams
About the Author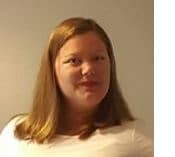 Rachael Buhl earned her BS in Technology, Engineering, and Design Education at North Carolina State University. She joined Fisher Unitech as a Support Engineer and is now a dedicated full-time trainer. Rachael teaches the majority of the online courses offered by Fisher Unitech and flourishes in her role as an Application Engineer Instructor.