Meet our Experts: Advisory Support Engineer Aaron Winthers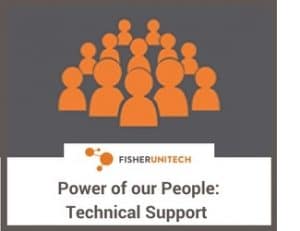 Have you ever contacted the Fisher Unitech SOLIDWORKS customer support team? If you have, chances are you've been helped by our technical support expert Aaron Winthers. Based out of our Horsham, Pennsylvania office, Aaron has been an Advisory Support Engineer at Fisher Unitech since 2014 specializing in DriveWorks.
Aaron earned his Bachelor of Science Mechanical Engineering degree, concentrating in product design, from the Massachusetts Institute of Technology and comes to work every day with a wealth of knowledge. Keep reading to learn more about technical support, our support team, and how Aaron contributes to the customer experience.
It doesn't matter if you're new to SOLIDWORKS or are a skilled user, support is always here for you. At Fisher Unitech, we offer several ways to get your questions answered: You can call us, email us, live chat with us, or log your case online and we'll get back to you. Here's what Aaron had to say about his role in technical support and why he loves helping others.
What got you involved with SOLIDWORKS?
My passion to model in 3D. I've always been a designer at heart, and SOLIDWORKS was the logical program to use.
Why is technical support so important to the customer experience?
Essentially, we are here to equip our customers to do their jobs even better. If we can get you the answer faster than you would have on your own, or show you a more efficient way of accomplishing the same task, that's a win.
What do you enjoy most about assisting your customers?
I really enjoy working together as a team to solve problems and experiencing the "light" going on when new knowledge is gained.
The Fisher Unitech Technical Support team wants to see you succeed. If you have a question or are experiencing a problem never hesitate to contact us. Our expert staff is here to help you through your inquiries every step of the way.
Are you new to SOLIDWORKS and unfamiliar with how tech support operates? Want to hear frequently asked questions and learn how to solve them? Aaron Winthers co-hosts "Welcome to Support", a webcast for new users or those who want a refresher on tech support.
Did you know…?

Aaron is constantly learning, thinking, and teaching. He's a certified teacher and taught math and science for several years. He's also a Certified SOLIDWORKS Expert and has over 12 other SOLIDWORKS certifications.
Along with studying theology, product design, singing, music production and radio show production, Aaron likes to tinker and has built everything from a collapsible wheelchair walker to a 3D printed lightsaber. So awesome!
Watch Aaron's recorded webcast where you'll learn more about DriveWorks and how it can reduce costs and repetitive tasks. Watch here.
Power of our People
Our award-winning technical team provides unsurpassed service and support for the products we sell. We offer more training options than any other 3D CAD solution provider in the country, and our consulting team delivers professional services for design automation and data management.
Meet our Experts
Rachael Buhl – Senior Application Engineer Instructor
Rodney Harper – Technical Training Manager
About the Author
Angelle Erickson writes about how companies are using innovative technologies, such as 3D printers and SOLIDWORKS software to increase productivity, improve product development processes, and maximize business potential.