New Objet Connex3 Enhances Workflow Experience with Adobe Partnership
Since its release, the Objet Connex3 has been known for its smooth and finely detailed finishes with bright vivid color capabilities. Earlier this month, Stratasys announced a newly updated Connex3 that gives users a better streamlined workflow process and better color ranges with a partnership with Adobe.
Stratasys is looking for ways to enhance the customer experience and the updated work flow process aims to do just that. This new process enables users to set up their 3D CAD model in the printer in two simple steps, an improvement from the previous seven step process. Also looking to enhance the customer experience, Stratasys has expanded the color spectrum with the assistance of Adobe. Under an exclusive partnership, Stratasys will use Adobe's 3D Color Print Engine which allows customers the ability to get better color pallet combinations and finer resolution from their prints.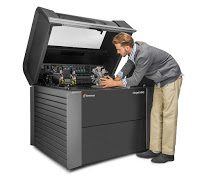 Stratasys' North American President, John Gould, commented on the change to the Connex line up sighting the goal of gaining more mainstream adoption of the technology. "We have to simplify the workflow. It has to be file, preview, print and go," said Gould. "The partnership with Adobe streamlines the entire process with support for more than 1,000
colors."
With these updates, Stratasys will look to promote the Connex3 as its sole line of Connex printers and will be discontinuing Connex1 and Connex2 versions of the printers, which did not offer the level of vivid color blending technologies as the Connex3.