PhotoView360 in SolidWorks 2013 Supports Luxology Appearance Files
In SolidWorks 2013, users now have access to hundreds of new rendering appearances. SolidWorks Subscription Customers can now access the Luxology asset sharing site through the Customer Portal. Here, they can download all sorts of new appearances to be used with their PhotoView 360 renderings.
To download these new appearances, you do have to be on subscription/maintenance. Simply log in to the SolidWorks Customer Portal and look for the "PhotoView 360 Appearances" link located under the Download section of the Home page (see below).
Luxology appearances use the .lxp file extension. When you download appearances from the Luxology asset sharing site, they are stored in .zip or .lpk files.
If you download a .zip file, use WinZip or a similar application to extract the contents to the folder where you store custom appearances.
If you download a .lpk file, change the file extension to .zip and use the WinZip procedure, or use a program that can extract .lpk files to do the same thing.
Once again, SolidWorks has provided us with the tools we need to complete our jobs quicker and better – so go and check out these new appearances and see what you've been missing.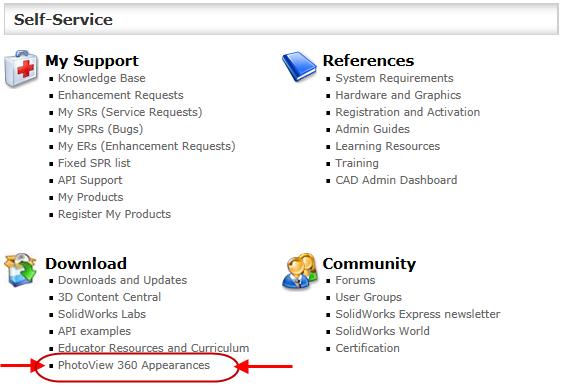 For more training and tutorials on the many 3D CAD Modeling solutions in the SolidWorks family of products and add-ons, register for an upcoming Event or look into our SOLIDWORKS training.
Related Articles
PhotoView 360 in SOLIDWORKS 2013 Supports Luxology Appearance Files
Image Quality and Assembly Visualization for SOLIDWORKS 2013