SOLIDWORKS 2019 Beta 1 is out!
Actually, it's been out for a few weeks. Can you believe it's that time of year again? It's time to take SOLIDWORKS 2019 for a test drive, check out the new enhancements and participate in the Beta program.
What is the Beta Program?
Participating in the in the Beta program is more that just taking the next release of SOLIDWORKS for a test drive. It's about connecting with the BETA community, interacting with the SOLIDWORKS R & D team to provide your feedback on the new functionality and flexing your SOLIDWORKS skills for a chance to win some great prizes!
Contests and Prizes?
There are several contests to choose and all have some great prizes: the Points Contest, Overall Points contest, Splash Screen Contest, Exterminator Contest, Overall Exterminator Contest and the Forum MVP Contest.
How can you participate?
It all starts here: https://www.solidworks.com/beta/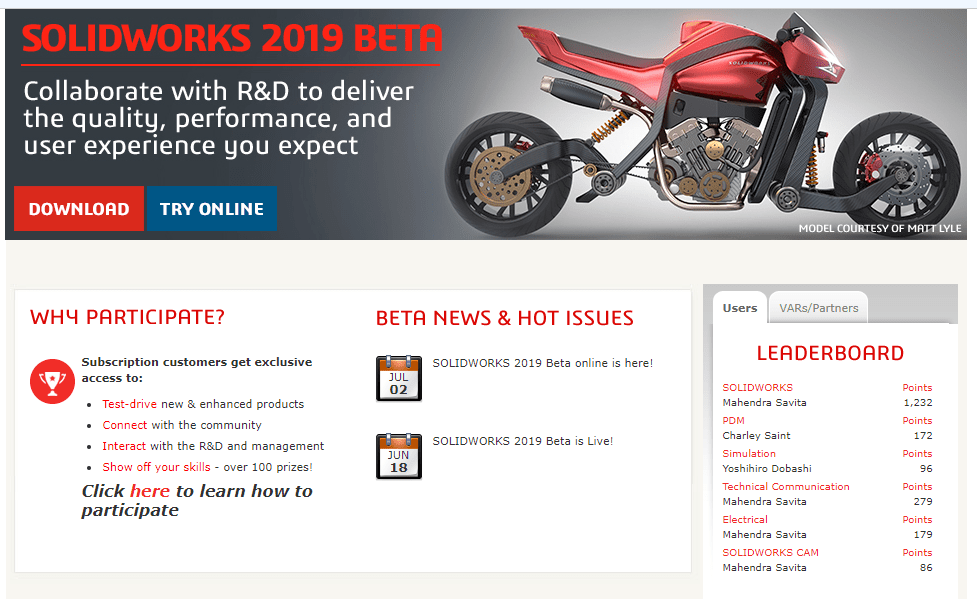 Local install or Online?
This year we have two ways to test SOLIDWORKS 2019 Beta: a traditional installation or try it online. If you choose to download SOLIDWORKS 2019 Beta you'll be taken to the following page to download and install the software. This process is just like any SOLIDWORKS installation you're familiar with.

Remember that SOLIDWORKS 2019 Beta is pre-release software for testing purposes only and NOT FOR PRODUCTION use. When installing, make sure you choose Beta specific file locations for the installation itself and Toolbox Data folder. Any files saved in SOLIDWORKS 2019 Beta cannot be opened in older versions of the software.
Testing SOLIDWORKS 2019 Beta online is a great way to participate in the Beta program and not have to worry about anything. It's accessed through https://my.solidworks.com/solidworksbeta and you'll be using the software in minutes.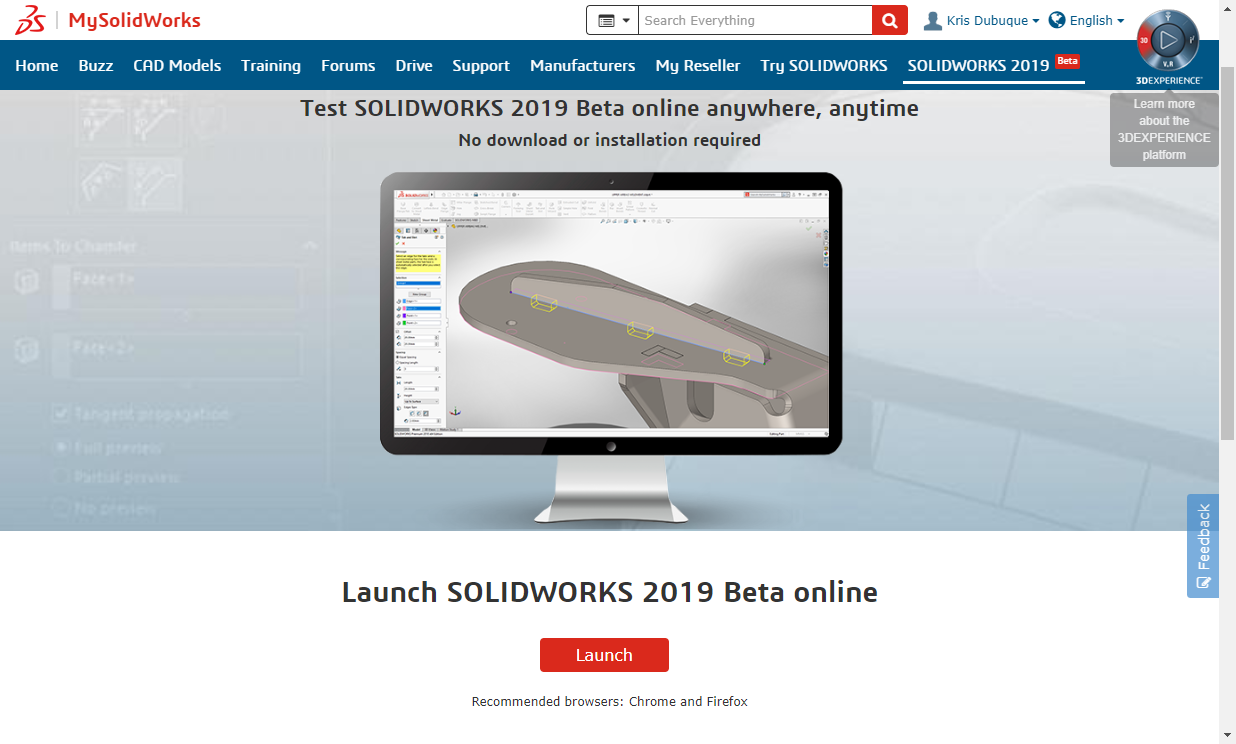 Some specific features of SOLIDWORKS 2019 Beta online:
In addition to the availability of all three beta releases online, there will be intermediate bug fix updates midway between the B1 and B2, B2 and B3, and B3 and Pre-Release milestones.
Access to SOLIDWORKS Premium (excluding SOLIDWORKS PDM Standard), SOLIDWORKS eDrawings Professional, SOLIDWORKS MBD, and SOLIDWORKS Visualize Professional.
Upload and download sample parts and assemblies using DropboxTM, Google DriveTM and other leading cloud storage solutions.
SOLIDWORKS 2019 Beta online is available through the duration of the Beta evaluation period (ending approximately September 9, 2018).
Specific FAQ for getting started with the online version.
Your Feedback is needed
This is the point of the SOLIDWORKS Beta program, feedback. As you test SOLIDWORKS 2019 Beta make sure you submit any issues you come across.
Make sure to check the SOLIDWORKS 2019 Beta forum to join discussions, find known issues, and test the Focus Areas that SOLIDWORKS R & D wants some extra attention applied to.
Good luck and Happy Beta testing!
Kris Dubuque
Field Technical Services Manager
Computer Aided Technology, Inc