SOLIDWORKS 2019 Mesh Data and Part Delighters
Complex shapes are widespread in today's world and are often produced using industrial design tools or carved to make physical models – they still need to be manufactured. Common workflow to complete the engineering process is to leverage these designs from mesh data or scanned data. SOLIDWORKS 2019 provides several new tools to help leverage this data to create production parts and some handy new part modeling tools that are sure to delight. My example is a handle that originated from mesh data. Let's take a look at how it was built.
SOLIDWORKS can open a wide variety of mesh data files like my 3mf file and as you can see, it is clearly a mesh body. To leverage this body to build a solid model, a new slicing tool is available to create intersection sketches through the mesh model. Pick a starting plane then define the number of planes and offset.
The slicing planes and sketches are organized in a folder and can be edited to position the sketches in the desired locations. Once positioned to your liking, mesh body can be hidden. These sketches can be used like any other sketches to create a solid body.
In this example, a surface loft will be created to define the shape of the handle. The new slicing tool allows users to easily repurpose mesh data to create solid models. This handle will be designed into two halves so to continue the design workflow, the split command can be used to create two bodies split at the central plane. A logo needs to be applied to each of the halves so a sketch will be created and a sketch block will be applied and positioned from the design library.
To apply the logo, we will use the projected curve command. In SOLIDWORKS 2019, projected curves now support multiple open or close contours, can be projected onto multiple bodies, and a new bi-directional option is available to project in both directions. The logo is then created in a single feature where previously this would have taken two sketches and four projected curves.
As the design progresses, let's take a look at another enhancement for working with surfaces. The power button is a surface model that contains several holes that need to be removed. Now in SOLIDWORKS 2019, a "delete hole" button is available as well as a property manager for editing. The holes are removed and the surface is now watertight.
As we look over the assembly, an interference is suspected between the cable and the handle part. A quick interference detection confirms our suspicion. To address this interference, the new partial chamfer tool in SOLIDWORKS 2019 will be used. Now, the length of fillets and chamfers can be controlled. There are various options available to control the start and end offset or the onscreen handles can be dragged to locate the ends of the chamfer. Asymmetric fillets and chamfers are supported as well. This new capability will save time and reduce the number of features.
Some designs, such as this grip require textures or bumps which can be functional or for aesthetic purposes. These textures can be time-consuming to model and require many features such as these ribs. SOLIDWORKS 2019 introduces a new 3D texture tool which leverages an image to define a pattern of bumps. Here, several variations have been created using this new tool including a logo. These 3D textures are created by applying an appearance to a part or face then you can size and orient it as required.
The new 3D texture command can be used to turn that appearance into 3D geometry – the lighter the color and the appearance the farther the offset from the base face and there are controls for mesh size and offset. SOLIDWORKS then creates a mesh body and is ready for downstream processing or 3D printing.
These are just a few of the enhancements for SOLIDWORKS 2019 and these new tools will help streamline the workflow when working with mesh data and save steps when working with part models.
To see these new features in action, check out the short video below.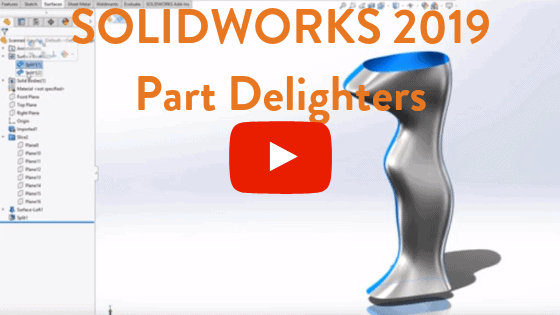 Related Articles
The Best of SOLIDWORKS 2019 (Part 1)
The Best of SOLIDWORKS 2019 (Part 2)
SOLIDWORKS 2019 New Group Mates Features
About the Author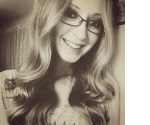 Angelle Erickson writes about how companies are using innovative technologies, such as 3D printers and SOLIDWORKS software to increase productivity, improve product development processes, and maximize business potential.