SOLIDWORKS 2019 What's New – Bounding Box in Assemblies – #SW2019
With the SOLIDWORKS 2019 release just around the corner, here is an article on some new Assembly level functionality building on last year's release of Part Bounding Box. New for SOLIDWORKS 2019 is an assembly level Bounding Box feature. Basically with any assembly file that contains geometry, you can create a Bounding Box which calculates a minimum volume of that geometry. It is important to note that an assembly can contain only one Bounding Box feature.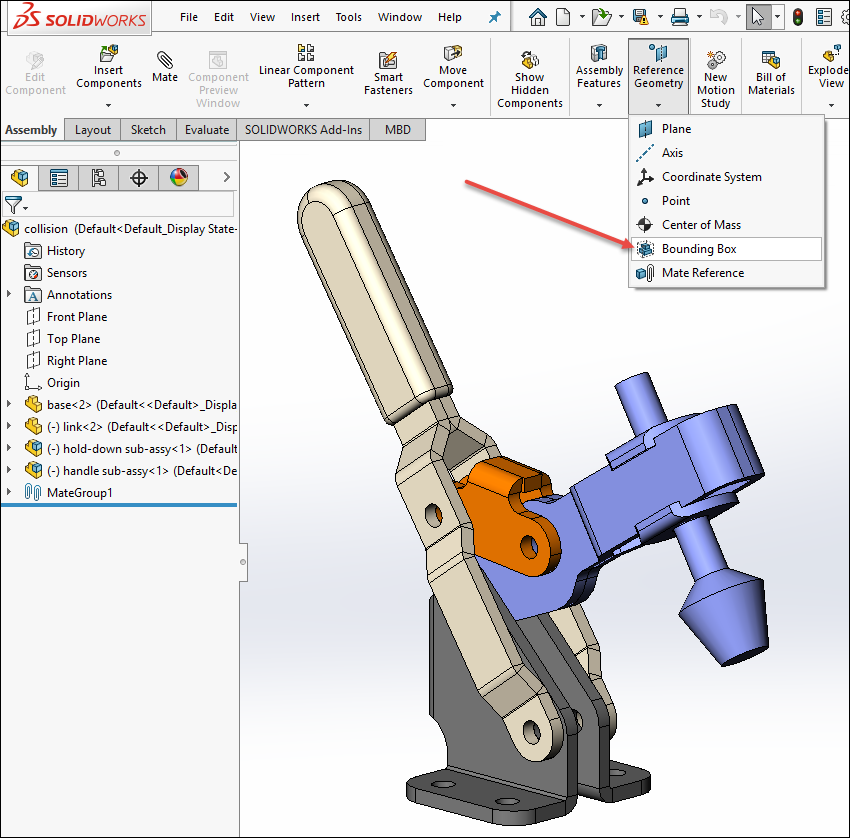 To use this new feature, select the Reference Geometry toolbar button from the Assembly Command Manager toolbar, and click on Bounding Box. This will launch a Bounding Box Property Manager with several options.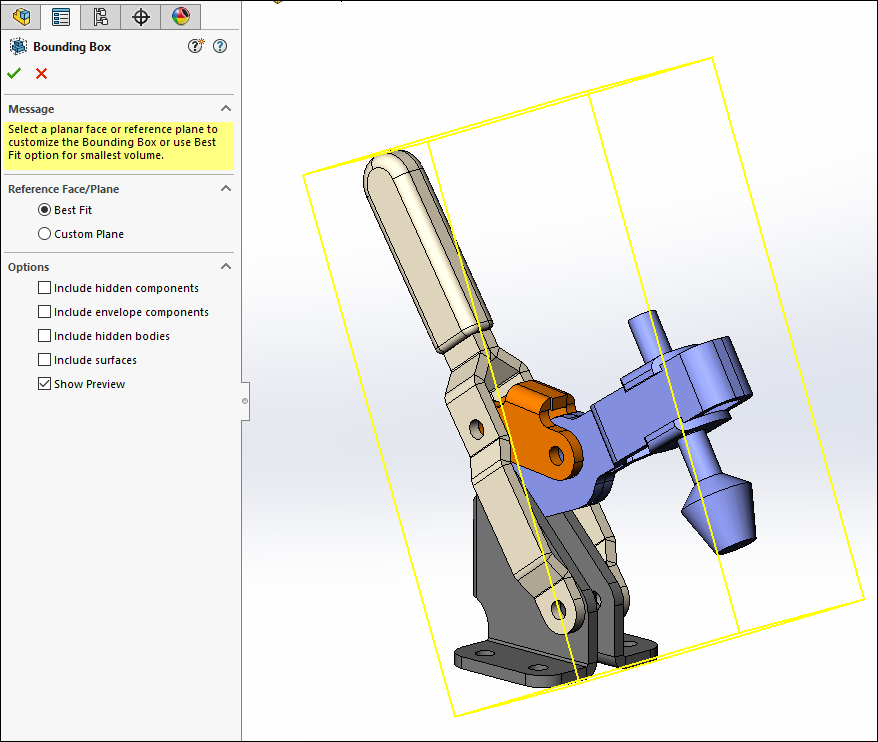 From this Property Manager, you can choose a 'Best Fit' or 'Custom Plane' orientation for this Bounding Box. The above image shows a Preview of the Best Fit method. Choosing Custom Plane allows you to select geometry to align the edges of the Bounding Box placement.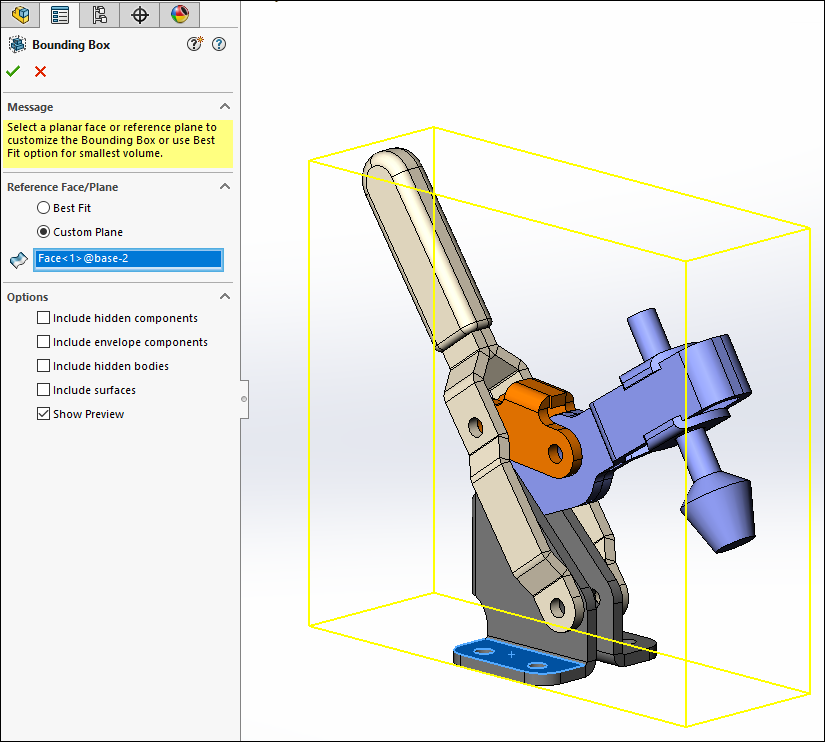 Some other options include:
Include Hidden Components: Includes hidden components in the bounding box calculations
Include Envelope Components: Includes envelope components in the calculations
Include Hidden Bodies: Includes bodies that are hidden at the part level in calculations
Include Surfaces: Includes surface bodies in the bounding box calculations
Show Preview: Displays a preview of the bounding box in the graphics area
Bounding Box calculations show up automatically at the Configuration Specific Properties area of the assembly file. These include Length, Width, Thickness and Volume.

You can now add Bounding Box features to your Part models, which show up as a Green color. You can add Bounding Box features to your Subassembly files which show up as Blue. And finally in your top-level assembly files as a Gray color.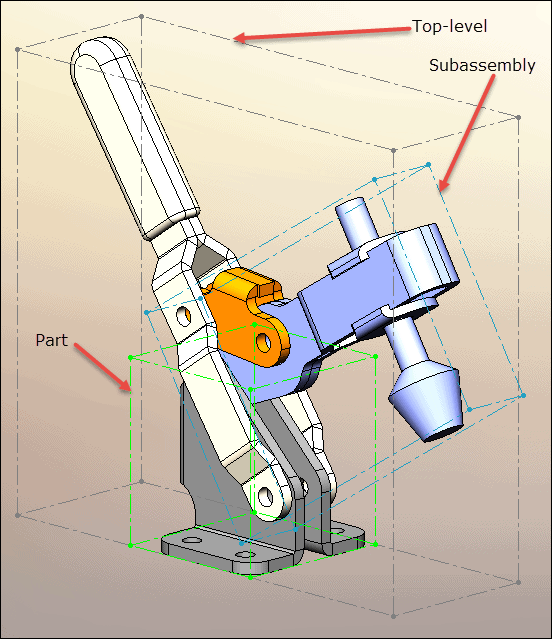 In the active assembly, the Bounding Box calculations do not update dynamically when the components change. A rebuild icon will appear next to the Bounding Box feature when you need to recalculate.
I hope this part of the What's New series gives you a better understanding of the new features and functions of SOLIDWORKS 2019. Please check back to the CATI Blog as the CATI Application Engineers will continue to break down many of the new items in SOLIDWORKS 2019. All these articles will be stored in the category of "SOLIDWORKS What's New."
Design Innovation Month – October 2018
What is DI MONTH?
CATI is declaring October Design Innovation MONTH. We've created a month-long series of events and activities around design innovation especially for our customers. Attend a SOLIDWORKS 2019 event, enter our rendering contest, and learn about some cool tips and tricks at the daily online events. Plan your month at www.cati.com/design-innovation-month
Brian Reel
Senior Manager, Field Technical Services – West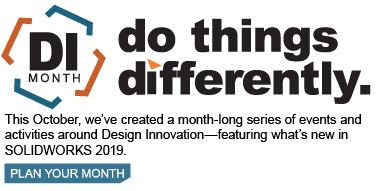 ADD THIS LINK TO THE ABOVE IMAGE IN WORDPRESS
https://pi.cati.com/di-month-2018
Other Tips for writing the Blog from Word:
Avoid any weird formatting.
Crop images before inserting them into Word, any cropping in Word is removed when importing into WordPress
Keep your article left justified.
Do not try to wrap text around your pictures just put them on their own line.
These articles are for existing customers, but prospects will also see them.
On shorter topics, compare it to past releases and give use cases for the new/improved feature
Bold SOLIDWORKS and use the full name of the products i.e. SOLIDWORKS Composer or SOLIDWORKS Flow Simulation
When posting your article make sure to grab the appropriate categories, the main ones are SOLIDWORKS What's New and Daily Dose…of SolidWorks Support, but make sure to grab any additional ones that make sense.