SOLIDWORKS 2019 What's New - Comparing Geometry in Upgrade Assistant #SW2019
Have you ever been really excited to upgrade to the latest and greatest version of SOLIDWORKS but were hesitant because of the possibility of differences in the rebuild of your models? Well, you do not have to worry any longer! NEW in SOLIDWORKS 2019 is an update to the Upgrade Assistant where SOLIDWORKS Task Scheduler 2019 will report if the center of mass or volume of the model has changed. Prior to SOLIDWORKS 2019, the upgrade assistant would only report performance changes, rebuild errors, pixel changes, and stability problems.
To use the Upgrade Assistant, open SOLIDWORKS Task Scheduler 2019, select Upgrade Assistant, choose the earlier version of SOLIDWORKS, and Add Files.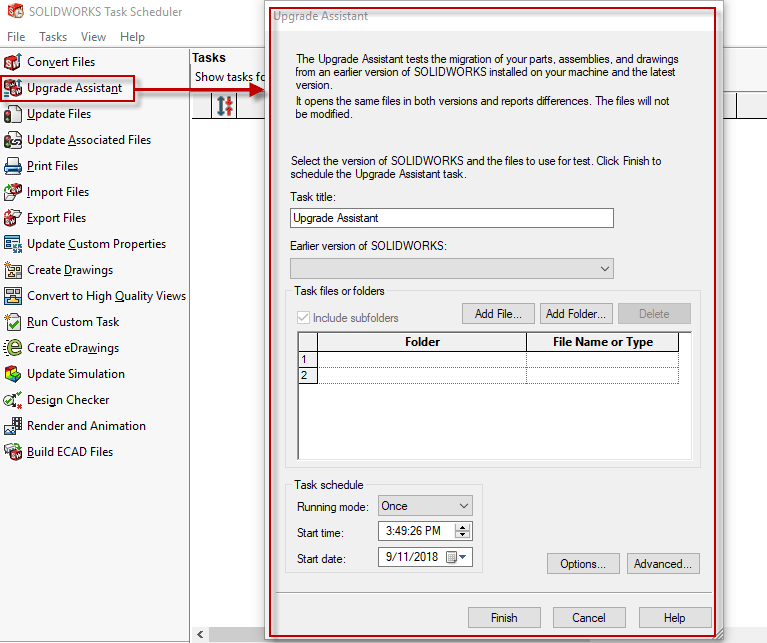 Schedule the task by inputting a start time and start date and click Finish to start the Upgrade Assistant analysis.
When the task finishes, the results will show performance changes, rebuild errors, drawing pixel changes, stability problems, and NEW in SOLIDWORKS 2019, the report will highlight in blue significant changes in the center of mass and volume. See below for an example of a Task Scheduler Report after using Upgrade Assistant where no differences were reported between the file in SOLIDWORKS 2018 and rebuilding the same file in SOLIDWORKS 2019.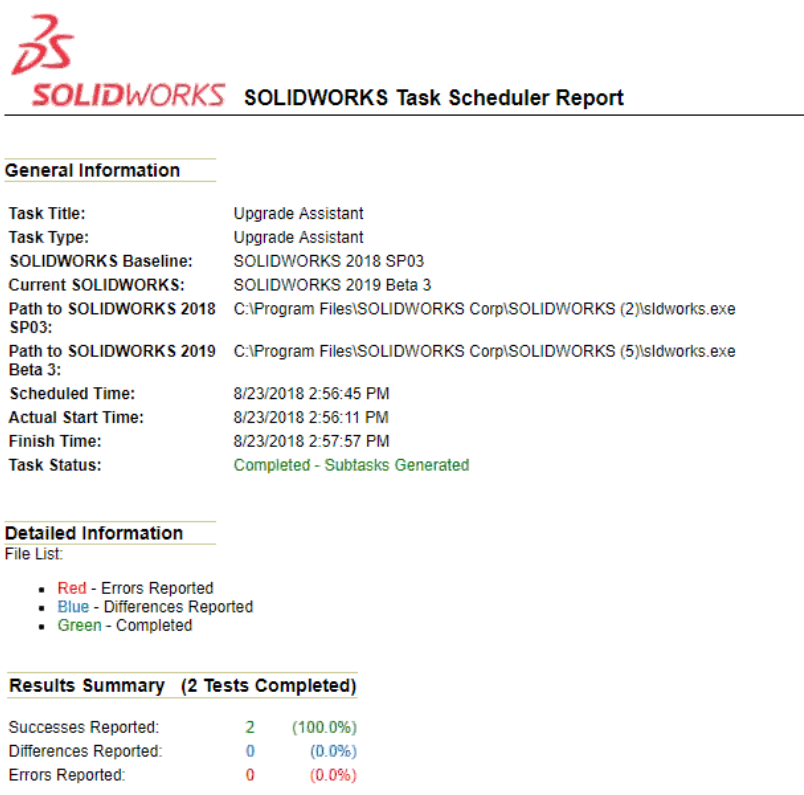 This data is useful in confirming if a model can, with higher confidence than before, migrate successfully to a target version of SOLIDWORKS.
I hope this part of the What's New series gives you a better understanding of the new features and functions of SOLIDWORKS 2019. Please check back to the CATI Blog as the CATI Application Engineers will continue to break down many of the new items in SOLIDWORKS 2019. All these articles will be stored in the category of "SOLIDWORKS What's New."
Nicole Kelley
Support Engineer
Computer Aided Technology, Inc
Design Innovation Month – October 2018
What is DI MONTH?
CATI is declaring October Design Innovation MONTH. We've created a month-long series of events and activities around design innovation especially for our customers. Attend a SOLIDWORKS 2019 event, enter our rendering contest, and learn about some cool tips and tricks at the daily online events. Plan your month at www.cati.com/design-innovation-month