SOLIDWORKS 2019 What's New – Details and Drawing Tables – #SW2019
Making the top enhancement list in SOLIDWORKS 2019, users voted and SOLIDWORKS listened. Improvements have been made to add new functionality that enables changing cell border thickness in your SOLIDWORKS Drawings.
Changing Cell Border Thickness
In tables, you can change the border thickness cells by selecting Groups, the Entire Tables along with removing Border Cell as shown below.
To Change the cell borders thickness:
1. Select one or more cells.
To select cells, you can:
Click, Ctrl + click, or Shift + click in cells.
Click a column letter or a row number.
Click to select the entire table.

2. On the pop-up toolbar, click Border Edit

.
The pointer changes to .
3. Move the pointer over a border of the cells.
The pointer changes to when it is over a valid border.

4. Click one or more borders of the selected cells and select a new border thickness.
You can continue clicking and changing other borders of the selected cell, or select None to remove the cell border.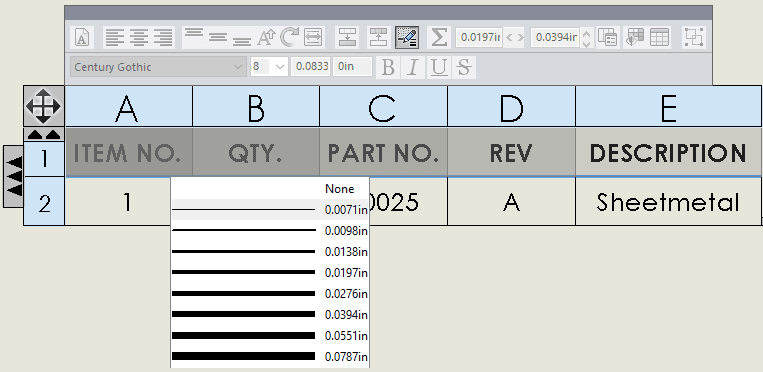 5. To turn off Border Edit

click it on the toolbar or click in a blank region of the graphics area.

6. Repeats steps 1 through 4 to change borders on the other cells.

I hope this part of the What's New series gives you a better understanding of the new features and functions of SOLIDWORKS 2019. Please check back to the CATI Blog as the CATI Application Engineers will continue to break down many of the new items in SOLIDWORKS 2019. All these articles will be stored in the category of "SOLIDWORKS What's New."
Ronnie Flaugh
Sr. Technical Analyst, Support
Computer Aided Technology, Inc
Design Innovation Month – October 2018
What is DI MONTH?
CATI is declaring October Design Innovation MONTH. We've created a month-long series of events and activities around design innovation especially for our customers. Attend a SOLIDWORKS 2019 event, enter our rendering contest, and learn about some cool tips and tricks at the daily online events. Plan your month at www.cati.com/design-innovation-month