SOLIDWORKS 2019 What's New – Distributed Coupling for Remote Load and Mass – #SW2019
SOLIDWORKS regularly strives to create a more accurate representations of real world features. This year the Remote Load feature got an update that will give you more control over how the translations and rotations are applied to the geometry. The resultant forces and moments are now distributed over all the nodes on the selected face/edges/vertices equally as they are applied at the referenced location.
The user interface has also gotten a face lift. Now it's easier to see and apply loads correctly without having to guess and check each direction and load type.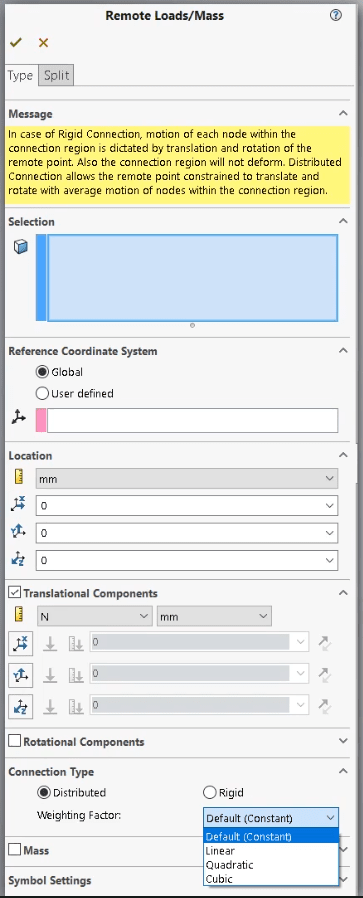 I hope this part of the What's New series gives you a better understanding of the new features and functions of SOLIDWORKS 2019. Please check back to the CATI Blog as the CATI Application Engineers will continue to break down many of the new items in SOLIDWORKS 2019. All these articles will be stored in the category of "SOLIDWORKS What's New."
Ketul Patel
Application Engineer
Computer Aided Technology, LLC
Design Innovation Month – October 2018
What is DI MONTH?
CATI is declaring October Design Innovation MONTH. We've created a month-long series of events and activities around design innovation especially for our customers. Attend a SOLIDWORKS 2019 event, enter our rendering contest, and learn about some cool tips and tricks at the daily online events. Plan your month at www.cati.com/design-innovation-month