SOLIDWORKS 2019 What's New – Free eDrawings Professional Features and Configurations in eDrawings 2019 – #SW2019
Each and every year, SOLIDWORKS continues to listen to their customers and upgrade their products. SOLIDWORKS eDrawings 2019 is no exception. One of the biggest upgrades this year with SOLIDWORKS eDrawings 2019 is that all eDrawings Professional features from eDrawings 2018 and older are now available for FREE in the eDrawings Viewer. Note: This applies to eDrawings for Windows only (not mobile).
Back in the 2018 version and earlier, an eDrawings file published in SOLIDWORKS Standard did not give access to the measure tool if opened with the free eDrawings Viewer. If you had eDrawings Professional, then the measure tool was available! Confused yet? Well, now you don't have to be anymore. You can now measure any file using the free eDrawings 2019 Viewer!
Don't worry, you can still turn off the Okay to measure this eDrawings file option in SOLIDWORKS if you want to prevent people from being able to measure your file. When you save a file in eDrawings, you can also clear Enable measure as well.
Here are a few other of the great features that are now included in eDrawings 2019: View SOLIDWORKS Simulation Results, Markup Tool (Create, edit, and save reviews by redlining 2D or 3D data and adding comments), Dynamic Cross Sectioning, Move Components and Explode Views, View Configurations, Play SOLIDWORKS Animations (SOLIDWORKS animations, simulation, and plastic results), and View Mass Properties.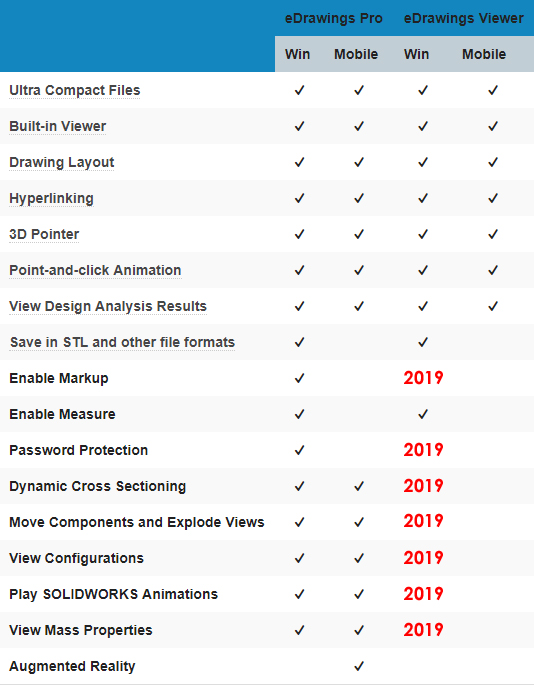 Note: SOLIDWORKS Professional and SOLIDWORKS Premium will still come with a license of eDrawings Professional. SOLIDWORKS Standard still includes the free version of eDrawings.
From this point forward, all new functionality in eDrawings Professional 2019 and later will be available in eDrawings Professional only.
View Configurations of SOLIDWORKS Parts and Assemblies in eDrawings 2019
In order to view your configurations in eDrawings, you used to have to publish an eDrawings file from SOLIDWORKS. The eDrawings Viewer could not view the configurations of a native SOLIDWORKS file itself. New to eDrawings 2019 is the ability to specify which configurations of a SOLIDWORKS part are available when you open the native SOLIDWORKS part file in eDrawings 2019!
In SOLIDWORKS, set configurations with Add Display Data Mark to view the configurations in eDrawings. To do this, simply switch over to the ConfigurationManager tab of your design tree and right-click your configuration. There is a new option called Add Display Data Mark.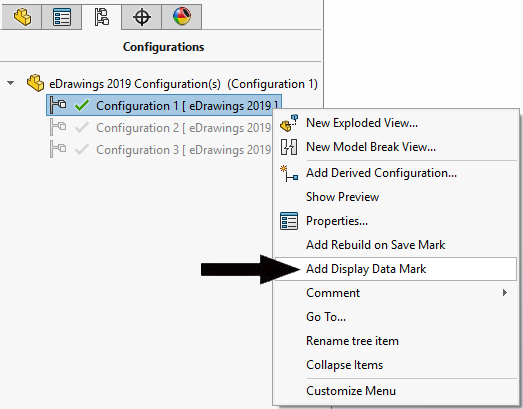 Do this to all of the configurations that you want to show up in eDrawings. The configurations that you mark will show the eye icon.

Note: You can right-click and choose Remove Display Data Mark to unmark the configuration.
Any configuration that you mark in your native SOLIDWORKS file will be available when you view the file in eDrawings.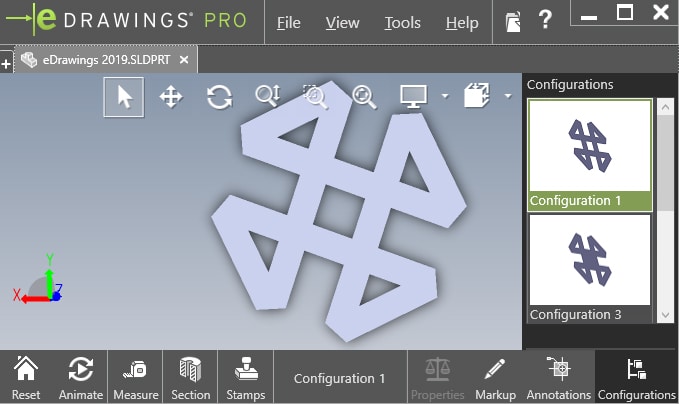 Note: When you open SOLIDWORKS assemblies in eDrawings, you can access all of the assembly configurations that were saved in Large Design Review mode.
I hope this part of the What's New series gives you a better understanding of the new features and functions of SOLIDWORKS 2019. Please check back to the CATI Blog as the CATI Application Engineers will continue to break down many of the new items in SOLIDWORKS 2019. All these articles will be stored in the category of "SOLIDWORKS What's New."
Design Innovation Month – October 2018
What is DI MONTH?
CATI is declaring October Design Innovation MONTH. We've created a month-long series of events and activities around design innovation especially for our customers. Attend a SOLIDWORKS 2019 event, enter our rendering contest, and learn about some cool tips and tricks at the daily online events. Plan your month at www.cati.com/design-innovation-month
Neil Bucalo
CATI Support Engineer
www.cati.com