SOLIDWORKS 2019 What's New – Lightweight Mode Enhancements – #SW2019
In SOLIDWORKS 2019, you can now Rebuild Component Patterns while in Lightweight Assembly Mode.
When you edit a feature, you can now change the pattern parameters.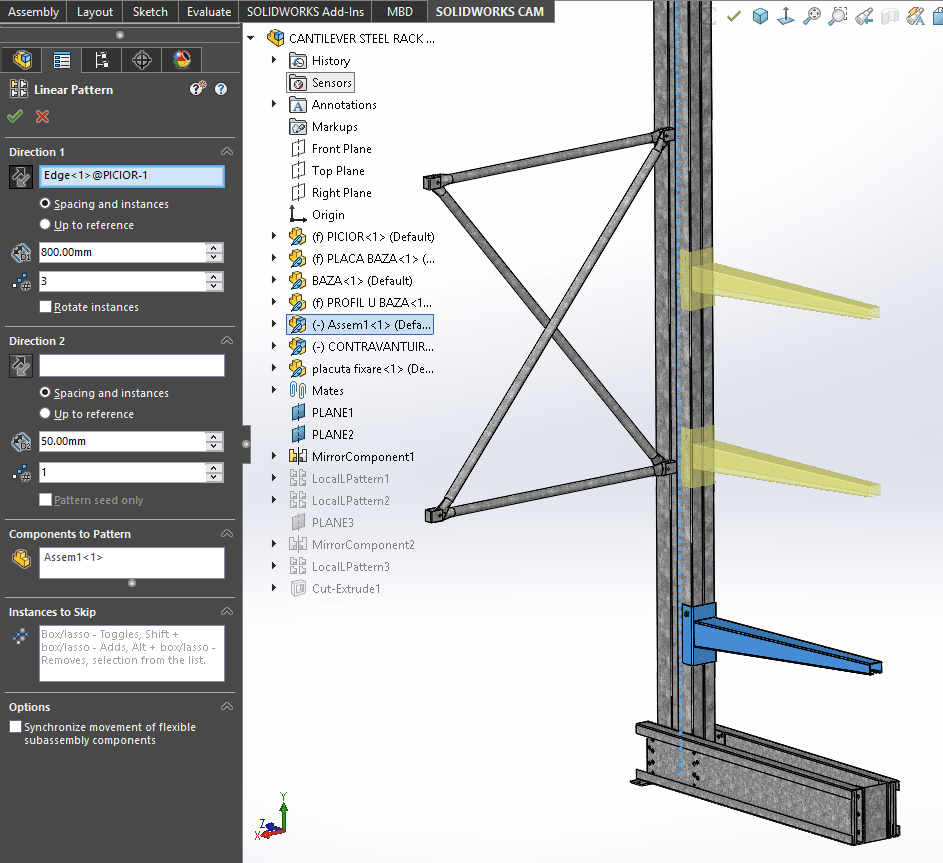 For a component pattern that is driven by an unavailable entity, **Lightweight** shows as a prefix to the entity name. SOLIDWORKS 2019 will rebuild the pattern in lightweight mode by using the last-used definition. To employ this functionality, you need to save the component that has the driving feature in resolved mode and the assembly before you open the assembly back up in lightweight mode.
This rebuild only works for the following assembly patterns:
Chain patterns
Circular
Curve Driven
Linear Pattern
Driven Sketch Driven
This rebuild works for the following derived component patterns:
Advanced Hole Wizard
Advanced Pattern
Circular
Curve
Hole Series
Hole Wizard
Linear pattern
Sketch Pattern
Table Pattern
In SOLIDWORKS 2019, you are now Unable to Move or Delete Files in Lightweight Mode:
Files opened in lightweight mode are locked and you cannot move or delete them. In Microsoft® File Explorer, you receive a warning message when you delete a file.
Before SOLIDWORKS 2019, you were able to delete or move the files while the assembly was opened in lightweight mode…not anymore!
File > Open in the dialog box, select the assembly, then in Mode, select Lightweight Click Open.

If you switch to Microsoft File Explorer and try to delete one of the components. You will receive a message that the action cannot be completed (see screenshot below).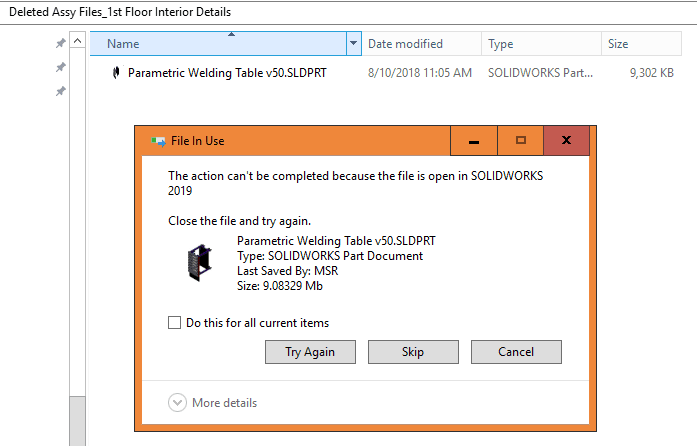 I hope this part of the What's New series gives you a better understanding of the new features and functions of SOLIDWORKS 2019. Please check back to the CATI Blog as the CATI Application Engineers will continue to break down many of the new items in SOLIDWORKS 2019. All these articles will be stored in the category of "SOLIDWORKS What's New."
Don Glaske
Field Technical Services Manager & CAM Team Manager
Computer Aided Technology, LLC
Design Innovation Month – October 2018
What is DI MONTH?
CATI is declaring October Design Innovation MONTH. We've created a month-long series of events and activities around design innovation especially for our customers. Attend a SOLIDWORKS 2019 event, enter our rendering contest, and learn about some cool tips and tricks at the daily online events. Plan your month at www.cati.com/design-innovation-month